Microsoft Launcher picks up custom icon gestures, Android O support, and more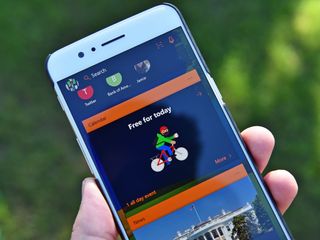 Following a couple of weeks in the oven with beta testers, Microsoft is shipping out another new set of features for Microsoft Launcher on Android. Included in the latest update are custom gesture controls for app icons, full Android O support, updates to the relatively new family card, and more.
The most notable of these additions is the new gesture controls for apps. Microsoft Launcher users will now be able to swipe up from icons to perform custom actions. To set the action you want to associate with the gesture, you can tap and hold on an icon to see a new option to add an action to be associated with the gesture. Once you've set things up, you'll be able to swipe up on the icon or folder to take whatever action you've chosen.
Other bits tagging along in this update are web filtering for the family card, alphabetical sorting for folders in the app drawer, and general UI and animation improvements. Here's a look at the full release notes:
Folder and app icon gestures (swipe to open or click to launch).
Choose how to use the last row of expanded dock: Apps, pinned contacts, folders, search bar or widgets;
Parents can enable web filtering through the Family card.
Folders in the app drawer are now sorted alphabetically.
UI improvements: Animation adjustments; blur effect as an option; App badges in the app drawer;
Fully support Android 8.0 and remove support for 4.0.X and 4.1
If you're already using Microsoft Launcher, you can grab all of these features now via the latest update on Google Play.
See at Google Play (opens in new tab)
I like the Microsoft launcher, but I use the action launcher instead. One of the big features that it lacked, it just recieved. Not as nice to set up as in action launcher, but it is there. Being able to tap a folder and launch an app or swipe to open the folder is a big feature for me. I have some apps that I use 90% of the time in a category, such as in Books, I mainly use kindle. There are times I need to use a different app. I like having the book apps in one folder or music apps, and being able to launch the one app without opening the folder. And when I need a different app, not needing to search for it. I know exactly where it is.

Action launcher and Nova are my choices for launchers. I personally don't like Microsoft Launcher

Have been using MS Launcher for a while, and it just keeps getting better. Free too. Way to go.

I've been using this for months now on my PH-1. It supplanted Nova as my #1 launcher choice. With every feature added to the betas and official releases, it gets even better!

Microsoft Launcher seems to be well liked and getting better with every update; nice to see MS hasn't messed this up yet. Wondering what took them so long however to catch up with Action and Nova however?
Android Central Newsletter
Thank you for signing up to Android Central. You will receive a verification email shortly.
There was a problem. Please refresh the page and try again.