Microsoft has redesigned Skype with new 'Snapchat-like' features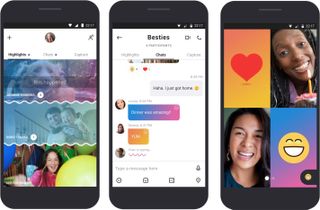 Since acquiring Skype six years ago, Microsoft has done a good job taking over the ongoing development of the popular video calling service, adding new features for both Skype and Skype for Business over the years. Today, Microsoft announced its biggest update to Skype yet (opens in new tab), offering a trendy new design with new features to help you connect and share moments with friends like never before — assuming you've never used Snapchat or Instagram Stories, that is. You can check out the preview of the new app in the Google Play Store (opens in new tab).
Microsoft has completely overhauled Skype, with the mobile app offering users three tabs to choose from at the top: Find, Chat, and Capture. The "Find" tab allows you to use plug-ins to search for concert tickets, recipes, and a whole slew of other things, then conveniently share the information in a chat with your friends or family all without leaving the app. "Chat" has also been given a fresh, trendy coat of paint, as Microsoft seems to have liberally borrowed popular features from other messaging apps like Facebook Messenger and iMessage.
But arguably the biggest addition is the "Capture" tab, which appears to function very similarly to Snapchat or Instagram Stories. Tapping the "Capture" tab will instantly launch the camera and allow you to capture a photo or video clip of whatever you're doing, let you slap a few emojis on it and then share with your friends or add to your "highlights" for others to check out later.
Video calling, which now feels like a secondary Skype feature, has also been upgraded to allow you to share photos, messages, emojis and stickers in real-time in one-on-one or group video calls. All these features will start rolling out to Android users first in a new update before becoming available across all other platforms.
You can learn more about the new Skype features (opens in new tab) and then head on over to the Google Play Store to see if the new update is available for you.
This seems like a move by Microsoft to try and rebrand Skype to appeal to Millennials, who apparently want Snapchat features in every app on their phone. What do you think of the new Skype? Let us know in the comments.
Get the Android Central Newsletter
Instant access to breaking news, the hottest reviews, great deals and helpful tips.
Marc Lagace was an Apps and Games Editor at Android Central between 2016 and 2020. You can reach out to him on Twitter [@spacelagace.
Been using the preview version for 2 months or so, which features this UI, and found it very enjoyable.

Skype never let's me down for communication. Glad to see the updates.

These forced social me-too efforts always strike me as extremely cringe worthy, same for google. What's popular is popular, like messages, snapchat, whatsapp, instagram, etc. I think its rare to break into popular culture just by an existing well funded corporation sinking big $$$ into it. It happens mostly by luck to "one in a million" small startups. I know they bought skype but it wasn't really like a snapchat thing, just video calling. Facebook bought 2 existing popular social apps and that's probably the only way to do it. This is why google gets laughed off as being bad at social - insisting on creating their own. Microsoft's Socl wasn't even big enough to BE laughed at. Its easier to be successful with a good, practical software. Of course, I may be totally wrong on this opinion. I only follow this stuff a bit and don't use any of it, except simple SMS.

This video is quite depressing. On the bright side here is another Skype update for you. I think Skype is the absolute champion in amounts of updates they push, there is a new one every other day. GPS should really enforce 60 or 90 day update limit excluding security and vulnerability patches. That way developers would actually put more effort in core functionality. Those who use Skype on mobile know what I'am talking about, they keep on adding features but core stuff is not working properly and they don't even bother to fix it.

Using the preview app for a while. It's really nice and I enjoy it. They need to definitely improve on the opening time though.

I got this update a couple of days after it came out, on my Nexus 5X, and it's still slow to open and SMS messages have gone missing. I can't see previous ones I've sent (using my Skype credit) and now it says this is not allowed in the version I have. I didn't need this "Update", not if it's going to get me unnecessary stuff like the Stories while taking away SMS messages, which I do find helpful!

The last couple of days the Skype preview disappeared from Google play. Do someone knows why ?