Microsoft Garage launches a bunch of new Android apps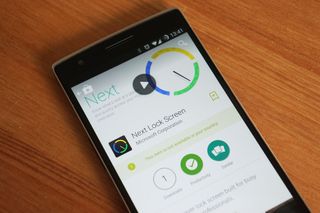 Microsoft Garage, a division of the company that allows their employees to work on any project they desire, has released a bunch of new apps specifically for Android devices this week as part of a new effort to show the general public what their employees are working on in their spare time. Here's a quick round up of what's available.
Do note that we've been unable to download some of the apps due to compatibility issues, which could simply be the apps rolling out through the store.
Next Lock Screen - Here's Microsoft take on their version of a notification lock screen that lets users see emails, text messages and more:
Calendar: quick glance at your day and scroll through upcoming meetings and their location to plan your day at a glance.
One swipe to dial: Next Lock Screen dials you in a conference call, enters the PIN and gets you talking without effort.
Quick app launch: Whether on the go, at home or at work, Next Lock Screen shows your most used apps based on your location and your apps are right there for quick access.
Make it yours: Make your lock screen background dynamic throughout the day by having the background change depending of your location.
Download from Google Play

(opens in new tab)
Journeys & Notes - This is a social based app that's made for travelers. Microsoft says:
CityZen - This app has been made to help send information from the public to their local government to help fix problems. At the moment, the app only works for the Greater Hyderabad Municipal Corporation in India.
Bing Torque - This app is exclusively available for Android Wear hardware, which reportedly does away with the need to say "Ok Google" when searching for something online. Microsoft says:
What do you make of Microsoft launching all of these Android apps?
Source: Microsoft Garage (opens in new tab)
Downloading that lock screen app, because I'm kinda a sucker for trying new lockscreen apps. I have a problem.

That lock screen doesn't even display emails though.

Eh. It displays your email icon for quick access and SMS. I really don't want to know what's going on in my inbox unless I open the app.

What's the point of lockscreen notification if I still need to open the app to get more granular information. I use Floatify. I can display as many lines of notification as I want. Wake the device, not wake the device depending on the app. Appear at top or bottom or middle of screen. See just who it is from, add the subject or add how many lines of the text in the body or the whole message. This Microsoft offering is Mickey Mouse by comparison.

This obviously isn't for you, then. Utility is subjective, as is taste. I don't need (or want) every app giving me multiline notifications on my lock screen. It's great that Floatify gives you everything you want. I don't even know if Next will be everything I'm looking for, but I'll give it a test drive. I'm not shocked that you prefer something else. You shouldn't be shocked that I'm not looking for everything in a lockscreen that you deem useful.

Fair enough. I guess I can make it simply or complex. I'm sure Microsoft is getting their feet wet and will expand it as time goes on. They said as much on the app page where they ask for suggestions.

"Microsoft Garage, a division of the company that allows their employees to work on any project they desire" What's the first thing they do? Make apps for Android. This shouldn't make me chuckle, but it does :)

Lol Posted via Android Central App

Well, Windows Phone and iOS won't let you make lockscreen apps, so if a guy has an idea for one, why not? People are people. Just because you work for a company doesn't mean you devote every fiber of your life to that company.

Basically. Microsoft is not stupid. Although WP has not been stellar they are a software based company forest and foremost. They know mobile is the new progression. People bitch and whine on Window Central about lack of support on their own Window devices but they stockholders to appeal. I left WP after two years because of stake development, but I'm happy to still be able to use all their products on Android. Posted via the Android Central App

I doubt a Google loving shill like you ever owned a WP8 handset, much less ever used one.

Hmm 920 and 1520 along with 2520 Toshiba Encore 2. Yep I don't know shit about Window Tablets let alone Window Phones since 7.5 to 8.1 Dev Preview that's running Cyan on my 920 as it catch dust being back on Android. Yep what could I possibly know about anything WP taking RAW images with the 20 MP camera on my way 1520.
/sarcasm Posted via the Android Central App

Who doesn't love owning inferior technology? I wish they came out with a WP8 with a rotary dial! I'd be so all over that!

Windows Phone allows you to make custom lock screens since 8.1. They have released Tetra lockscreen from Windows Phone today: http://www.windowscentral.com/microsoft-garage-launches-bunch-new-window...

Cool. I was not aware of that.

The lockscreen Rudy made was horrendous. That things drained battery and was completely horrible. Thought it to better but this lockscreen looks much better. Will check out on my nonexistent 920 that I never owned. Posted via the Android Central App

Actually they have released on Windows Phone first. Just check WPCentral to learn about Widows projects from Microsoft Garage.

*goes to download Next Lock screen* "This item cannot be installed in your device's country" once again i am not able to download a small piece of software because i don't live within the walls of the US. it's like sitting beside someone and they get to have cake but you don't. why? because.

Same problem in here I can't use OneNote for wear because of this , I wish that someone would upload the apks for these apps Posted via Android Central App

Why? because international law

What does international law have to do with a note taking app or a lock screen app even though the same note taking app is available on Windows phone that is being sold outside the US Posted via Android Central App

http://lmgtfy.com/?q=how+tall+is+obama

That depends... if you vote for him he'll be however tall you want him to be :-)

The Next lock screen seems to bypass almost all security of a lock screen. You can send a text message without unlocking your screen or even access your favorite apps. Seems like there is less security for convenience.

Recently I was at a Microsoft event and one of the stand out lines from their "technical" person was: "convenience overcomes security any day" (or words to that effect) - and this was in respect of healthcare data....

Unfortunately I don't doubt that line being true. I just hate something that so blatantly bypasses security (that is a supposed security app) can claim to be a security mechanism.

I like the look of the lockscreen, its clean and text is very easy to read. I don't like how it bypasses the locking software for the phone itself and let's you do anything with out unlocking the phone. Great app except for that. Posted via Android Central App

While I like trying new apps, I prefer to keep my device as clean as possible. I have enough launchers and widgets. But, I like the fact that developers at MS are allowed to experiment with other platforms.

As of this comment I am only the second download for the lock screen app. Edit: The lock screen app is easy to set up and is pretty nice. It does not play nice with the LG G2 though... I cannot double tap to sleep (except on the status bar). Uninstall...

I downloaded about 3 hours ago, and it said "1 downloaded" the number isn't real time. Posted from the amazing whatever device I can afford because I'm a broke college kid.

tried to download the lockscreen app but not available for Canadians, dang.

Don't thinks its available in the UK, getting the "unavailable in your country" message Posted via the Android Central App

I'm curious about the Bing one...

Not available in UK? Posted via the Android Central App

Not available in Australia. Shame, looks good. Posted via the Android Central App

I find it a very very bold, YET good move. Its kind of a laughable thing Microsoft is letting their company do anything, including build wonderful apps for their competitor's operating system, and that might not look well for Windows Phone, buuuut, for the company as a whole, making good, free, innovative, and useful apps for Android users, is a very smart move. It'll make the company look much better in a mobile space.
Android Central Newsletter
Get the best of Android Central in in your inbox, every day!
Thank you for signing up to Android Central. You will receive a verification email shortly.
There was a problem. Please refresh the page and try again.