Microsoft considers shifting Nokia X product designs to Windows Phone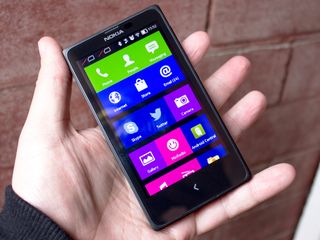 In an email to Microsoft employees, CEO Satya Nadella announced that the software giant would trim its global workforce by 18,000 over the course of the year. The first batch of layoffs will begin later this year, and will see over 13,000 employees leaving the organization.
In the email, Nadella talked about integrating Nokia's Devices and Services unit into Microsoft, which apparently involves bringing select Nokia X products to the Windows phone platform. Nadella said:
While we're not entirely sure as to how Microsoft would achieve this, it is likely that the Nokia X line would be discontinued in the near future, with the hardware rebranded as a Lumia and offered on the Windows Phone platform.
Details regarding the change should be forthcoming tomorrow at Nadella's monthly Q&A event. We'll keep you posted as soon as we hear more, but for now it looks like the Nokia's flirtation with Android is set to come to an end.
What do you guys think of the move? Did any of you purchase a device in the Nokia X series?
Source: Microsoft (opens in new tab)
Harish Jonnalagadda is a Senior Editor covering Asia at Android Central. He leads the site's coverage of Chinese phone manufacturers, and writes about the semiconductor industry, storage servers, and audio products. Contact him on Twitter at @chunkynerd.
It was predictable. Posted via Android Central App

Really. Hard to believe it took this long.

Nokia X made a bad name for Android Posted via Android Central App

Don't think it affected Android at all. It sure put the fear of God into most all WP users. Now maybe the rumors of MS adding Android apps to it's store will die a deserved death.

Microsoft discontinuing Android devices? Who would have guessed?!

As it should be. Keep the breed pure.

Touchwiz, sense, fire oh my..

Yeah but at least TouchWiz and the rest can be almost cured with Nova Launcher and have access to Google software. Fire not so much.
Posted via Ash Williams Boom Stick!

What wasn't mentioned in the article was that most of the layoffs -- 12,500 -- will come from Nokia's devices and services business.

Scource? Plz supply facts Posted via Android Central App

http://money.cnn.com/2014/07/17/technology/enterprise/microsoft-job-cuts... "Most of the latest round of layoffs -- 12,500 -- will come from Nokia's devices and services business that Microsoft recently bought. In a memo to Microsoft's staff, Nadella said that Microsoft found many redundancies between the two companies, including both professional and factory workers."

Expected. Posted via Android Central App

It's already lasted longer than the Kin, right? Wonder how much this was just out of embarrassment at the fact that their half-hearted Android ploy probably outsold WP for the few months it was available :)

So, to recap, after a lurid night of binge drinking and tripping Microsoft's Beavis and Butthead types thought, "Android on a Nokia, that'd be cool." Then after sleeping it off they realized, "Oh crap, we did what?" and now they're going to go back to WP. No big surprise, seen it a million times. Next!
... Joe k.

So, will we get another Nokia spin off? Posted via Android Central App

It's unlikely. Nokia is Microsoft's baby now.

Yes nokia x brand will become MS luminas running WP Posted via Android Central App

I used windows mobile OS for many years and I liked it. MS lost me when they changed everything and started over. I understand why they did it but they did nothing to try to keep the loyal follower. Then they changed it again. Each time making the software not compatible. Now they are doing it again after trying Android (at least kind of trying it). I have been on Android for about 4 years now and upgrades here does not mean that I have to start over again each time.

It's not rly like that anymore. Well, with Windows Phone. Posted via Android Central App

Garbage in; garbage out. Posted via Android Central App via XT1060_NiT through spacetime. Android Central Moderator.

Always thought the Nokia X was pretty pointless taking into account the impending takeover. Maybe it was a giant "Fuck you" from Nokia's hardcore employees to MS. So with 12,500 layoffs at Nokia Mobile, MS will probably be getting rid of all the talent that has made Nokia hardware so good over the years (well what was left of them anyway). MS probably think that they know so much about the hardware market that they can afford to lose the Nokia staff. Problem is that they are blind to the fact their hardware division is failing badly. Even XBox is struggling. Prediction: MS will continue to struggle with WinPhone. Whilst the Nokia name has almost disappeared in the west, there was still a chance they would sell in placed like India but once the name goes. Lumia won't stand a chance. 10% market share at best.

They aren't really stuggling that much. They are getting more and more consumers. Just ATM. And I know TONS of people with Xboxes. If you read the new article, the firing was nesscessary.
Posted via Android Central App

I predict android will try and copy beauty and easy of WP . Then tell everyone how they were frist to have tiles, oh wait thats just what Android L is from what ive seen Posted via Android Central App

Ikr. Posted via Android Central App

The flat designs that all these os's have now feels a little derived from wp. Posted via Android Central App

The surface has outstanding hardware, but I'm sure they'll keep the hardware designers. Posted via Android Central App

This is good news for Android. That was one helluva abomination.

No wait, stop, come back...oh well.

Dear Microsoft, How about shifting Android to Lumia devices instead? Posted via Android Central App

Eew no. My Lumia is my device with no issues. I don't wanna be flashing ROMs and doing antivirus scans. EEEWW!!! Posted via Android Central App

Lmfao. 920 went strong for nearly 2 years without a hiccup. Upgraded to s5 only because Verizon had the icon and att had a phablet with touch issues, so just a heads up Microsoft, if you want to keep customers, then put out compelling devices around upgrade time. Posted via Android Central App

That would immediately switch me to iPhone! I use my wp because it always works. I use the Android because the Apps. Posted via Android Central App

Can't wait till 2016 when Nokia can enter the mobile market once more..
A Nokia lumia running android with top notch specs...mouth watering ..
Watch elops windows phone
die the death it deserves ..and Nokia soar once more .. Posted via Android Central App
Android Central Newsletter
Get the best of Android Central in in your inbox, every day!
Thank you for signing up to Android Central. You will receive a verification email shortly.
There was a problem. Please refresh the page and try again.