Max Sound's Spins HD makes Android mp3 playback not suck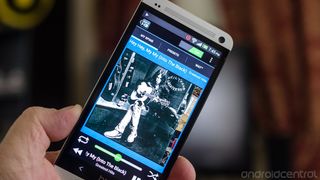 Coming update makes it easier to organize and play your library while keeping all the sound improvements you expect from Spins HD
While the debate over keeping your music collection stored locally or in the cloud will never end, the one thing most people agree on is that a good music player app makes a world of difference in the way those files sound. Everyone has a favorite, but Max Sound is pushing out an update to Spins HD that you're going to want to look at.
Spins HD (opens in new tab) takes your existing on-device music collection and runs it through more than equalizer presets, the app delivers HD sound by converting the file into an actual analog sound wave. While it's still a compressed digital file, this allows the "full breadth" of the original recording to come through, delivering better sounding music. These claims may come from the developers, but I will say the files do sound better when playing in Spins HD, and often times much better. And it's easy -- there is a page of presets that work well, and for the more adventurous, you can also set the tone for high, low, and midpoint sounds from your music. Great sound from an app that's easy to use is always a plus.
Smart phones have taken the place of the mp3 player for most of us, so getting great sounding audio is important for the connoisseurs out there. The coming update for Spins HD keeps the great sound you expect from the player, and adds a much improved UI that makes it easier to manage and sort your playlists and songs. If you're a current user, look for the update shortly, and if you haven't tried Spins HD yet, click the link above to give it a whirl. A press release and series of screenshots is after the break.
MAX-D's Spins HD Audio App Is The Ultimate High-Definition Enhancement for Android Phones
The highly anticipated update to MAX-D's flagship app makes it easier than ever to manage playlists and hear your music in high definition
SANTA MONICA – July 2, 2013 – Max Sound Corporation (OTC Bulletin Board: MAXD) – the HD audio company that is substantially improving the quality of sound in music, movies, audiobooks, video games, television, live events and mobile devices with it's MAX-D High Definition audio breakthrough technology – today released the ultimate update to its flagship High Definition music app for Android; Spins HD features MAX-D's patent pending digital audio technology (Maximum Definition), providing the clearest and crispest sound standard for music playback on any Smartphone or portable media player.
"The Smartphone is the definitive music playback device of this generation and the mp3 remains the most popular audio format. Our new app gives serious music enthusiasts the sound quality they deserve on their smart devices, beginning with Android," said MAX-D's CEO, John Blaisure. "Finally, through the MAX-D process , much of the loss in sound quality that aficionados experience with digital music, specifically mp3s, is finally being restored. You have to hear it, to believe it. You have never experienced sound like this before
The new Spins HD App gives users more control than ever in how they organize and playback their music in High Definition. The Spins HD App allows users to create a playlist from any artist, track, albums, genres, and queue – just in time for that summer road trip! Users can also create, rename and delete playlists, or create and edit new ones from queued tracks. They can even delete specific tracks from a queue or select to play at a specific point in the queue.
Going well beyond the overwhelming number of unexceptional EQ-based apps in Google Play, MAX-D's patent pending technology is unlike any other high-definition portable audio solution on the market! MAX-D actually converts the original, compressed digital recording to a warm analog sounding sound wave. MAX-D has the ability to restore the full breadth of the original recording, even though it is still technically playing back the digital mp3 file. With the Spins HD App , users can easily adjust different parts of the sound wave – customizing it to the low, mid or high range – or let the app itself do the work by setting musical genre defaults like pop, rock, jazz, classical, reggae, hip-hop, Latin and many others
The MAX-D technology is now integrated in the Spins HD App. The acquisition of Liquid Spins late last year allows users to download music and listen to it on the new Liquid HD app, available at either Google Play or liquidspins.com.
About Max Sound Corporation
MAX-D is to audio what HD (High Definition) is to video. The MAX-D™ Audio Process makes everything sound better and can convert an audio file to high definition quality while significantly reducing the file size by allowing the user to convert to MP3 or other compressed file types with the MAX-D process. Max Sound® and MAX-D™ are registered trademarks and patent pending technologies wholly owned by Max Sound Corporation. All other trademarks are the property of their respective owners. To learn more about the MAX-D Technology, visit www.MaxSound.com.
Image 1 of 10
Android Central Newsletter
Get instant access to breaking news, the hottest reviews, great deals and helpful tips
Senior Editor — Google Ecosystem
Jerry is an amateur woodworker and struggling shade tree mechanic. There's nothing he can't take apart, but many things he can't reassemble. You'll find him writing and speaking his loud opinion on Android Central and occasionally on Twitter.
If only Google would open up API access to Google Play Music All Access. Posted via Android Central App

If only they wouldn't have used the worst of all options... MP3. MP3 sounds compressed/flat (dimensionally not pitch) no matter how high the sampling freq. Please give us some kind of (actual) quality sounding option for living room listening. Please Google, just use ogg for bandwith savings on mobile and flac for quality. No phone in the last 4 years has a processor so weak that MP3 should be ever used anymore. All the oggs that I uploaded to my library sound so much better than the music from All Access. The all access music service/app is good and getting better, but the sound is simply poor. Use the open source force, google.

Anyone recommend a way to boost the Galaxy Nexus speakers, SA Labs Equalizer doesn't work on JellyBean, and another one i got for free and paid for a key to unlock doesn't do much either. I can't wear ear buds, and hate head phones and prefer the device speaker, but need a boost. Just a stock device not rooted or unlocked

Or you could just rip your music into a lossless codec like FLAC. Posted via Android Central App

With how cheap hard disk space is now, there's pretty much no reason for your CD collection *not* to be FLAC. If you're about to put that music on a space-limited device like a smartphone, then you can downsample the FLAC file to Ogg Vorbis or M4A or whatever your preference is, and just keep the original FLAC around on your computer, or your network-connected media center. (XBMC is pretty great for this.)

Pretty sure you audio is only gonna sound as good as the DAC in your phone. Another reason why I really like GSMArena's reviews. They analyze the audio out.

I don't see how this is anything other than a set of EQs... Good audio through headphones comes down to the sound source (the phone), the headphones, and possibly the amp. There's little EQ involved, if at all.

"... by converting the file into an actual analog sound wave." What the heck is that supposed to mean? If it means turning the digital bits into sound waves in the air, all music players do that. That's kind of what it *means* to be a music player. If it means decompressing the file back into .wav format before playing it, that doesn't gain you any quality: once you've compressed the file with a lossy format (MP3, Ogg Vorbis, M4A/AAC, whatever) the data thrown away to reduce filesize is GONE. Can't get it back, just like you can't upsample a JPEG and apply Hollywood "Zoom and enhance" magic to increase its quality. Whoever wrote that phrase was not having one of their best thinking days when they wrote it.

yeah, it's pure marketing bullsh*t. As you say, our ears hear analogue waves. since the audio has been quantised and compressed to make its digital format, generally the only thing you can do to it is make it worse by adding distortion; even normalisation and equalisation will do that, but the least they can do is do it all digitally, decompressing, processing and recompressing will just make it worse. Beats is another way of messing about with the sound quality, mainly aimed at trying to make mobile phone tinny speakers not sound quite so crap!

"...the app delivers HD sound by converting the file into an actual analog sound wave." And the volume goes all the way up to eleven!!!1!1!!! By the powers of glittery fairies and rainbow unicorns combined!!!

OK, good, I came here to make sure this got the mockery it deserved but you and rmunn already had it covered.

Just did a comparison and like the play music player better as a stream than the spins hd player with local files. Same songs btw... Posted via Android Central App

Even after the update I find the sound sub par. Better options out there including the Google music player. Posted via Android Central App

Actually I found the opposite. Using Play Music's notification bar controls I instantly went back and forth between this app which I kept open and Google's which I controlled through the notifications. On 3 songs from completely different genre's I couldn't deny that Spins had a clearer sound with a bit more depth. I still have to try it with headphones but playing both from my phone speakers made a noticeable difference. Spins was lower so I had to raise the volume to match Play Music, but Google's made my music have that tiny speaker sound as if I were playing the music through an old flip phone (by comparison, obviously). But at the same time people hear different things which is why we even have options. The one thing that annoys me though is that Spins doesn't show any of my music that I uploaded to my computer from a CD, only songs that I downloaded. Until it recognizes my whole library I really don't have any use for it. Posted via Android Central App

Whatever version is on the play store doesn't seem so good to me. I can't figure how to shuffle all tracks and the presets sound like crap. This is comparing to power amp with tracks at 320kbps. Maybe the updated version reviewed is better?? Posted via Android Central App

Well seems they updated it since I downloaded it last night. Hrmph! Posted via Android Central App

Using my Samsung Galaxy SIII, I played Mirrorball by Elbow in a side-by-side comparison of Spins HD, the stock player, and Winamp. I found Spins HD to be less than ideal, as it sounds like it is muddying the sound, boosting bass and midrange while blunting treble. The stock player was boosting bass a bit less (but still too much) with all of the tuning options turned off and treble was a bit dull. Winamp sounded like it was adding the least processing to playback and seemed to be the flattest, truest playback option of the three. No Spins HD for me, thanks.

If you really want an app that truly helps the audio playback, try "Noozxoide EIZO-rewire PRO" an app that should be reviewed, it needs attention, I use a Stereo Receiver and a physical EQ, not just something software based, but some of the effects in the app that I mentioned actually help Posted via Android Central App

do you connect to your stereo receiver digitally with S/PDIF, or with analogue? there's a good chance that internally the receiver quantised the incoming analogue maybe 24 bit PCM at 96kHz, processes it digitally to do the EQ, and then has a final DAC and power amp stage. I know my Yamaha does this.

I have my Nexus 7 with Google Music All-Access streaming (320kb MP3) through it with a gold-plated AUX to RCA cable, I have no idea what the receiver is doing internally as its a old 1981 Pioneer SX-4 and I have no idea what the specs of the receiver (whether it converts to Analog or not) as I don't have the original instruction booklet, all I know is that is that sounds extremely good. Posted via Android Central App

Great idea but TERRIBLE UI.

Poweramp is still the best music player on android. Posted via Android Central App

agreed, nothing so far I have trialed has beat Power Amp. My local music runs through it.

+1 the only complaints about poweramp is that there's no car mode, and the android back button doesn't always do what I expect.

Intalled but always crashing
So uninstalled Posted using HTC ONE via Android Central App

"the app delivers HD sound by converting the file into an actual analog sound wave" Uh, that's what every phone/digital music player does, thats how you hear the sound....
Android Central Newsletter
Get instant access to breaking news, the hottest reviews, great deals and helpful tips
Thank you for signing up to Android Central. You will receive a verification email shortly.
There was a problem. Please refresh the page and try again.