A look at the LG V10 Second Screen settings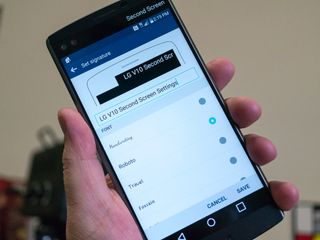 Having a second screen at the top of your new LG V10 isn't very helpful if you don't know how to set it up to your liking. It's there, waiting for you to add handy shortcuts to apps and contacts, or grab your notifications, or even just display the time or a friendly saying if that's how you want to use it. All you need to do is tweak the settings a little bit.
Let's dive in and see how it's done.
The most difficult part of it all is finding the darn settings. LG has craftily hidden them behind another setting, so we have to look for them. It's sort of like finding Waldo, only not really. Once you know where they are, it's easy.
Open the settings pages. Got to the "Display" tab and tap on "Second screen". You'll see the settings to enable or disable the second screen, both when the main screen is on or off. You just toggle the little blue switches to the right to make your choices there. To get to the "real" settings, you tap the text field. Tapping "Show when main screen is on" will take you to the settings to control what you see when the main screen is on. Tapping "Show when main screen off" lets you decide what you see when the main screen is off. In the picture above, you see both settings screens. We'll look at what happens when the main screen is off first.
There is really only two options here. You can choose to show the date and time, or a signature. A signature is a short line of text, saying anything you want it to say. You have different choices for fonts, and you should choose Roboto. Just kidding. It's your phone, choose whatever font you like. For those wondering, yes you can put any nasty little saying you want up there. There is no censor. I'll let you all guess about what nasty little saying I may or may not have on mine.
Anyhoo, once you have this set, whenever the screen is off, your little top screen will show your signature or the date and time, based on your choice. Choose wisely.
How the second screen acts when the main screen is on has a bunch more options.
You can set a signature, just like you can for the screen off settings — note that you can use two separate signatures here — as well as set shortcuts to often used contacts or applications. Your recent apps can be shown, as well as calendar events or music player controls. You can also drag and drop to rearrange the order of things.
Once you've gone through the settings, decided which ones you want to enable and how to set them up, your choices will appear up top whenever the main screen is on. To move through the different categories you've chosen, you just swipe back and forth.
Finally, if none of this is your thing, you can chose to shut the second screen off completely both while the screen is on and while it's off.
Senior Editor — Google Ecosystem
Jerry is an amateur woodworker and struggling shade tree mechanic. There's nothing he can't take apart, but many things he can't reassemble. You'll find him writing and speaking his loud opinion on Android Central and occasionally on Twitter.
Meh... I prefer my 6p. Posted via my Nexus 6p

So it is just like the Note Edge screen. Posted via the Android Central App

Except it's waaaaaaay up at the top. I'd only use it to display passive content.... Not making a habit of reaching up there. Posted from the ghost of my HTC Aria via Android Central App

Yes, but it's much easier to see your notifications when you are looking at your phone than on the Edge's screen. Posted via the Android Central App

I prefer the s6e screen honestly. It's sleeker and less intrusive. Posted via the Android Central App

While I like LG's implementation better than most, I think it's position might be a bit high for those with smaller hands. Then again, those with smaller hands wouldn't consider a 6-inch device. (The V10 is 6-inches, 5.7-inches on the main display, close to 0.3-inches on the secondary display)

Yea, I wish they stick to 5.5 in screen and added the second screen on top of that. Would have been more manageable IMHO. What I really like about this phone is the 4 GB Ram and the video quality and options, but I have a feeling those will be included in the G5. Im going to wait and see.

I always use my phone two-handed (except to scroll occasionally with my thumb). So its position would be fine for me.

Im just guessing but Samsung is the one that started the whole second screen in the first place from the note edge so credit has to be given to Samsung for doing something inovative then just copying Apple. If im wrong please inform me.

It wasn't the Note Edge. It's was the Samsung Continuum, a device that has long been forgotten by many. The V10 is more like the Continuum, only that the ticker display is on the top in the V10, rather than the bottom like in the Continuum.

There have been other phones that try their hands at two displays but not many were implemented very well either from a hardware perspective or a software perspective.

Why not use this with the software keys area instead. They could still include some of this stuff. Maybe even a compass...

Second screen looks more like an extended bezel. But I'm sure the functionality can be usual for a music player. When we die, we go bye-bye. - Sal Vulcano

The music controls are nice... However when the main screen turns off the second screen defaults to the Time/Notifications and you have to swipe to switch windows back to the music... and the music controls only stay on for about 6 seconds then it's back to the Time. The "always on" screen default is only the Time. (Or Signature if that's the option you picked in the settings) However when your Main Screen is on, it will stay on the Second Screen tab you have selected. Also, the Second Screen does not stay on in full screen mode. You can tap to wake it but then it will ONLY show the Time/Notifications. You can not swipe to get to any other Second Screen tabs making the music control out of reach. Incoming Notifications will VERY VERY briefly show in the Second Screen if your Main Screen is off. I think it goes by too fast to be useful. If you've used a G4 and liked the pop up notifications for text messages, it's still an option on the V10 but not the default. The default is to use the Second Screen which again only shows the message briefly and does not have a reply option. That option can be changed in the MESSAGES app, Settings > Notification settings > Notifications via..... I like the Second Screen enough to not dislike it. if the few issues above were corrected i think I would love it but the music controls (while my main screen is off) was the main option i was looking forward to and it just is not that useful since it will not stay on the music controls. I do like the V10 as a whole very much, these gripes are just about the functionality of the Second Screen.

LOL I had a Continuum... Couldn't get rid of that turd fast enough.

The clock on the second screen is way too small. I was excited to use it to check the time in the late night early morning if I woke up during my sleep cycle. My eyes wouldn't focus on it. They will when awake. But in the middle of the night I had to open the main screen to check the time. Complete waste of..... Time. It has enough real Estate on the second screen... Why not let me adjust the size?
Android Central Newsletter
Thank you for signing up to Android Central. You will receive a verification email shortly.
There was a problem. Please refresh the page and try again.