London Drugs now selling the Nexus 7 in Canada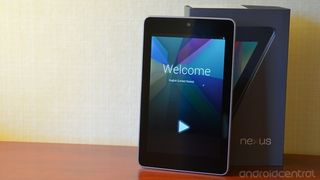 It's certainly full steam ahead now, as aside from Google various other retailers across North America are starting to dish out the Nexus 7. The latest addition to the list in Canada, is London Drugs. They're selling the 16GB version at the same price as the Google Play Store, although stocks seem to be limited, at least to start with.
It's fantastic news that so many different retailers are to offer up the Nexus 7, and it definitely isn't going to hurt those sales figures. Now all we need is for the European retailers -- and Google -- to start officially shipping theirs.
via MobileSyrup
My Nexus 7 ordered from the Play store a couple of days after announcement left Kentucky about 3 hours ago. Should be delivered by end of day tomorrow to me here in Los Angeles.

Same here. Got my shipping notification Friday and was originally scheduled for delivery today. Ended up not leaving Kentucky until this afternoon. Should be here tomorrow though! Very excited!

If I didn't have so many looming medical bills, I would have gone and preordered at Gamestop.

Has anyone in Canada received a pre-order shipping notification yet?

I haven't heard of any Canadian or Australian order going through. I gave up and picked one up at Staples on Saturday. I can't see Canadian pre-orders arriving on doorsteps before Thursday. And more than likely, next week for many.

Ya, I wonder if it's worth cancelling my pre-order and just picking one up from London Drugs, assuming my local store has stock. Kind of sucks to pay an extra $20 for shipping if it doesn't arrive any sooner than the store release date.

Yet there's doorknobs in the Forums claiming that the Nexus 7 hasn't "launched" yet. When London Drugs starts selling it, you know it's mainstream.

Already picked my non pre-ordered Nexus 7 from a local Staples last Friday
One Staples manager told me that he recieved an email stating that they should start selling the tablets as soon as they have stock

Will CVS, Walgreens, Rite-Aid and other stores sell the Nexus 7 tablet in the US?

Staples now has it up on their website. It currently says out of stock and next shipment tomorrow. And it says check in-store for stock. This lines up with what a Staples manager told me on Saturday. He said they would put out whatever leftover stock was there on the floor on Monday.

Guys, aside from google play(wherein I cannot order due to location restriction), is there any other on-line store that ships to Singapore?

man mine is shipping out of louisville ky and i live in louisville ky. which i could just pick it up but i have to wait till tomorrow. Google should give me my money back as the local sams has then for sale right now.
Android Central Newsletter
Get the best of Android Central in in your inbox, every day!
Thank you for signing up to Android Central. You will receive a verification email shortly.
There was a problem. Please refresh the page and try again.