Live TV listings are headed to Google search results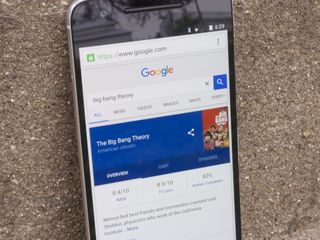 Google has revealed that you'll soon be able to quickly check live TV listings inside of Google Search. While there's no timeline on when to expect the feature to pop up, Google says you'll be able to check air times and channels for any given TV show with a simple search. From Google:
This is in addition to information that Google already surfaces for TV shows, such as where they're available online, cast information and much more.
Google also made a number of announcements geared towards its ad industry partners, including ways it's making its DoubleClick ad platform much better at targeting and managing its ads. For more on that, be sure to check out Google's full blog post.
I'm always amazed whenever I search a TV show that Google doesn't already do this, especially when my Logitech Revue used to serve this info up without any problems. Glad to see this!

Cool Posted via the Android Central App

Who still watches live TV? You're basically just paying to watch commercials. Screw that.

Sports? I wonder if illiterate people get the full effect of alphabet soup

Couldn't care less about sports, actually.

I think wezi427 was saying people who watch sports still watch live TV, not that you do necessarily Posted on LG V10 via the Android Central App

You mean everything isn't about me? Damn!

Actually, I am not paying to watch commercials. Cable charges to watch commercials. OTA TV does not,as it's free to use. Posted via the Android Central App

good why don't u go live on the moon u dumb ass

FINALLY, I was wondering for a long time when this feature would be coming. :D
Android Central Newsletter
Get the best of Android Central in in your inbox, every day!
Thank you for signing up to Android Central. You will receive a verification email shortly.
There was a problem. Please refresh the page and try again.