LG's G Watch rumored to land on wrists in July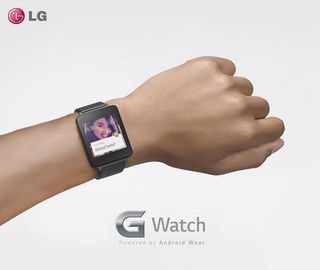 LG's G Watch is anticipated to undercut Samsung's Gear 2 Neo pricing when it lands on consumer's wrists. The G Watch is reported to be debuting at a very competitive price in the UK on July 7th, roughly a week after Google's I/O conference in San Francisco, California this year.
Though neither LG nor Google have confirmed the G Watch's launch date or pricing, the information comes by way of MoDaCo's Paul O'Brien who says that LG's wearable foray will "undercut the entry level Gear 2 and massively undercut the Pebble Steel." Still, despite being believed to be priced competitively, O'Brien still thinks that the G Watch will be priced higher than Sony's Smartwatch 2.
The G Watch has popped up in the news recently as multiple outlets are reporting that the device may be one of Google's giveaways for developers to try out at the Google I/O conference that kicks off towards the end of the month. Giving developers access to the G Watch may spur interest in the Android Wear platform that powers the wearables, potentially leading to new apps and utilities to come to the smartwatch.
We'll still have to wait for an official announcement from LG.
Source: MoDaCo
Get the Android Central Newsletter
Instant access to breaking news, the hottest reviews, great deals and helpful tips.
36 hours on.... standby. No thanks.

" Apple building their own in-house 1,000-member advertising team while casting a wider net for outside firms." What does that have to do with the LG watch?

That isn't even in the article...

It was when I commented on it.

I think I speak for everyone when I say, Moto 360 or bust.

Lemme correct that for ya. Moto 360(affordable price) or bust(over to LG G Watch).
Posted via Android Central App

What do you consider "affordable?" I'm assuming what you consider affordable is less than what the 360 will be priced at, so I guess you're probably getting the G Watch.

yeah i'll keep waiting on the metal band Moto360, that'll be the watch i'll buy, not the one's that keep looking like plastic toys.

+1 Posted via Android Central App

Please don't
Lets just wait and see

Congrats to LG!
But, it will be nice to hear something about Moto360

The only thing you'll hear from them is production issues due to the circular screen . I don't think it will be affordable due to the lack of supply.
Posted via Android Central App

There will be a boat load of choices and offerings during the Christmas season. I can wait 5 months.

Don't jinx it! Recently lost my pebble, looking forward to replace it with a moto360 Posted via Android Central App

Not trying to be a dick, but are you basing this prediction on any technical / insider knowledge or is it just rampant speculation?

What does "affordable" mean? And affordable to whom? I think it will be AT LEAST $299. And I can afford that.

I haven't had much interest in a smart watch but getting more & more tempted to at least try one

Once you do, you won't be able to live without one. It's so nice being able to silence your phone and never miss a notification. Or receiving a notification and being able to see weather or not you need to pull your phone out. It's also pretty neat being able to check the time without having to pull your phone out of your pocket. :) Posted via Android Central App

I definitely would love to avoid pulling out my phone as much as possible at work because they always think I'm just slacking & playing with my phone all day when I'm really not. Posted via Android Central App on The Nexus 5

"It's also pretty neat being able to check the time without having to pull your phone out of your pocket." WOW. Imagine that!

No one cares. Where is the 360? Posted via Android Central App

Yes they do. Posted via Android Central App

I just ordered the Toq that should hold me over until the rumored HTC One Watch. If it's anything as elegant as the M8 I'm forking my money immediately. Posted via Android Central App

I'm anxious to see what HTC will offer too. Posted via Android Central App

Android Wear has to be part of the Google I/O package. Posted via Android Central App (Moto X)

If it wasn't I think the world's axis would be disrupted.

I like the idea of android wear but this just isn't a good looking watch. Posted via Android Central App

I personally agree 100 percent. Don't get me wrong, I really love what LG has done these last 2yrs, this just isn't 1 of them. Pebble Steel seems to be the classiest out of the whole bunch, imho Posted via Android Central App

So Paul is saying it'll massively undercut the Pebble Steel ($250) yet it'll still be priced higher than the Sony SmartWatch 2 ($150)... That doesn't leave much room, what are we really looking at then, $175? Seems kinda low if you ask me. I could see LG doing $200 if Moto really settles on $250 tho, or Moto waiting out LG's launch to determine their pricing.

I'm guessing $199 for LG, and Moto 360 somewhere between $299 and $399. Moto 360 will NOT be $250.

I'm personally waiting for the Galaxy Gauntlet...with an AMOLED screen that curves all the way around my arm. Yeah!! Posted via Android Central App

So. Much. Hate. against the G Watch there is (in Yoda voice) Posted via my Nexus 5 in the Android Central App

Honestly I was one of those who was flipping out when the Moto 360 was announced, and I am still excited to see and use one in person. But honestly the more I see the G Watch the more it grows on me. It just looks like it has a slimmer overall profile and is just less ostentatious and more low key. Which to me are all very good features in something that I would be wearing all the time. I guess I will just have to wait and see.

"a slimmer overall profile and is just less ostentatious and more low key," I guess that's ONE way to look at it. Others may call it, ugly, cheap, plain and boring.

That sounds a lot like how some might also describe my Nexus 5... I do like the Moto 360 but like I said before I am reserving judgement until I can actually see them in person. Overall I really like Motorola and I am excited about the direction that they have been headed, and for what it's worth I have every intention of getting an X+1 (or whatever it ends up being called) if it follows the same path as the Moto X. So trust me I am anxious to actually see what the 360 can do and I am hopeful that Moto has some cool tricks up their sleeves. But the bottom line is that if the G watch can do everything the Moto 360 can, do it for less money, and in a package that is a little smaller, then that's probably the one that I am going to be getting. Style alone doesn't do it for me.

I, personally, think the Nexus 5 is a very handsome device. I was hoping to actually get both the 360 and G Watch (as a more casual option) but so far the G Watch just doesn't look good enough for me to want it (I was betting on the white one), but like you, I am waiting until I see it in person to make a final decision. I definitely want more than 1 Android Wear device, and if LG doesnt look any better to me, I'm waiting to see the offerings from other manufacturers. In terms of size, I don't think there will be THAT much of a difference. It seems what you get in screen real estate on the sides of the Moto 360, you get in top and bottom bezel on the G Watch.