The LG V20 is really popular in Canada, expanding to three new carriers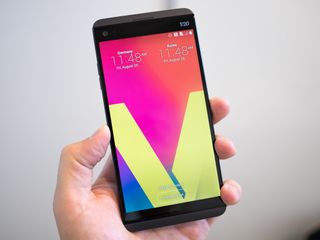 LG Canada appears to be on a high. The company announced during MWC that its flagship G6 would be available across multiple carriers — a given in this highly-subsidized market — and now it has revealed that its fall hero phone, the V20, would be expanding to two of the country's biggest providers.
The V20 was, until now, only available on smaller regional carriers Freedom Mobile and Videotron, but will be sold at Rogers and sub-brand Fido, along with rival Bell, after the company says intense consumer demand forced its hand.
"Announcing additional carrier partners for the LG V20 means supporting our consumer demands, which LG strives to achieve in every strategic decision," said Shelly Walia, Brand Manager, Mobile Communications at LG Electronics Canada. "The positive reaction post-launch in October drove us to secure additional Canadian partners. We're proud to partner with Bell, FIDO, Freedom Mobile, Rogers and Videotron to ensure people have options."
Freedom Mobile LTE: Should you switch?
The V20 is still the only flagship handset in the Canadian market to support Band 66, which combines AWS-1 and AWS-3 spectrum into a single unified band. While the V20 on its own is a great handset, it has proven essential for Freedom Mobile's nascent LTE network, which is live in several cities across Canada, with plans to expand even further in mid-2017.
Get the Android Central Newsletter
Instant access to breaking news, the hottest reviews, great deals and helpful tips.
Daniel Bader was a former Android Central Editor-in-Chief and Executive Editor for iMore and Windows Central.
We don't believe you, we need sales numbers.

"We"? As in the readers of the article? As a general rule, speaking for others is a bit self-absorbed.

It's good that the V20 will be widely available, since the V10 was pretty much skipped completely.

This is hugely underrated phone. I got it on special through T-Mobile and ditched my S7 edge. I wanted a big screen. This didn't disappoint. I love the fact that I can flash custom Roms and recovery and the camera on this thing is a beast. I loved it so much bought my dad one full price this past weekend.

I also got it on the T-Mobile deal, it is pretty awesome

Are there custom ROMs that do anything interesting with the secondary display?

IMO, as a former V20 owner, the general elation is because of the $360 price-tag. Few are head over heels if they paid $750 for it. Acquiring it a low cost generally makes people giddy and quick to overlook things (input lag, not so great battery life, poor low light camera, time to shot [photo], etc) and the excitement is primarily based in the "deal" they got. It's a nice phone, but not at the retail price tag, IMO.

Agreed. I got mine for $650. It's going to be a big loss for sure.

Probably true but I got mine without any special deals and no phone uas even come close to providing everything the V20 does. Even the G6 and the Galaxy S8 don't have removable battery(its not only useful but a differentiator), IR blaster, QuadDAC, and hifi recording mics on board. And the battery life is more than respectable with adequate speaker output. I would still choose the V20 over what's available right now.

I agree with you. I got one for $600 and returned it within 2 weeks, going back to the Note 5. Only thing I miss about it is the headphones. I found the phone pretty underwhelming.

The camera was most disappointing. I felt that I had better experiences with the G4 and V10. Compared to my s7e, the V20 is far inferior. Movement destroys the V20. Focusing and sluggishness is a real issue. I am a huge fan of the audio. I think they could have done a better job on design (at least in the colors department). I'm going to avoid LG for a bit to see if they can get it back together.

The most underrated phone on the market. By far. Yes, I still miss my lamented Samsung Note 7. But with its built-in radio and yes, secondary screen (and no one is as surprised as I am that I find that secondary screen so useful), the LG V20 is itself an awesome phone and a worthy flagship. Plus the removable battery, which I don't think too much of but is still all-in-all a plus. A truly great phone. Good for Canada.

Great phone despite the naysayers

available on telus networks?

I have been trying really hard to love this phone. I really love the second screen and use it quite often... Probably my favorite feature besides the manual camera (that takes awesome food shots using manual).. However, I'm now on my 3rd replacement, due to an "Unfortunately System UI Has Stopped" endless loop... Hopefully 3rd time (4th phone) is a damn charm... I've never had such bad luck with a phone before.

I wanted to love my V20. The Achilles heel to me is the inability to get a clear shot when there's any movement in the frame. I am disappointed in performance compared to the s7 edge.

Isn't there a Speaker or Audio Encoding issue with V20.
Something to do with Flac Mp3 format?
I would feel better if I knew the Speakerphone was loud and clear and not crackly or muffled or anything.

Best phone I ever owned and still more versatile than most phones even some of the frontrunners for 2017.

Too little, too late. This needed to be made available on the big networks in October when the phone was released. With the S8 just around the corner, this fish is dead in the water before it has a chance. Then, LG will blame poor sales for not releasing future phones in the Canadian market. Sorry LG, you guys ****** up!

I'm hoping the g6 will be a beast. I wish lg would have put the 835 in it though!

That's saved for the V30. I like the V20, but the camera is overrated, I missed way too many moments due to lag, even in good light. Loved the wide angel and use it a lot but image quality isn't that great, on both rear cameras. I wish it had the SD 821 instead of the outdated 820.

Hopefully it ends up being more reliable than the G4 or V10, because LG won't help if the V20 starts failing a year later. Wonder if LG will just support a android O update or that and P?