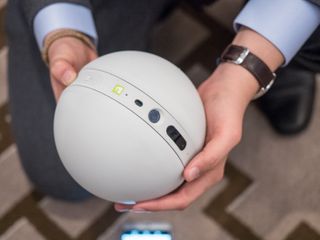 It bleeps. It bloops. It lights up, shines lasers, monitors your home and plays with (or terrorizes) your pets.
This is LG Rolling Bot.
We got a sneak peek at the not-so-little guy — it's about 6 inches or so in diameter — at Mobile World Congress, and it's a fun little sphere. Whereas other gadgets like Sphero and BB-8 look a little more lovable, Rolling Bot is definitely more robotic with all the exposed ports and cameras. There's a companion app so you have full control.
But it does lighten things up a little bit with some internal LEDs, and a charming robotic voice that either was announcing its good intentions, or it was about to go full Dalek on us.
The idea is that Rolling Bot can patrol your home when you're not there and report back if it thinks someone's lurking. Or it can do the whole laser pointer with pets thing and keep them occupied instead of getting in the garbage. (And talk to them. You've gotta wonder what they'll say.) It connects to your home Wifi for autonomy, and is an intriguing little guy.
We'll bring you more details on things like price and availability once we've got them.
Basically a more advanced version of the sphero BB-8 without the decorative "head" balancing on top. Hmm, wonder if LG will have a BB-8 inspired color choice for this, assuming I could buy one. Posted via the Android Central App

Interesting for anyone without stairs. My dog will chew the life out of this little ball.

How true! LOL! Posted via the Android Central App with a Nexus 6

So they will sell like 5,000 units... Posted via the Android Central App

I'd get one if the price was right. Instead of putting a bunch of cameras around your house, just fire up the bot while you're away on vacation and let him do a quick sweep. He's got a camera and he's connected to your WiFi so I imagine you can control him over WiFi. Posted via the Android Central App

Well that's a pretty good idea Posted via the Android Central App

This is definitely cool. I'd imagine it will be very pricey.

honestly what LG showed us is pretty cool. however it all depends on the money

With the camera that low, look like the robot will be sneaking a few peeks. Posted via the Android Central App

Is the app a pre installed lg only thing or will it be available in Play Store?

I think this is their best announcement of the day. It would be great to check on your home/pets when you're on vacation. Beats the crap out of a Webcam. Posted via the Android Central App from my LG G4

Have a pet door and it can patrol your property, with good GPS in case someone steals it or a wolverine eats it. Posted from a Note 8, 4.4 PacMan

I hope they don't lock out other phones since it doesn't seem like there is a technical reason why it couldn't be used by phone another than the g5. Posted via the Android Central App

They need a deathstar version with real working planet killing muitibeam destructor ray!

I would love this, for my Serval. At very least he would stop messing up all my shoes. I think )))
Android Central Newsletter
Get the best of Android Central in in your inbox, every day!
Thank you for signing up to Android Central. You will receive a verification email shortly.
There was a problem. Please refresh the page and try again.