These are all the phones LG is releasing in 2018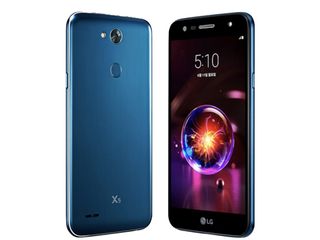 Although it may not be the most popular smartphone brand in the States, LG releases more Android phones than almost anyone else in the West.
Ranging from high-end flagships to budget phones that barely cost $100, LG kicks out a number of handsets throughout the year that are all catered to different demographics. Keeping up with these releases can be a challenge, so in an effort to keep you in the know, here's a list of all the phones LG's released in 2018 and what we're still expecting later in the year.
The phones we're still expecting
LG V40
LG's V series is always home to the company's most powerful (and expensive) phones. We've already seen a couple entries this year in the form of the V30S and V35, but later in the fall, we're expecting something big from LG with the V40.
The rumor mill for the V40 is slowly kicking into gear, but right now, we're expecting the phone to come equipped with a Snapdragon 845, OLED display, and dual camera setup.
It's expected that the V40 will be released between August and September, and like it or not, will probably come with a price tag around the $900 range.
LG V40: How LG's next flagship can win me over and find success
LG X Power3
Each year sees LG release a ton of throwaway mid- and low-range phones, and in 2017, one of the most interesting was the LG X Power2. The X Power2 had pretty forgettable specs, but there was one aspect that made it stand out — a huge 4500mAh battery.
We'd love to see a successor to the X Power2, and while it's possible that one could still be announced, the chances are getting more and more unlikely with each day that passes. LG announced the X Power2 in February last year, and at the time of publishing this article, we're well into June.
Changing up release cycles isn't entirely unheard of for LG, so we'll keep an eye out just in case the X Power3 does become a reality.
LG Q8+
Following the already announced Q7 and Q Stylus, it looks like LG's next entry in its Q series will be the Q8+.
On June 16, a certification for the phone was found with the KCC (Korea's version of the FCC here in the U.S.) with the codenames of LM-Q815S and LM-Q815L. The first of those codenames was previously spotted as part of a certification with the Wi-Fi Alliance, and both of them are listed as phones that support Google Play.
It's unclear what the spec loadout will look like, but seeing as how the Q8 from 2017 was a miniature version of the LG V20, the Q8+ will likely be a smaller, more affordable variant of the V30 or V40.
The phones that have been released
LG V30S ThinQ
At CES in January, LG gave us our very first look at the V30S ThinQ. Of all the phones LG's released this year, the V30S has to be one of the most forgettable.
Outfitted with the exact same specs as the V30 from 2017, the only new things the V30S introduced were two new colors, 2GB of extra RAM, and software improvements for the camera that boosted its low-light performance and added a few AI features.
The V30S isn't a bad phone, but considering its fancy software tricks were eventually ported over to the regular V30 anyways, we're still scratching our heads about why this thing exists.
LG V30S hands-on: A 2017 smartphone with 2018's buzzwords
LG G7 ThinQ
Following up on the highly-underrated G6, LG's first big flagship for 2018 is the G7 ThinQ. The LG G7 ThinQ was announced in early May, and while its notch-donning display might lead you into believing it's just another iPhone X clone, LG made a lot of smart decisions with the G7 that makes it hard to put down once you start playing around with it.
Similar to past LG releases, the G7's secondary rear camera is a wide-angle lens that allows you to capture much more of a scene around you with just a tap of your screen. This is something few other OEMs offer, and it's easily one of our favorite uses for a second camera.
Also found on the G7 is a feature called "Boombox." By using part of the G7's inside as a resonance chamber, the phone vibrates with power as music is kicked out by its external speaker. Not only does this result in much louder audio on its own, but the effect is amplified when you place the G7 on any hard surface.
Also, if you're a stickler for good haptic feedback, this is something that LG is destroying all other Android OEMs at.
LG G7 ThinQ hands-on preview: All about that bass
LG V35 ThinQ
The best way to think of the LG V35 is as a stepping stone between the V30 and V40. It's got the exact same design and screen as the V30 and V30S, but its internals are completely upgraded. There's a Snapdragon 845, 6GB RAM, 64GB of storage you can expand with a microSD card, and a 3300mAh battery.
The cameras found on the V35 are the same ones you'll get on the G7, and if you're anti-notch, you'll be pleased to know that there's no cutout at all on the V35's screen.
As well-rounded of a package as the V35 is, its $900 asking price makes its appeal extremely limited — especially when phones like the OnePlus 6 offer most all of its specs/features for just $530.
LG V35 ThinQ coming to AT&T on June 8 for $900
LG Q7
Looking for a generic mid-range Android phone touting the LG logo? Introducing the LG Q7 series!
Joking aside, the Q7 lineup actually looks pretty solid. There are three models available, and depending on where you live, the phone will be available as the Q7, Q7+, or Q7a.
The 5.5-inch FHD+ display has a tall 18:9 aspect ratio with slim bezels, and to ensure the phone keeps chugging no matter what comes into contact with it, it's outfitted with IP68 and MIL-STD 810G ratings.
Pricing is still up in the air, but LG says it's bringing the Q7 to Europe, Asia, and the Americas.
LG announces Q7 mid-range series with glass designs and slim bezels
LG Q Stylus
LG's getting rid of its G Stylo branding this year and replacing it with Q Stylus. To kick off the new naming scheme, we've got the LG Q Stylus, Q Stylus+, and Q Stylus A.
Similar to the Stylo 3 from last year, the Q Stylus comes with a stylus you can use for jotting down notes, editing screenshots, turning videos into GIFs, and more. When you're not using the stylus, you can store it inside the phone for easy transportation.
To accompany all your doodles and notes, the Q Stylus has a large 6.2-inch Full HD+ screen with an 18:9 aspect ratio. The battery measures in at 3300mAh, there's NFC for Google Pay, and IP68 dust/water resistance should keep it safe no matter the environment you're in.
LG Q Stylus series announced with IP68 water resistance, Oreo, and more
LG K30 / K10 / K8
For its K series this year, LG released the K30, K10, and K8.
All three of the phones are packed with your typical array of mid-range specs, including things like HD displays, plastic designs, single rear cameras, fingerprint sensors, etc.
The K10 isn't sold in the U.S., but if you're interested in picking up the K30 or K8, they're available for $225 and $140, respectively.
LG Aristo 2 / Aristo 2 Plus
In January this year, LG released the Aristo 2 in the U.S. A few months later in June, the phone received a minor rebranding as the Aristo 2 Plus and made its way to T-Mobile.
Both the Aristo 2 and Aristo 2 Plus come outfitted with a 5-inch 720p display, quad-core 1.4GHz quad-core processor, 2GB of RAM, 16GB of storage, 13MP rear camera, and a 2410mAh battery.
Despite being released in 2018, the phones run Android 7.1 Nougat, and based on LG's track record for lower-end hardware, it's incredibly unlikely they'll ever be updated to Oreo, let alone Android P.
LG Zone 4
In late March, the LG Zone 4 was announced as a new budget option for Verizon Wireless. It's got a 5-inch 720p HD display, 1.4GHz quad-core processor, 2GB of RAM, and 16GB of expandable storage.
Other specs include a 2400mAh battery, 8MP rear camera, and 6MP selfie cam.
The Zone 4 is sold through Verizon's prepaid plan and costs $115.
LG X4+
Next up, we've got the LG X4+. The X4+ never made its way to the States, as it was created specifically for LG's South Korean market, but the many similarities it shares to LG's other budget phones means we didn't miss out on much.
Some key specs for the X4+ include a 5.3-inch 720p display, Snapdragon 425 processor, 2GB RAM, and a 3000mAh battery.
The addition of NFC means the phone supports LG Pay, and the MIL-STD 810G is nice to see at this price range. In USD, the X4+ costs around $280.
LG X5 (2018)
On June 18, LG announced the LG X5. This iteration of the X5 is a successor to the phone by the same name that was released way back in 2016, and similar to the X4+, it's another entry in LG's neverending lineup of budget Android phones.
With the X5, you'll find a 5.5-inch 1280 x 720 HD display, MediaTek MT6750 octa-core processor, 2GB RAM, and 32GB of expandable storage.
Android 8.0 Oreo is present out of the box, the rear and front cameras come in at 13MP and 5MP, respectively, and there's a huge 4,500 mAh battery.
LG's only selling the X5 in South Korea for the time being, and it works out to about $300.
Updated June 18, 2018: Added new listings for the LG Q8+ and LG X5.
Get the Android Central Newsletter
Instant access to breaking news, the hottest reviews, great deals and helpful tips.
Joe Maring was a Senior Editor for Android Central between 2017 and 2021. You can reach him on Twitter at @JoeMaring1.