LG V40: How LG's next flagship can win me over and find success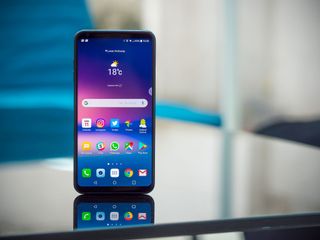 In just the last three years since the original LG V10 was released, the V series has changed a lot. The V20 followed up on the V10's formula of packing in every feature imaginable in addition to providing a high-quality DAC for headphone users and a removable battery.
The V30 still offered a phenomenal wired audio experience but ditched the V10 and V20's utilitarian designs in favor of a sleek glass slab. The removable battery went away, LG adopted an OLED panel, and bezels slimmed down a lot. The V30 ended up being a really great phone, but like so many other LG products, had a tough time standing out from its competition at the time.
We've already seen two minor updates to the V30 in 2018 with the V30S and V35, but later in the year, we should get a proper sequel in the form of the LG V40. A lot of the phone's minute details remain a mystery, but I've got a few ideas for LG on how to make sure it can stand on its own against the Note 9, Pixel 3 XL, and others.
Keep bezels slim without adding a notch
Without a doubt, one of the most controversial trends in smartphones for 2018 is the notch. Ever since Apple released the iPhone X, we've seen Asus, Xiaomi, OnePlus, LG, and countless others mimic this design by slapping a notch onto their own hardware.
The notch itself really isn't a big deal, but any phone that comes out with one is ridiculed for its design and is seen (at least by the tech community) as just another iPhone clone.
LG's shown that it's willing to adopt the notch with the G7, but I think the right move is to not include it on the V40. As we've seen from companies like Vivo, it's entirely possible to slim down bezels without adding a cutout in a phone's screen. This requires innovation and a willingness to take risks, but that's what the V series used to stand for.
Rather than fading into the background by just adding a notch and calling it a day, LG can make the V40 shine by finding another way to keep bezels small without obstructing the top portion of the screen. I know that's no small feat, but it's one LG needs to be willing to tackle.
LG needs to make a big deal about the things it gets right
Two areas LG's been excelling at recently are audio and haptic feedback, but unless you actively follow the tech world, chances are you don't have any idea about that.
The G7 provides one of the best audio experiences around, giving users a Hi-Fi Quad DAC and "Boombox Speaker" that kicks out a surprising amount of bass for an external speaker on a phone. Furthermore, its haptic feedback, while not up to the same level found on Apple's recent iPhones, is far superior to just about any Android phone on the market.
These are two big selling points when targeted at the right demographics, but for whatever reason, LG doesn't seem to invest a lot of money into marketing them. Compared to the Galaxy S9, the G7 kicks its butt when it comes to providing a high-quality audio experience and premium feedback for your taps and swipes.
Assuming the V40 picks up these strengths of the G7, I'd like to see LG give them the attention they deserve. They may not sound like huge additions on their own, but when paired with everything else on this list, could make they V40 unstoppable.
Commit to fast updates and prolonged software support
Two of the worst companies when it comes to updating its phones have historically been LG and Samsung. Recently, however, LG's been doing a much better job than Samsung in these regards.
In just the past couple weeks, Android Oreo's arrived on the unlocked, AT&T, Sprint, and Verizon models of the G6 from 2017 with April to May security patches. On the other hand, Samsung's latest Galaxy S9 is still rocking the February security patch it was released with.
LG opened a "Global Software Upgrade Center" in April to increase the speed at which it updates its phones, and so far the effectiveness of this seems to be paying off.
Assuming LG keeps improving the speed at which it kicks out big upgrades and regular security enhancements, it could get a big lead over just about every Android OEM (save for Google, of course).
Reconsider the pricing strategy
It's no secret that smartphones are getting more and more expensive, but the price tags on LG's past couple releases have been tough to swallow even considering the current market conditions.
The LG G7 costs at least $750 in the United States, the V30S is selling at a discounted price of $730, and the most recent V35 will set you back a whopping $900.
With Google and Samsung's latest flagships going for $650 to $720, LG's shooting itself in the foot.
If the V40 debuts with a $900+ price tag, it's going to be DOA. However, if LG can work that down to $650 - $700, it'll be much more appealing to folks looking for an alternative to the Galaxy Note 9 or Pixel 3 XL later in the year.
What do you want to see?
That's what I think the V40 needs to succeed, but what about you? Sound off with your wants/wishes in the comments below!
Get the Android Central Newsletter
Instant access to breaking news, the hottest reviews, great deals and helpful tips.
Joe Maring was a Senior Editor for Android Central between 2017 and 2021. You can reach him on Twitter at @JoeMaring1.