LG V40: How LG's next flagship can win me over and find success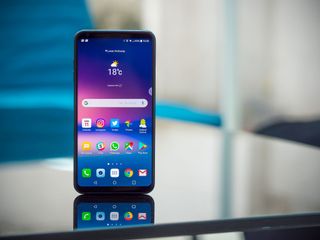 In just the last three years since the original LG V10 was released, the V series has changed a lot. The V20 followed up on the V10's formula of packing in every feature imaginable in addition to providing a high-quality DAC for headphone users and a removable battery.
The V30 still offered a phenomenal wired audio experience but ditched the V10 and V20's utilitarian designs in favor of a sleek glass slab. The removable battery went away, LG adopted an OLED panel, and bezels slimmed down a lot. The V30 ended up being a really great phone, but like so many other LG products, had a tough time standing out from its competition at the time.
We've already seen two minor updates to the V30 in 2018 with the V30S and V35, but later in the year, we should get a proper sequel in the form of the LG V40. A lot of the phone's minute details remain a mystery, but I've got a few ideas for LG on how to make sure it can stand on its own against the Note 9, Pixel 3 XL, and others.
Keep bezels slim without adding a notch
Without a doubt, one of the most controversial trends in smartphones for 2018 is the notch. Ever since Apple released the iPhone X, we've seen Asus, Xiaomi, OnePlus, LG, and countless others mimic this design by slapping a notch onto their own hardware.
The notch itself really isn't a big deal, but any phone that comes out with one is ridiculed for its design and is seen (at least by the tech community) as just another iPhone clone.
LG's shown that it's willing to adopt the notch with the G7, but I think the right move is to not include it on the V40. As we've seen from companies like Vivo, it's entirely possible to slim down bezels without adding a cutout in a phone's screen. This requires innovation and a willingness to take risks, but that's what the V series used to stand for.
Rather than fading into the background by just adding a notch and calling it a day, LG can make the V40 shine by finding another way to keep bezels small without obstructing the top portion of the screen. I know that's no small feat, but it's one LG needs to be willing to tackle.
LG needs to make a big deal about the things it gets right
Two areas LG's been excelling at recently are audio and haptic feedback, but unless you actively follow the tech world, chances are you don't have any idea about that.
The G7 provides one of the best audio experiences around, giving users a Hi-Fi Quad DAC and "Boombox Speaker" that kicks out a surprising amount of bass for an external speaker on a phone. Furthermore, its haptic feedback, while not up to the same level found on Apple's recent iPhones, is far superior to just about any Android phone on the market.
These are two big selling points when targeted at the right demographics, but for whatever reason, LG doesn't seem to invest a lot of money into marketing them. Compared to the Galaxy S9, the G7 kicks its butt when it comes to providing a high-quality audio experience and premium feedback for your taps and swipes.
Assuming the V40 picks up these strengths of the G7, I'd like to see LG give them the attention they deserve. They may not sound like huge additions on their own, but when paired with everything else on this list, could make they V40 unstoppable.
Commit to fast updates and prolonged software support
Two of the worst companies when it comes to updating its phones have historically been LG and Samsung. Recently, however, LG's been doing a much better job than Samsung in these regards.
In just the past couple weeks, Android Oreo's arrived on the unlocked, AT&T, Sprint, and Verizon models of the G6 from 2017 with April to May security patches. On the other hand, Samsung's latest Galaxy S9 is still rocking the February security patch it was released with.
LG opened a "Global Software Upgrade Center" in April to increase the speed at which it updates its phones, and so far the effectiveness of this seems to be paying off.
Assuming LG keeps improving the speed at which it kicks out big upgrades and regular security enhancements, it could get a big lead over just about every Android OEM (save for Google, of course).
Reconsider the pricing strategy
It's no secret that smartphones are getting more and more expensive, but the price tags on LG's past couple releases have been tough to swallow even considering the current market conditions.
The LG G7 costs at least $750 in the United States, the V30S is selling at a discounted price of $730, and the most recent V35 will set you back a whopping $900.
With Google and Samsung's latest flagships going for $650 to $720, LG's shooting itself in the foot.
If the V40 debuts with a $900+ price tag, it's going to be DOA. However, if LG can work that down to $650 - $700, it'll be much more appealing to folks looking for an alternative to the Galaxy Note 9 or Pixel 3 XL later in the year.
What do you want to see?
That's what I think the V40 needs to succeed, but what about you? Sound off with your wants/wishes in the comments below!
Android Central Newsletter
Get instant access to breaking news, the hottest reviews, great deals and helpful tips
Joe Maring was a Senior Editor for Android Central between 2017 and 2021. You can reach him on Twitter at @JoeMaring1.
The v35 is 900.00 buckaroos. So what's the v40 gonna cost? Sometimes I wonder about LG'S pricing?

Definitely no notch. 3500 battery.

Hire people who know how to market to North Americans. Your commercials are garbage.

Haha yeah! Two words...........DAMNNN, DANIELLLL!! LMAO!!!!!!

If I could afford a pricey phone I would just choose the G7 or the OnePlus 6 and forget about this phone nonsense for a couple years.

I don't hate the notch but if you're going to have a damn notch don't have a damn chin to go along with it.

As much as I'd want to see the V40 costing 600 USD, I don't think any sane company is going to offer that much value (compared to an iPhone X) for such low price.
I'd pay 900 USD for it if they'll keep everything the V30 had (including bootloader unlock), upgrade the SoC and RAM, upgrade the speaker with the one from the G7 and never put a display notch.
As an extra, I hope they give up the glass back and make the phone thicker with a larger battery.
I like the V30 as far as features go, but it's too thin and slippery. I can barely hold it. There was no need for it to be so thin

Totally agree with the author.

They finally fixed their bad front facing camera. So I'm happy with that alone.

Sorry LG, but I will hang on to my V20. Hate smooth glass backs and without a replaceable battery, you have to fork over $150 for a refereb phone when a battery is only $30. Too thin, too slick, to much FAIL. My phones go into a case now as they are to damn thin and slippery.

Totally with you on this. Also rocking a V20 and taking advantage of replaceable battery by adding a super capacity unit for weekends camping. Makes the phone a bit chunky, but 3 days without charging is worth it. Even when you use it for videos, navigation and the like. Being able to go to 100 percent change in the 2 minutes it takes to switch batteries and reboot is priceless.

They're not going to go back to the removable batteries. Too much of the market is now wanting wireless charging and the better water resistance.

Quite honestly, I think that the people they are trying to switch to their product are apple/Samsung users who will not switch away from what they have. They (LG) needs to start asking the people who are using their products what they actually want. If they ever do, they will see that wireless charging is far from important and waterproofing is not high on the list either.

Agree, give me the V20 with the latest processor and the replaceable battery. And promote the replaceable battery! Also, promote the good sound and the cameras! The V20 is still the best phone out there with the features - and it looks great!

I guess the V40 is going to be DOA, then. Because there is no way it's going to start out cheaper than the G-series. Maybe $800 USD ?

It probably doesn't matter what LG do, the professional Tech Press will pre-judge it and put it down anyway. There's a stark difference between YouTubers and Tech Press when it comes to the LG G7. I'm pretty fed up with it tbh.

The v35 is a surprisingly great phone I just picked one up at at&t and I must say it's better than my s9+ but no one will know about because LG can't market anything

Pointless article. LG phones are DOA according to all tech sites. Never given a chance.

I'd like for LG to finally fix their RAW photos so that they don't have an almost impossible to correct color cast. I won't be buying another LG phone until they do.

They need to drastically improve the camera to the point that it over takes every other smartphone, and it specifically needs to be better than the Pixel 3 XL, which will be a beast of a camera... no doubt. Think about it, LG smartphone cameras have never had a DxOMark score that overtakes other flagships... very sad. They need to make the camera software as good as the Google Pixel and boom... you have success.

The camera needs to load faster too. I'm constantly missing photos while I wait for the camera to open. Oreo update on V30 helped a little, but not as fast as my S8.

I agree the wide-angle is amazing but the camera as a whole has never been classified among the best. They need to do something drastic to stick out. Start w/ a larger sensor size like the Pixel, more importantly integrate triple camera sensors on the back like the P20 Pro.

My only gripe with LG is the updates. They have to get better. ASAP...

The OLED needs to continue improving. That said, here are some things that LG gets right (but doesn't get enough credit for): 1. Being nearly stock Android. Having nearly every S and Note phone until the Note 7 mess forced me to try the V20, I have to say that I was pleasantly surprised at how stripped down it was compared to Samsung.
2. Partnerships with Google. a) LG received a huge investment from Google for OLED manufacturing, b) has built Nexus and Pixel phones, c) has a Google Assistant button on the G7 ThinQ, d) was one of the first devices to get ARCore support (broken atm), e) the V30 was one of the initial devices to be on the Android Enterprise Recommended list, f) LG phones were some of the first non-Google devices to have Android Assistant pre-installed, g) The V20 was the first phone to launch with Nougat, h) the 10-year patent agreement with Google, i) LG is working with Google on a smart display.... I could go on and on, but it's a nice change from Samsung always re-inventing everything that Google has already created.
3. The "Second Year Promise" program for a free 2nd year of warranty coverage.
4. Wireless charging (I know that some of you don't use it, but for those of us that do - we use it every day.)
5. Headphone jack (kinda covered in the audio portion of this article).

Excuse me, but the iPhone X copied the notch from the Essential phone. It's journalistic malpractice to suggest they are copying the iPhone when the iPhone copied another phone.

They didn't do the notch because essential did it, they copied it because Apple did.

But let's be real bro, the essential phone was the precursor

As the owner of the V30, I'd like to see a reasonable price, absolutely no notch, better external speakers, dolby atmos. I really love my V30 though.

In my opinion. No notch...front facing speakers...keep quad dac...add stylus and get rid of cheap lg stylus phone...maybe get rid of g line and keep only v with just 2 versions ala v40 and v40 + and finally but not least get that UI closer to stock Android.

As a previous LG owner (G2, G4, G6) I have to say that I am no longer impressed with the LG brand when it comes to Cellular Phones. My wife and I both went after the LG G6 right after it came out with TMobile and sadly we over-paid as the price dropped about a month after we bought ours. The camera with the G6 really was of poor quality, the G4 had a much better camera. The updates were forever in coming to the LG phones, and we never did get Oreo. My wife still has her G6 and I just last week replaced my LG G6 with a OnePlus 6 and I have to say it is a much better phone. It comes with Oreo, it is fast as can be with the SnapDragon 845 processor and 8GB of RAM, 128GB internal storage. Sadly no MicroSD card slot but I can live with that. The camera is excellent, the body of the phone is solid. The best thing about it is the price, (Look it up since we can't reference price in our comments) The OnePlus 6 also came with a fast charger and a soft case. The Battery life on my OnePlus 6 is outstanding as I can get a full day of use out of it and still have at least 50% left at the end of the day. Now that the price of some phones has gotten so high (Apple and Samsung) I will be holding onto my OnePlus 6 for a LONG time. I really thought the notch was a lame idea, however now that I have a phone with a notch it really doesn't bother me at all. The screen is so big and the bezels are so small that the notch isn't even noticed. The OnePlus 6 is ultra responsive to the fingerprint reader. The facial recognition works very well and I like the physical slide on the side to mute the volume or totally silence the phone including the vibration. I am looking forward to being able to upgrade to Android 9 when it comes out as well. While LG has the great speaker and sound quality down-pat on their newest phones, that isn't something I but a cell phone for so it doesn't play into my decision to buy. Sorry LG but you lost me as a consumer.

Sorry, but you are out of your mind if you think the OnePlus 6 is better than any of LGs latest. Two words....Quad DAC.

No notch, Front facing speakers, Headphone jack, QI charging, good plastic back, water resistance, flat screen, large battery (3800 to 4000), large 6.0 or 5.9 inch screen screen (preferably no taller than a 16:10 ratio), 8 gigs of RAM, 128 GB of storage, close to stock android. Give me this and I don't care what it costs.

6 gb of ram at 800.00. Period

What do I want to see, fall 2018? The pixel 3/XL on *all* the US carriers. >:-(

The quad DAC on the V30 is phenomenal. I loved it. I also loved the fantastic battery life. Having said that, I sold it, because I just couldn't take LG's UI. It's just not good. Also, unless you're looking to theme the phone to look like a Pixel, you're out of luck in the themes department. Samsung's theme store is leaps and bounds ahead of Smart World, in terms of choice. Also, although I used the carrier unlocked version on T-Mobile, even at home on Wi-Fi, much less so on mobile data, I was never able to get full bar coverage on the phone. The signal strength was terrible, even with the FM Radio. As for what I'd like to see: I'd obviously like to see upgrades to the latest internals, including a better quality screen, with NO notch. I wouldn't mind seeing LG's new LCD panel used, provided it has the same brightness boost setting, and a much larger capacity optimized battery (3750-4000 mAh) to offset the screen's greater power consumption, 6GB of RAM, 128 GB of internal storage. If not the addition of stereo speakers, I'd like to see the addition of the "Boombox" speaker, with a bottom-facing headphone jack and LG's unparalleled quad DAC. Keep the wide-angle camera, and improve the selfie camera. Also keep the current microphone setup, and the already great haptic feedback. LG's UI and themes need a SERIOUS aesthetic overhaul, with choices of less cartoonish-looking themes, opting for a more sophisticated look. Allow users to theme every aspect of their phones the way Samsung does, from the home screen to the Settings menus, notification panel, fonts and AOD. Improve the radios signal. It's unacceptable that my two year old Nexus 6P allows me to have full signal on T-Mobile, at home, exclusively on Wi-Fi while still giving me signal in poor coverage areas, yet I was unable to get full signal at home and poor signal in less than ideal coverage areas with the V30. Lastly, offer more color options. I would have liked to have had a Moroccan Blue or Raspberry Rose variant of the V30 available unlocked here in the States. In short, continue to improve on the areas you already excel at, and actually MARKET the next V40 as the media powerhouse that CAN and SHOULD be. Maybe if they do that, I'll consider another V-Series phone again. As a music lover who listens to many genres, I can't state enough how I LOVED the quad DAC. It really does make a huge difference when coupled with a pair of high quality headphones. It pained me to have to sell it. The way I see it, my choices to upgrade from my Nexus 6P will come down to what I see come out of either the Note 9 or the V40. Don't disappoint, LG.

Love my v30+ please bring back the IR BLASTER

The V35 is pretty much what I'd expect from a V40. The only things I'd change would be: - make it smaller. 5" tops (I know it won't happen. LG is unable to design normally sized phones). - fingerprint scanner on the side or under the display (not impossible to happen but LG likes to lag behind) - OIS added to the ultra-wide camera. - useless Assistant button ditched in favour of a camera button.
(And no, double pressing power buttons isn't a good alternative to a dedicated two stage shutter button).

A couple of those are personal preference. I love the size of the V30, and the fingerprint sensor on the back is awesome when pulling the phone from my pocket, but admittedly is a pain when it is sitting on a table. But the opposite is true when the sensor is up front. Agreed on the other items though. I miss the double stage camera button from my Lumia 920. OIS is always welcome.

The back is the only place where the FPS will potentially become inaccessible.
So while I understand bottom placed fingerprint scanners can be hard to use on phablets, they're still not as cumbersome as a rear mounted fingerprint scanner. It's picking the lesser of two evils to put it on the front. Which is why I still think the side is the best place for it. The size, yeah, it's preference. And also because LG doesn't make normally sized phones. They're alienating the majority of people outside the Asian market by only releasing phablets. And since they decided to make the G7 even bigger, maybe it'd be time for the V line to become smaller.
At any rate, their lines are a mess. I think they should just merge the two lines and release two equal phones, one with 5" or less, one with 6" or more.

The problem with the smartphone industry today is similar to the problem that Hollywood has been facing for awhile: aversion to taking risks. The end result is formulaic designs and predictable spec sheets leading to a lot of jaded geeks yawning. You can take anything on this wish list and apply it to pretty much any Android phone maker, not just LG.

The only way I'd buy an LG phone is if it looked like a Pixel 2 XL with stock Android. Oh wait I already have a Pixel 2 XL with stock Android lol. Pixels are the only LG phones I'd buy.

So...if it was a sh*t phone, you'd buy it.
Enjoy your iPixel. Leave the good phones for the rest of us. We appreciate the greater availability ;)

I'd really like to see improvements to the low light function in the cameras and a little more smoothing and the edges of the V40 over the 30(which I own). I'd also really like to see the squeeze to launch Google Assistant like in the Pixel 2 XL(which I also own). PLEASE, no notch and keep wireless charging (although maybe not some advanced 15 watt that isn't widely supported, like on the V30...). I'll buy for sure! (Obviously...I have two of the other current flagship phones in the Android world...) Great reporting!

LG keeps launching months after samsung launches their phones but charging what samsung charged at launch. By the time the LG equivalent comes out samsung has already dropped the price of the nearest competition. They either need to launch at the same time as samsung, or lower the price when they finally do come out to be competitive. I got my V30 at launch but with a $200 visa card, so it was $640 as opposed to $840.

I would like easier screenshot more memory in cloud. Largerer print

Ever since Essential released a phone with a notch and others copied it. Please get it right.

Sharp was actually first to market with the notch.

For starters they could make the automatic brightness actually work, unlike all their other phones' wonky dim mess that never comes close to being the right setting for the ambient light. It's not like automatic brightness is difficult to pull off. Well, not for companies other than LG, at least.

I gave up on LG after loving my V20 for 1.5 years. Too pricy... Loving my fast Oneplus 6 now.

The V series pioneered the use of a notch. It was positioned left instead of center, and make use of the remaining space for its infamous second screen. If you can't make it disappear completely at least make it usable. And I happen to find the second screen in my V20 very usable.

The LG V10 is my favorite phone and as long as I can get replacement batteries I see no reason to upgrade. It just checks off all my preferences. Bootloop is a non-issue for me because the Verizon extended warranty covers it.

I'd like to see stereo speakers, and a better OLED display. And please, no notch! And please continue to keep the headphone jack.

You've got my attention. Please elaborate.

Removable battery. I need 2 phones,had 2 G3's got 2 years out of them.then 2 Nexus 6P's batteries shot in 18 months. Now 2 G5's and bery happy.can carry a spare batt in my bilfold.should get at least 2 years out of them.

Truth is LG is not doing anything wrong except building phones for review column writers instead of customers expecting a good review without paying them. Kill the notch and embedded the camera and mic within the screen. I rather see tiny holes than a nose. Use carbon fiber and put speakers inside to fire through slots around the sides. Microscreen the vents for waterproofing. Stereo at any angle. Already love the cameras with manual controls just up the megapixels and supply the headphones in the West. Big killer there. Also add cases built for the phone instead of attachments like the G6, build hardware like telescopic lens, extra battery with solar panel charging, extra speakers and offer case colors this way you can make 2 colors but change them with case colors. We have to buy cases separately anyway. Cut out the middle man. Everything else is Awesome. Love LG. I don't need a reviewer to tell what a good phone by their standards. I often have different standards than they do.

As a current owner of the LG V30, I can attest to its greatness. It's a phone worthy of attention. But it's not perfect, and LG can do better with the V40. LG has some of the most talented staff in the world, and if anyone can push out an innovative phone, they can (so many of their other phones are proof of that, they just fail to deliver on other fronts).
The V40 needs to have a Snapdragon 845, 6GB of RAM, 64/128GB of storage, and maintain the things that does make LG stand out. A high quality DAC, awesome haptic feedback, microSD card support, and wireless charging support. Improve the screen quality, reduce bezels (marginally, they don't need to disappear completely), improve the front facing camera, keep the battery life (or improve it), find a better formula for your cameras (they're great, but something is clearly holding them back from being the best) and either make your AI worthy of the brand or drop the branding. If you do the V40 right, you won't need to release multiple variants.

Keys to the best phone of 2018: 1) Stock Android. It's what people want, keeps costs down and speeds up updates.
2) Great camera. It doesn't have to be the best, but among the top.
3) 5.7 inch or more AMOLED screen. Yeah, you heard me.
3) Removable battery. Stand apart from those Samsung/Apple chasers.
4) good sound.
5) Thin bezels but no notch.
6) Thin phone. First company that makes this phone will win the hearts of power users.

I owned a G series, then a V10 and now on a V30.
Why are all the phones out exactly the same? What's the point in the G series vs the V series? Make ONE of them waterproof and the other have a swappable battery. I'll buy literally ANY PHONE that gives me swappable battery. I run out of battery 2 or three times a week. I've still not gotten my phone wet since I bought it.
Why is this hard?

We want some of the features back from the v-10; both a wide angle and typical cameras great selfies, countue the double camera set-up on the back. IR blaster, and love to see the headphone jack make a come back!! I own and use both the v-10 and the 30, and find myself using my v-10 more often, i love that phone.... Built like a tank, wouldn't hurt my feelings to see it or something like it make an appearance.

All the v40 needs is a few things...the g7 has to many buttons on the sides now and the speaker is in a terrible place..it gets covered easily and the sound is often muffled. Another bad thing with the g7 is the phone speaker, It's terribly small, hard to hear and very hard to position your ear perfectly with the speaker. A 800 price tag does not sound horrible, because the g7 is pretty damn good phone minus the few things I stated. If the battery gets bigger..the speakers are put in a less awkward position and the phone speaker gets pushed to the right and left of the camera, then I'd say its the best phone on the market, I guess minus the camera...add a triple lens camera in the back and a 16 MP in the front and it would be well worth a 800-900 dollar price tag..maybe a stylus pen would be nice also.

Having owned the G5, G6, V20, and V30+ I just have 3 requests. 1. Knowing that LG made the Pixel 2XL in conjunction with Google, they need to make some sort of contract with Google to use the "Pixel Camera/software" for the main cameras, and keep their sensor for the wind angle lense. 2. Front Facing speakers!!! I like the loudness of the "Boombox" speaker but it sounds hollow and not very rich. And to get the Boombox sound it has to be laying flat, which no one does when watching movies or shows. 3. Work with developers so that apps actually work correctly with it. Snapchat is absolute trash on the last 3 LG phones with horrible picture quality as well as Instagram. (Request #1 might fix this as my pixel camera works perfectly with everything). With this I will be a happy loyal LG customer for years to come.

In Europe LG will fail if they try and charge 900 quid, Huawei and XIAOMI are getting stronger here very quick and their top end phones are not far off in quality etc.. anymore

I just wished LG has stucked to its path of V series being not for everybody but to certain group of people. And I like that it was G series for mainstream media from G2-G5. Then V series were different. It was unique. So now lets take in account LG v20. It was perfectly crafted phone with a lot of features packed like IR blaster,Quad DAC , Removable battery, more durable, looked better etc. . I was really dissapointed when LG made V30 like G6. It was really bad move. They shot their A/V geeks in the foot and told them "We are going to give you new useless features you were trying to avoid. But will just worsen some features and some will stay same. You will "like" it. ".

Please no assistant button on the side (aka Samsung's Bixby). Near bezel-less phones are getting hard enough to hold without accidentally touching the screen. I don't know anyone with a Galaxy S9 that uses that stupid button. V30 has nice clean left side with only volume up and down buttons. And no buttons on the right (thanks to fingerprint scanner/on-off button). Please don't screw this up.

Wake me up if it ever offers frequent updates like Google Pixel phones.

I own the only good LG made phone, the Pixel 2 XL with the best Android experience, bloat free and comes with fast updates from Google.

1. Battery . 3300 is too low.
2. Xenon flash. Newest are very small. Even old like sony c901 phone.
3. Mini jack.

Time to upsize the V40 rear camera sensors to dual 16MP IMX519 (1/2.6") or better, with OIS/EIS for both.
The bezel symmetry of the V30/35 can be complemented with stereo speakers for the V40, as in the Pixel 2 XL.
For the rear of the V40, use the camera/flash symmetry of the G6, or even the G7.
Last, but not least, update the WiFi to 802.11ax.

The problem with people not liking LG has nothing to do with trends in media. When the Iphone went away with the headphone jack, no one cared that LG put a quad DAC in theirs. When everyone had glass backs and the v20 and 10 didn't, no one cared. Now that the v30 has started to follow the trends, people are now thinking they should branch out and do something different. I have always owned an LG phone, but the idea that they can beat Samsung or iPhones is farfetched. These two brands have be labeled figureheads of the platforms they provide. Even the Pixel is going to have a hard enough time even though it's a new product backed by the largest tech company. LG will alway be the third wheel in the phone industry no matter how insignificant the specs are at this point.

I need to weigh in here.
I own a V30 (with T-Mobile) on the Oreo update. I previously had a G4.
The manual camera did seem better on the G4. However, the option set on the V30 is massive, and friendly. I'd like more pixels and clarity in a hurry!
I'm all for a better speaker system and smoother sound, but I don't listen to much music without a headset (so the QDAC is a must!), yet I do wish my video content could be better without one.
As far as FP sensor and button placement? Bring back the G4 (the rest of the way.)! All on the rear for ease of use. C'mon! Put it in your pocket, "screen in" as we do... All is a touch away.
(Side note: headphone jack back on the bottom!)
Otherwise, I'm impressed by battery time, so I no longer care that I can't swap it out. It charges fast also! Guess what? I like to lay it on a wireless charger when I lay down. Even @2%, I'm good when I wake.
I've had it in the Jacuzzi streaming music, so I can't complain about its construction. (I do drop it here and there, but it has a thin TPU case) All I can tell you is that this guy has a valid article about an upgrade to an overlooked masterpiece.
So what I want is more of the same, but, better. It fits my hand, a comfortable amt of screen space (LG did it right to have a notch area and allow you to black it out, recently).
Takes place of a decent DSLR cam. Has the best sound support, wired or not. Lasts all day, and for the fun in you, VR support. And please... Price? If it wears big boy pants, with big boy junk inside, I think we all might buy in to form and fuctiont with a reasonable twist, if it isn't any more expensive than the other clone teams...

No notch. 3500-4000 battery.
Dual SIM, separate SD card please and not Hybrid dual sim please.

Just two things I want about the "improvement" in V40 ThinQ is the BoomBox of G7 and a bigger battery like the V35+. I don't care much about cameras so the V35+ camera quality is fine for me

I'd like the SuperBright feature from the G7. Also, I'd like the 128 Gig storage. AT&T now offers the LG V35, but only 64 Gig - for $900????? Really????!!!!

Upsize the V40 rear camera sensors to dual 16MP IMX519 (1/2.6") or better, with OIS/EIS for both.
The bezel symmetry of the V30/35 can be complemented with stereo speakers for the V40, as in the Pixel 2 XL.
For the rear of the V40, use the camera/flash symmetry of the G6, or that of the Xperia XZ2 Premium (which lacks a super-wide camera and is bulky).
It really looks like LG may also have to license Sony's Dual-Sensor system; AI and SuperBright may not be enough for top-notch smartfone pics.
Last, but not least, update the WiFi to 802.11ax.

Great article! LG should follow the advice posted here very closely. And continue working on perfecting the camera. The hardware is great, but the software is under par. They also need to ditch the single down-firing speaker and switch to stereo FRONT-FACING speakers!

I too am rocking a V20 and Stylo 3 plus. They both used the same removeable battery. This is one of the most important features to me. Large batteries and wireless charging cannot replace a replaceable battery. I have 3 extra batteries and three chargers. I never ever have to plug in. I am using my phone all the time and travel a lot. The three batteries with the chargers cost $66 USD. The freedom this gives is priceless. However, the idiotic I-Phone loving pundits have convinced everyone that notches and sealed phones are the way to go. In addition to the replaceable battery, he V20 was packed with useful features such as FM Radio, IR Blaster, Quad DAC, etc. It's main flaw was the crappy camera. My Samsung Note 4 which was 2 years older takes much better pictures, especially in low light. Sure the V20 has lots of neat camera like settings, but it shoots lousy pictures in low light. It I were LG, my V40 would look like this. Replaceable Battery,
Large Beautiful High Res Flat Screen (no curves, notches or other useless gimmicks). This Thin Q stuff is a horrible marketing ploy. Don't make the screen girly thin. The V40 should be a man's phone with a real display and not these tall popsicle stick thin displays.
All plastic body with removeable back to keep down weight and cost. No need for expensive aluminum and glass. Everyone uses a case anyway. The phone is obsolete in less than 6 months.
Stylus. This is useful for marking up docs and pics.
Excellent camera. The dual camera stuff is fine but I didn't buy the V30 because it still has a lousy camera and the battery was not replaceable.
IR Blaster and FM radio. These are very usefull features. You skipped the IR Blaster on the V30. Shame on you. If you try to be Apple and Samsung, you will simply fail. I also love my T-Mobile LG Stylo 3 Plus, but you LG bastards omitted the replaceable battery and kept the RAM at 2gb and have one of the worst cameras on the Stylo 4. Make a Stylo 4 Plus with removeable battery and a decent camera and sell it for $399 instead of $250. You'll sell them like hotcakes.
Android Central Newsletter
Get instant access to breaking news, the hottest reviews, great deals and helpful tips
Thank you for signing up to Android Central. You will receive a verification email shortly.
There was a problem. Please refresh the page and try again.