LG Optimus 4X HD slashed to £300 by UK retailer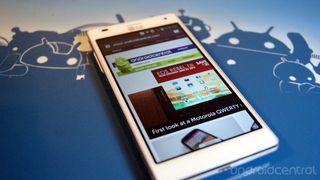 Everybody loves a bargain, right? How about this one then. UK online retailer, Expansys, has slashed the price of the LG Optimus 4X HD to just £299.99. All in, that's a saving of around £170 on the intial launch price of the device.
The reduced price only applies to the black version, sadly, and will be an EU model 4X HD with a UK 3-pin adaptor. No matter. While the 4X HD may about to be usurped in the ranks by the forthcoming Optimus G, the 4X HD still packs top of the line specifications for a 2012 Android device.
Packing a Tegra 3 processor, 1GB of RAM, a 4.7 inch IPS 720p display, removable 2150mAh battery, NFC and Ice Cream Sandwich, at this price point the Optimus 4X HD is a real steal.
Source: Expansys, More: Hands-on with the LG Optimus 4X HD
Funny how this news came out shortly after I decided to recommend my dad buy this phone (although I'm not in UK).
Android Central Newsletter
Thank you for signing up to Android Central. You will receive a verification email shortly.
There was a problem. Please refresh the page and try again.