LG is offering a free Google Home with the purchase of its new flagship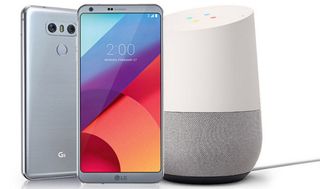 The LG G6 isn't out yet, but if you're considering one, you'll probably want to take advantage of this deal. LG is offering a Google Home in tow with the pre-order of its new flagship. All you have to do is buy yours before April 30.
For the full price of the smartphone — which has yet to be announced — LG will sell you the G6 flagship along with a $129 device that is really quite something. I certainly don't regret the purchase of my personal Google Home. And if you're interested in the G6 because of its native integration with Google Assistant, then you might as well pair it with a helpful home accessory that also doubles as a speaker in a pinch.
The G6 is scheduled to launch April 7 in the U.S. and Canada. If you're interested, you can get more details by signing up here (opens in new tab).
Get the Android Central Newsletter
Instant access to breaking news, the hottest reviews, great deals and helpful tips.
Florence Ion was formerly an editor and columnist at Android Central. She writes about Android-powered devices of all types and explores their usefulness in her everyday life. You can follow her on Twitter or watch her Tuesday nights on All About Android.
My Lilly Esin once in a blue moon got a new choice of the crop Chevrolet Corvette Stingray Coupe by unavailable off of a laptop... flash it out ,,,,,,,,,,,,,,,,,,,,,,,,,,,,,,,,,,,,,,,,,, http://www.moneytime10.com

Free in home surveillance, huh.

Maybe you shouldn't be using smart phones. ya know?

Or cooking with a microwave​...😂

True..Kelly Ann Conway says the Feds can tap your phone through a microwave..Of course the rocket scientist that she is, this comes as little surprise!

More worthless junk this will be useless if anyone buys this. Google home is trash.

Yeah coming from someone who loves zte

Best kind of surveillance is the one that you volunteer to participate in.

Very very nice. I prefer this over my Bose BT speaker now. Not that it sounds better, but I can walk in the house and start playing music at voice command. I can pause the music, search for other songs, select playlists without picking up my phone. Google Home is a fantastic device.

I use mine all the time to control music, lighting, and temperature, but I'm disappointed by the pace of new features being added. I bought mine in December, and it doesn't really do anything now that it couldn't do then. I really want them to add "ring my phone" support.

I just want to purchase the LG G6 already!! Come on LG! my wallet is collecting dust!

Assuming it still has a sealed battery and goofy tall screen, I'll pass.

Nice offer, but I would rather they just knock $129 off the price of the phone. I already have an Amazon Echo and a Tap, which I am happy with, so I do not need a Home!

Google probably made a deal with LG to do this offer.

Yeah I think that's how this promos become possible. Google wants their product to be advertised someway or another. Same when Samsung did theirs with giving out VR's.

I think 599 would have helped them get noticed . And undercut the s8 and iPhone 7s by a clear 100 . At close to 700 there better be some marketing dollars set a side

I also believe they should undercut the S8 and iPhone.

LG G6 is the Pixel done right.

Haha no ugly bezels for sure

Do we think it will be bloated with carrier add-ons? I followed the link and I see you have to specify your carrier

Probably. Remember the G5 on AT&T? It was a bloatware nightmare.

"Google partnered with LG for this!" - every Sherlock Holmes on this app.

Android Central? Website, etc.

Another way for the CIA to listen to me. No thanks. The phone looks good though!

Such a narcissist. What makes you think the CIA cares about what you do?

Yea...just what I need to give away more of my privacy...no thanks.