LG Nitro HD looks to be heading to AT&T, LTE bands intact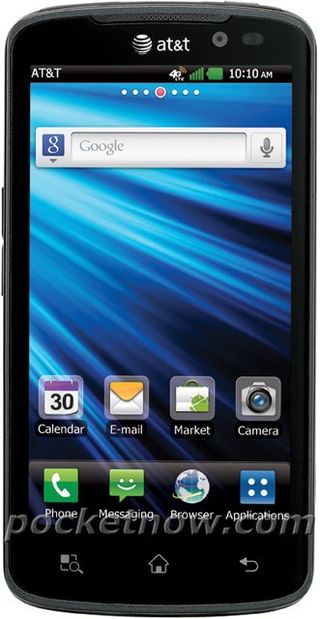 With LG having announced the Optimus LTE for the Korean market not long ago, and then having a variation the device arrive on Bell Mobility in Canada the question of whteher or not it would see any US carrier launches arose. While we won't take a simple image as fact -- clearly the idea of the Android 2.3 powered device making its way to AT&T has been bounced around and if and it arrives it will comes as the LG Nitro HD.
If it does land there, you'll be looking at a 1.5GHz dual-core processor, an 1830 mAh battery as well as an 8-megapixel rear camera with LED flash, and a 1.3MP shooter up front. A full 1GB of RAM, 4GB of internal storage, and a 16GB microSD card. And let's not forget that "True HD IPS" display and of course support for AT&T's LTE as well as their 21Mbs HSDPA network.
Source: Pocketnow
Impressive piece of hardware. then again its an LG phone so I'm gonna go ahead and wait for that galaxy note.

Why not LG? My roommate has the LG Optimus 2X. From what I see, it works flawlessly and it is well built. I don't understand why these phones don't get more "echo" in the news. Could you enlighten me? Thanks!

the optimus 2x known here in the states as the G2x was shipped out with a bunch of bugs (random shutoffs,screen bleeds,getting really hot,etc .they should of recalled that phone. LG kept saying the gingerbread update would fix the bugs "soon". it didnt get gingerbread til like 6 months later and left a sour taste in peoples mouth. also the update didnt fix all the bugs

If and when it comes out, you'll only have to wait a few weeks and it will drop in price, $50-$100. LG doesn't seem to exude quality or distinction over any other.

Every LG phone I've ever had, used or held in my hand felt like a plastic toy that would break if you looked at it wrong. Too bad too, they make some other nice electronics..
Plus my daughters have had a Neon and Xenon..both were craptasticly buggy.

The menu button is smart.Letting people know that its also the search button

Not sure what LG was doing with the G2x, but almost all their other phones are solid.

hmmmmmm and i blind? What is the size of the screen?

if it didnt look so bad id consider it

I know right! That's the most important thing to me.. I might wait for this phone instead of the Skyrocket.

I have only owned two LG Phones. I currently own a LG Revolution, before that I had an LG VU. In between I had an iPhone4 32GB. My experience with LG has been great. The VU, while not setting the world on fire with features or speed (it was not sold as the fastest or latest); it was one rock solid piece of hardware. I never had a case, and dropped a bunch of times on concrete, black top, carpet, you name it; it also took a weekly ride bouncing around in a golf cart and it just worked flawlessly. The Revolution seems to be just as well built, I have dropped it a couple of times in the month I have had it; no problems. Also, unlike the iPhone4; it does not scratch or show every fingerprint and smear. I am a huge Mac fan, but I must admit that I am rather underwhelmed with the iPhone4. With the Revolution's built in 16GB of internal memory and the 32 GB SD Card that I added; I now have the storage that I lacked on the iPhone4 at a better price and for now what seems to be just as good build quality. Nice plus what that I got upgraded to Ginger Bread within two weeks of owning it. So far, I have been nothing but pleased with my LG Phones. Just my two cents.

I had an LG VU as well. That was the shittiest phone in the world. I wanted to throw it at a freaking wall.
Android Central Newsletter
Get the best of Android Central in in your inbox, every day!
Thank you for signing up to Android Central. You will receive a verification email shortly.
There was a problem. Please refresh the page and try again.