LG G2 now available on AT&T, Verizon and T-Mobile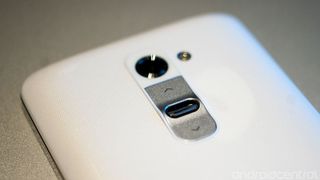 Today sees the U.S. arrival of the G2, LG's big-screened, thin-bezeled handset with buttons on the back. The 5.2-inch LG G2 can be ordered online today from AT&T, T-Mobile and Verizon Wireless — on AT&T and Verizon you'll pay $199 on a standard two-year contract, while T-Mo offers the handset on an installment plan with a $99 up-front payment. If you're looking to buy the G2 outright, it'll cost you $603.99 on T-Mobile, $599.99 on Verizon or $574.99 on AT&T.
Sprint customers will have to wait another month or so, as their version of the G2 won't be available for pre-order until Oct. 11.
Anyone ordering up a U.S. LG G2 today? Shout out in the comments!
Source: Verizon (opens in new tab), T-Mobile, AT&T (opens in new tab)
Alex was with Android Central for over a decade, producing written and video content for the site, and served as global Executive Editor from 2016 to 2022.
Can't wait for the arrival in Europe. Any idea when it will be available in Europe?

I will be grabbing one right after work!

you do realize it's only available online right now?

Verizon's is available in stores today. I will be getting mine after work too! SENT FROM MY AMAZING NOTE 2!

Indeed,I've got my verizon LG G2 in hand right now!

What do you think about it? How does it compare to your previous device?

use the code VERIZON30 for 60 bucks off the phone! comes out to 140. just ordered mine and confirmed it works! Posted via Android Central App

Has anyone tried using this code for a non-contract G2? I doubt it works, but I'd love to be wrong.

I paid full retail for the Droid Maxx yesterday and code didn't work. It's for 2 yr activations only as far as I can tell.

Features are awesome and really lovely phone..When It is going to launch in India?
http://www.spiderorbit.com/

Looks like a great phone! And $100 cheaper than the Note 2 and most high end phones, I'll stop by Verizon after work to see if it's a worthy replacement for my Note 2.

http://www.phonescoop.com/phones/compare.php?p=4216,3926

It's the best Android Device out, so yes it's a worthy replacement.

just ordered ours through T Mobile got the black ones and got 2 free Window Cases which just basically paid for one of the phones down payments!

Love this phone but torn between the Note 3 as well. Gotta see them both in the flesh. Posted via Android Central App

+1 Posted via the Android Central App on my Note 2

This is a real easy choice for me being a Galaxy Note 2 owner. The only thing that will ever compare is the Galaxy Note 3. Lg has a nice bootleg handset copy cat wanna be Samsung software. Guess they think if you can't beat em midus well join em. I happy for Tmobile customers they are getting all the great handsets. Posted from my Galaxy Note 2 via Android Central App.

You feeling ok? That was pretty timid compared to your usual offerings

Yeah Samsung has never copied right. Who are you trying to convince? Take your paycheck from Samsung and get lost. Posted via Android Central App

I have news for you, the LG Software actually WORKS, vs the Samsung software that I just ended up turning off because i got tired of it, What am i talking about? Let's compare, the look to keep screen on, the video stopping, things like Qslide and Qapps, ALL better then samsung's offerings. Also the knock on feature is spoiling me, i don't think i want any other device now that doesn't have this.. it's a godsend in the car as well.

A day is not complete without Richard fapping over Samsung...

I have a Note 2 currently and was planning on getting the Note 3, but after seeing the Note 3 I realized there isn't anything for me with the Note 3. I love the size of the G2, when compared side by side the Note 3 is just gigantic, the G2 is much smaller but still packs a large 5.2" screen with very minimal bezels. I never use my spen, and because I have a case I can't easily change the battery. The G2 is the clear winner for me.

May sell my HTC one and buy this when it comes to the UK Posted via Android Central App

I'd be considering this pretty hard if it had wireless charging on T-Mobile. Strange as it sounds Qi has become a dealbreaker for me after the Nexus 4.

I've ordered my Note 3 already. Ooooh wait,what was the question? Sent from my HTC One rockin Jelly Bean 4.1.2

Have a N2, just ordered the LG G2 online with the Verizon30 $60 discount. Picking it up in store this morning. I'm looking forward to the slightly smaller form factor. Android is all about choices. Hey, maybe in a year they'll make a G2S ;) Posted via Android Central App

Wow no comments with no SD card no removable battery no deal! Usually that group flames the forums.

No need to remove the battery if the battery life is amazing, which in this case it is. =D

Just ordered mine. Will be here by Monday. Posted via Android Central App

This is currently the BEST Android device out, period. Frankly this even beats the Note 3 and the note 3 isn't even out yet. I'm saying this because the Optimus G Pro beats the Note 2 and the SGS4, The LG Software is simply just better, some people may not like the UI of the launcher (I actually like it) But the software features that compare to Samsung's features are much better from the LG Side. and this phone is blazing fast, with an amazing camera and amazing battery life. At&T LG G2

Thanks for posting. I'm picking mine up at 10 today. It will be fun to compare to my Note 2. Posted via Android Central App

Its more snappy than touchwiz idk about better. My girlfriend has a O.G1 and that thing is faster but like u said. The UI is not not attractive and limited on sharing features: most of my friends have galaxy devices and wifi direct is easy and fast for me sharing full albums and pics.. I tried with her G1 just won't work: LG UI has waaay more options but Samsungs is more thought out..(looks cleaner) . Example Apple has less options than android but it works better and looks cleaner: LG just throws you tons and tons of options and says here figure it out : now that said I like LGs new line
Its just what ur looking for... Yea its faster.. Idk about better
Posted via Android Central App

(have now note2) after a long confusing process on making my mind up.. I ordered the note3 yesterday: all in all the Note3 offers me more: my main issue is memory: i have a 64g Sd and trying to move 40g of music(not to mention pics) to a cloud to then have to stream it.. Because my phone only actually holds 24G.. Plus knowing Samsung is probably the 1 of the best current OEM in terms of updates.. And the best accessories whether OEM or 3rd party.. on paper it's just the best choice for a user like me. As bad as i wanted to try the back buttons and smaller phone its just going to be a major issue... So I chose the Note3.. I will still be going by verizon to see if the LG G2 makes me cancel that pre order Posted via Android Central App

I pre ordered a white one, still say backordered :( :( this is on t-mo

Has anyone seen Verizon's??? I don't wanna start a complaint session on their branding cause frankly it's not a big deal... Just wanna know if they did any major branding (actually hope they didn't to shut some of u up... Lol) Posted via Android Central App

https://www.youtube.com/watch?v=CsPOIVvE6SI&feature=youtube_gdata_player Posted via Android Central App

Wonder what the model number is, D821, D820, D802? or something different? Helps narrow down the rumors for Nexus 5.

Available at Best Buy as well. I played with one at work yesterday. Posted via Android Central App

What software is VZ model being launched with? Interesting how they changed the buttons on the back, wonder what the purpose was to just do that...

9/12 at the local Verizon owned siteMe: I am here for an LG G2. Verizon Rep: we don't have it hasn't launched yet. Funny. Me: yes you do.
Rep: Let me go check Buying now... Posted via Android Central App

Verizon sadly really made this phone bad. The back side buttons are ugly and to much branding on the phone. Also it only has a single speaker instead the dual speaker. Shame shame shame. Posted via Android Central App

I really beg to differ... It(buttons) looks better than the others... Verizon's button look waaay more premium... I've heard a number of people agree.. That's just my opinion.... The branding doesn't look bad it's just the one on the front i could do with out... But its not that bad.. I'll take it for the improved buttons and wireless charging Posted via Android Central App

The Att version has been available online for a week, and has already been rooted.

Loving the Verizon G2. Though I haven't seen the other providers, I am thinking that I would like their wider buttons better.

I purchased this as soon as I found out it was released. I asked the rep if they had one on the floor, and he said it wasn't out. I asked if he could check and he came back with one in hand (har). After messing with it for about 10 minutes (and lots of research),I made the long-awaited switch from an iPhone 4s and couldn't be happier with my phone. It's just a beast! Knock-on has won me over and the back buttons simply work. The battery is fantastic and the Snapdragon keeps up with my racing mind. Also, the interface just worked better for me than the other options. Happy to be in the Android and G2 family!
Android Central Newsletter
Get the best of Android Central in in your inbox, every day!
Thank you for signing up to Android Central. You will receive a verification email shortly.
There was a problem. Please refresh the page and try again.