LG G2 and G3 coming soon to Vodafone UK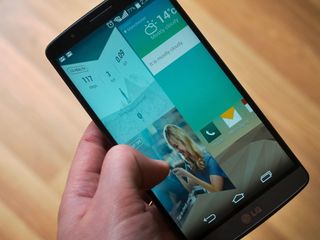 Vodafone is set to stock the LG G2 and G3 Android smartphones soon, according to the British mobile operator's website. The latter is not yet available and has only recently been put to the test by ourselves (check our review for more details), but the G2 is a favorite among many since it was released last year.
It's strange the company has only just scored the previous generation of the LG smartphone, but it's still a solid piece of kit if you're looking for a cheaper alternative to the G3. Unfortunately, Vodafone doesn't have pricing and/or availability details just yet, but we're sure it won't be long. As well as reading up on the LG G3, our in-depth review of the G2 (AT&T) is also packed full of photos, opinions and more.
Would you be interested in purchasing either on Vodafone once available?
Source: Vodafone (opens in new tab)
thanks for sharing this post i think that the smarthphone of LG IS THE best in the world
so if you want to know the future of the keyboard apps http://whatsappbonus.blogspot.com/2014/06/smartphone-keyboard-app-can-pr...

I would love to visit your site, but unfortunately I am waiting for a cheque to come through from the Nigerian uncle I recently discovered I had n5

How about you shut the fuck up about your shitty site? Posted via Android Central App on my Galaxy S5/Galaxy Note 3

Can someone just ban this moron?

Why do all the spammers have Arab names? Not being racist just askin Posted from my Nexus 7 2013 or Samsung galaxy S5

thought the G2 was already on all UK networks by now Posted via ACA on my LG G2

Vodafone has been very slow on the pickup of the G2. It's already available in the UK on Vodafone from Carphone Warehouse.

Its an annoying fact that you won't be able to buy the 3gb 32gb version from a UK carrier for love nor money. I'd love one of them to prove me wrong but I had to buy the G2 outright because of this. Still it was reasonably priced, only about £30 more than the Nexus 5.

I agree. I probably would have got the 32gb model. I'll give it a few months and see whether it goes cheap. It seems they might be trying to create demand by suppressing supply n5

Personally if I used Vodafone I'd just get the G2 if they only had the 2 GB/16 GB model of the G3. Posted via Android Central App on my Galaxy S5/Galaxy Note 3

I agree, I have the g2 and it needs the Base 32gb 3gb ram for me to change to g3. Posted via Android Central App

So when will the g3 be coming to the United States and when will at&t be having this in the stores??? Posted via Android Central App
Android Central Newsletter
Get the best of Android Central in in your inbox, every day!
Thank you for signing up to Android Central. You will receive a verification email shortly.
There was a problem. Please refresh the page and try again.