LG finally shares its Android 10 update plans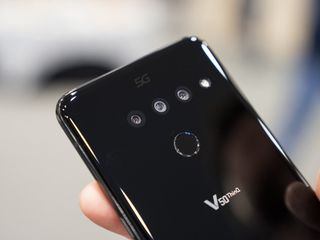 (Image credit: Android Central)
What you need to know
LG has finally announced its Android 10 update plans.
In Europe, the rollout will start in February with the LG V50 ThinQ.
The firm hopes to conclude with the G7 and other assorted phones in the last quarter of 2020.
LG has finally given some sort of indication about its Android 10 update plans. The firm had previously started rolling out the update haphazardly in the US and South Korea, with radio silence for Europe and the rest of the world. Now we're getting a more complete look at what devices will get the Android 10 update, and when we should expect them.
The update will come to the LG V40, V50, G8X, G8S, G7, K50S, K40S, K50, and Q60, but it won't be all at once.
As per LG Italia's blog post (spotted via XDA);
LG hasn't yet given a similar timeline in non-Italian regions, but we can't imagine the devices included and roll-out priorities would be too different. The LG V50 will certainly be the first to be updated — being the current flagship — and the G7 will be one of the last.
As stated above, it has already started doing so to some US devices and even included a specialized desktop mode in addition to Android 10's other features like dark mode, gestures, privacy improvements and the like.
It's certainly not as a fast a rollout as HMD Global which has updated its Nokia phones with a quickness befitting the Android One moniker. Then again, it's LG, we're used to it.
LG G8X ThinQ
LG G8X ThinQ with its Dual Screen attachment is LG's version of a foldable smartphone. With Android 10 heading to this phone soon, you'll be able to take better advantage of the dual-screen capabilities. The phone runs on Qualcomm's Snapdragon 855 octa-core processor and includes 128GB of UFS 2.1 storage. It also offers a dual-camera setup with a 12MP primary sensor and has a 32MP selfie camera on the front.
Android Central Newsletter
Get instant access to breaking news, the hottest reviews, great deals and helpful tips
None for V35 either. I could've picked G7 but went with the better device just to get screwed on updates.

Better device?? Idk what kinda research you were doing but the v35 is an older and inferior device . The g7 the v40 was released at the time of the g7.
I believe LG gives 2 major Android updates per phone. So this will surely be the g7/v40s last update. But in your case Android 9 should be the final update.
Idk what the guy before was saying that the v35 still hasn't gotten Android 9 but if that's true then that is REALLY messed up!!
But do your research the v35 was in no way a better phone. And if you had the choice between the 2 then I'm sorry you chose the wrong phone.

My V35 still haven't got android 9. LG sucks.

My v30 still has 8.0.0 and Aug security patch.
I really liked G3 (could root and not have any of these problems) G4 was given to me as a replacement through warranty (couldn't root but was good phone) now V30.. Great phone overall but, I'm over this BS and LG has lost a customer who was an advocate of their products.
I've had this device since day 1 of release, so now 27 months, $900 retail cost and I'm two complete Android versions behind and 6 months behind in security updates..
Would be cool if this site got back to the days of journalism and interviewed these companies to get to the bottom of these issues. You spend all day convincing us to buy the latest and greatest, yet don't back up the little guy with your presence and connection to help hold these guys accountable. You could literally write a week's worth of articles as to why you should never buy a new smartphone ever again.. And here's why.. And I assure you these companies would take notice.
But I'm guessing that's just not part of your companies concerns anymore.
Miss the original Android Central and guys that did Good&evo site. They cared about the user's and worked with us to find solutions, not just hype up the next bat h of overpriced devices that never get treated correctly after release. If it wasn't for the whole ios eco system thing that I'm just not a part of... I'd seriously consider going to an iPhone. Because at least they update their devices (maybe to make the run slower and fk people over in other ways lol).. But they at least keep people up to date and offer customer support. Sorry for the rant. Just so tired of new or old "when will your phone never receive the latest version of Android" articles.. That deliver zero credible information and even worse, the editors or journalists do zero for us their readers to get to the bottom of why... A guy like me who's been reading this website for 8 yrs, bought a $900+ Flagship device on a major US carrier and two+ yrs later he's on Android 8.0.0. You guys don't care about us anymore.
On to the next Samsung or (phone from foreign market that will never be offered in the states) article and why you should drop $1000+ for it. Sorry again for the rant. Hope someone here understands what I'm getting at.

If you have been following Android blogs for 8 years, then you should know LG is arguably the worst when it comes to updates. If updates are important to you, then buy anything *but* LG.

I don't expect OS updates on phones that are more than 2 yrs past release from any mfg (excl security patches), so I'm amazed at how irritated people are with LG. Honestly, I'd be fine if my V40 never got updated to 10. And if it does, I'd rather they take their time and do it right, as opposed to Samsung. Every time one of my Galaxy phones got updated, it ran worse than before, I hated it. Within a year, they were junk due to updates, on top of bloatware. And oooh, aahhhh, Pixels get updates immediately! Big whoop, they're crap right out of the gate, and need updates just so their owners will hold on to some shred of hope that photos in the dark won't be the only thing they're good for. My V40 still runs perfectly over a year in (knock on wood), and I don't need an update bricking it. It will still work just fine until it's at least 2 years old and I consider replacing it.

Unfortunately my V40 is my first and last LG phone. Previously i had HTC and Samsung. With HTC on the decline Samsung or Pixel will have to be my next device. I gave LG a chance but their slow updates make me not want to own another LG phone. Sorry LG. I do like your product but if you cant keep up with updates i will spend my money elsewhere.

OnePlus is also a better alternative to LG, and close to Samsung or Pixel when comparing similar price points.

Interesting you say that. When i got my V40 i originally went to the TMO store to get a OnePlus 6T. But the camera options and the removable storage are what swayed me to the V40.
Your right thought, my next device will be a Samsung, Pixel or OnePlus.

Not sure what about this post. My LG G8 thinq updated to android 10 on February 1st.

LG: " we plan to continue to abandon every phone we make ASAP. Feel VERY lucky if you see ANYTHING outside a security update, and if you do get an OS update, it will be your last, you bet on that"
thanks for buying our garbage....

Please for the love of all that is holy stop buying LG phones. I'm not saying they don't make quality phones, but the upgrade cycle is nothing short of a ridiculously sad joke. People need to speak with their wallets and stop letting them get away with this ****. Even Samsung has made huge strides in getting updates out much faster then these buffoons. Please. If you have love in your heart, don't buy these phones.
Android Central Newsletter
Get instant access to breaking news, the hottest reviews, great deals and helpful tips
Thank you for signing up to Android Central. You will receive a verification email shortly.
There was a problem. Please refresh the page and try again.