LG announces five new phones you probably won't care about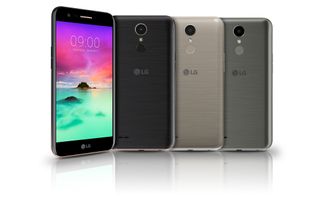 Ahead of CES, LG has announced four new phones in the K series — the K10, K8, K4, and K3 — that will make their debut at the trade show. LG will also showcase the Stylus 3, which offers an "improved writing experience" that mimics the "feel and feedback of an actual pen."
The Stylus 3 is the most interesting handset of the lot, offering a 5.7-inch 720p display, MediaTek MT6750 octa-core CPU, 3GB of RAM, 16GB storage, microSD slot, 13MP camera, 8MP front shooter, and a 3200mAh battery.
The K10 features a 5.3-inch 720p display, the same MT6750 SoC as the Stylus 3, 2GB of RAM, 16GB/32GB storage based on the market, microSD slot, 13MP camera, 5MP front camera, and a 2800mAh battery. The K8, meanwhile, has a 5-inch 720p display, Snapdragon 425, 1.5GB of RAM, 16GB storage, microSD slot, the same camera setup as the K10, and a 2500mAh battery.
As for the K4 and K3, they come sporting FWVGA displays, 1GB of RAM, and 8GB storage. The K10, K8, and the Stylus 3 will run Android 7.0 Nougat out of the box, while the K4 and K3 are based on Android 6.0.1 Marshmallow. All phones come with removable batteries. The spec sheet for each handset is included at the end of the press release.
LG'S MASS-TIER SMARTPHONE OFFERINGS FOR 2017 TO BE UNVEILED AT CES
Four New K Series and Stylus 3 Get Early Debut as Mid-range Segment Heats Up
SEOUL, Dec. 22, 2016 — LG Electronics (LG) will unveil four new mass-tier K Series smartphones and a new Stylus 3 at CES 2017 in Las Vegas, as the mid-range segment continues its strong growth as the market matures. The new mid-range devices are designed to bring popular, best-in-class technologies from LG's more premium flagship smartphones, such as the 120-degree wide angle front camera lens and the rear fingerprint scanner.
LG's updated K Series carries over the original philosophy that all customers do not want the same things in a smartphone. Rather than offering one main smartphone model and expecting customers to adapt, the K Series was designed with the diverse needs of consumers in mind.
The K10 delivers a best-in-class 5.3-inch HD In-cell Touch Display that delivers a superb viewing experience indoors or out. Its 5MP front camera with 120-degree wide angle selfie lens complements a premium, 13MP rear camera that has been employed in LG flagship G series devices. Other advanced features not usually available in smartphones in this category include a fingerprint scanner, a metallic U-frame for a sturdy but slim 7.9mm profile and 2.5D Arc Glass design.
The K8 features a 5-inch HD In-cell Touch display and delivers high-quality camera performance with 5MP in the front and 13M on the rear enhanced by LG's intelligent UX features such as Auto Shot and Gesture Shot for selfies. Auto Shot automatically triggers the front camera's shutter when a face is detected. Gesture Shot takes a selfie in response to a hand signal, eliminating the need to press the shutter button and shaking the phone at the most critical moment.
The K4 is equipped with a sensitive 5-inch In-cell Touch display, 5MP front and rear cameras as well as the popular Auto Shot and Gesture Shot features found in the K8. The attractive K4 offers a slim 7.9mm profile and removable 2,500mAh battery as well as a microSD slot for additional storage.
The smallest in the series, the K3 comes with a 4.5-inch On-cell Touch display, a 5MP rear camera and a 2MP lens in the front supported by Gesture Shot. With a microSD slot and 2,100mAh removable battery, the K3 offers many features unavailable on other competing smartphones in this category.
LG will also debut the third generation Stylus 3, the latest version of its mid-range Stylus smartphone (Stylo in the United States). The Stylus 3 delivers an improved writing experience with a 1.8mm diameter fiber-tip stylus to provide the feel and feedback of an actual pen when writing on the screen. The Stylus 3 also features a fingerprint scanner and enhanced UX with Pen Pop 2.0 as well as the popular Pen Keeper and Screen-off Memo. With Pen Pop 2.0, your memos are never out of sight and can be set to display on the screen whenever the stylus is removed. Pen Keeper displays a warning when the stylus strays too far from the phone, and Screen-off Memo enables note-taking directly on the screen even when the display is off.
"Our 2017 mass-tier, mid-range smartphones focus on giving our customers a wide variety of options and choices for their smartphone lifestyles," said Juno Cho, president of the LG Electronics Mobile Communications Company. "What's consistent in all our K Series and Stylus 3 devices is that they look and feel premium, offer replaceable batteries and all come with expandable memory slots, what customers consider key factors when buying smartphones in this category."
K10 Key Specifications:
Chipset: MT6750 1.5 GHz Octa-Core
Display: 5.3-inch HD In-cell Touch (1280 x 720 / 277ppi)
Memory: 2GB LPDDR3 RAM / 16 or 32GB eMMC ROM / microSD (up to 2TB)
Camera: Front 5MP (Wide) / Rear 13MP (Standard)
Battery: 2,800mAh (removable)
Operating System: Android 7.0 Nougat
Size: 148.7 x 75.3 x 7.9mm
Weight: 142g
Network: LTE / 3G / 2G
Connectivity: Wi-Fi (802.11 b, g, n) / Bluetooth 4.2 / USB 2.0 / NFC
Color: Black / Titan / Gold
Other: Fingerprint Scanner
K8 Key Specifications:
Chipset: MSM8917 1.4 Quad-Core
Display: 5.0-inch HD In-cell Touch (1280 x 720 / 294ppi)
Memory: 1.5GB LPDDR3 RAM / 16GB eMMC ROM / microSD (up to 32GB)
Camera: Front 5MP / Rear 13MP
Battery: 2,500mAh (removable)
Operating System: Android 7.0 Nougat
Size: 144.8 x 72.1 x 8.09mm
Weight: 142g
Network: LTE / 3G / 2G
Connectivity: Wi-Fi (802.11 b, g, n) / Bluetooth 4.2 / USB 2.0 / NFC
Color: Silver / Titan / Dark Blue / Gold
K4 Key Specifications:
Chipset: MSM8909 1.1GHz Quad-Core
Display: 5.0-inch FWVGA In-cell Touch (854 x 480 / 196ppi)
Memory: 1GB LPDDR3 RAM / 8GB eMMC ROM / microSD (up to 32GB)
Camera: Front 5MP / Rear 5MP
Battery: 2,500mAh (removable)
Operating System: Android 6.0.1 Marshmallow
Size: 144.76 x 72.6 x 7.9mm
Weight: 135g
Network: LTE / 3G / 2G
Connectivity: Wi-Fi (802.11 b, g, n) / Bluetooth 4.1 / USB 2.0
Color: Titan / Black
K3 Key Specifications:
Chipset: MSM8909 1.1GHz Quad-Core
Display: 4.5-inch FWVGA On-cell Touch (854 x 480 / 218ppi)
Memory: 1GB LPDDR3 RAM / 8GB eMMC ROM / microSD (up to 32GB)
Camera: Front 2MP / Rear 5MP
Battery: 2,100mAh (removable)
Operating System: Android 6.0.1 Marshmallow
Size: 133.9 x 69.75 x 9.44mm
Weight: 132g
Network: LTE / 3G / 2G
Connectivity: Wi-Fi (802.11 b, g, n) / Bluetooth 4.1 / USB 2.0
Color: Black
Stylus 3 Key Specifications:
Chipset: MT6750 1.5GHz Octa-Core
Display: 5.7-inch HD In-cell Touch (1280 x 720 / 258ppi)
Memory: 3GB LPDDR3 RAM / 16GB eMMC ROM / microSD (up to 2TB)
Camera: Front 8MP / Rear 13MP
Battery: 3,200mAh (removable)
Operating System: Android 7.0 Nougat
Size: 155.6 x 79.8 x 7.4mm
Weight: 149g
Network: LTE / 3G / 2G
Connectivity: Wi-Fi (802.11 b, g, n) / Bluetooth 4.2 / USB 2.0
Color: Metallic Titan / Pink Gold
Other: Stylus Pen / FM Radio / Fingerprint Scanner
Get the Android Central Newsletter
Instant access to breaking news, the hottest reviews, great deals and helpful tips.
Harish Jonnalagadda is a Senior Editor overseeing Asia at Android Central. He leads the site's coverage of Chinese phone brands, contributing to reviews, features, and buying guides. He also writes about storage servers, audio products, and the semiconductor industry. Contact him on Twitter at @chunkynerd.
What a headline, honest and to the point. :)

I really needed that laugh, so bad. It was wonderful. Thank you. Lol

Haha I have the 2016 K10 and it's not bad of a phone 😀. I wouldn't mind having a fingerprint sensor in mine

Some price points would be helpful. I currently have a K7, the drawbacks are the network it's on, and 8 GB of storage. The new K8 kinda sorta interests me, the K10 and Stylo 3 more so, but probably out of my price range, which is about $100 or so. From what I understand, Nougat and possibly Marshmellow will allow a portion of the SD card to be dedicated to onboard storage, which would get around my app limitations. ICBW

Don't think these will be as low as $100. We should get pricing and availability details next week.

That would be unfortunate. I did see an LG K7 on Family Mobile at Wal-Mart tonight for $49.99. The same phone on other GSM networks is $80+. This could be a flush the inventory move ahead of CES and it's direct replacement, the K8. If I am right, this would be around a $100 phone. It looks like the K10 is better than the current one, but it's priced around $170.

No excuse for releasing handsets running Marshmallow, whatever the price point.

LG throwing everything at the wall to see what sticks! Think HTC did this a few years back, not a good sign.

And then people are surprised when they hear Android OEMs make little to no profit...

They have released these the last few years to the world market and budget phones in America. Nothing wrong with that.

LG hasn't made a Android phone that anyone cares about in like forever let alone a budget phone. LG phones have always been trashy phones with issues. They are and always have been the ugly sister of Android to Samsung being the Cinderella of Android.

What about the Nexus 5 and 5X? Both are good phones in my opinion.

Some (not all) 5X users have bootloop issues.

I find it hard to see how the launch of such garbage phones can be newsworthy. These phones are a joke in my opinion.

This is ridiculous. Just because these phones are low end doesn't mean that they are garbage. There are demands on the market for cheap phones, which is why they exists.

Agreed. Low end phones are out there for a reason. People that can't afford to invest into a high end device and they get a couple of the high end features and it makes them happy. Oh and most of the carriers are selling them too. Back on Black Friday I went into mh local T-Mobile store to get a new phone for my business and the only phones they were pushing were the LG K10 and Stylo 2. That everyone in line had two or more of them because they are free after bill credits. There were a select number getting Iphones, Samsung, but majority of the shoppers were getting those two devices.

Yes, there is a place for rubbish, cheap phones in the market. But the sort of people who buy one aren't the kind of folks who hang about here.

Why not do a high end stylus phone? Like what the heck is LG doing?

I'd like to see another brand push a proper Note competitor (that doesn't blow up). LG Stylus is just a phone with a fancy built-in capacitive stylus. There's no digitizer layer to detect an active stylus and its pressure on the screen, and there's no palm rejection. Might as well go with a better phone and a $2 stylus.

I loved the LG G3 but nothing since, too bad they are so bent on mediocre battery life. I want long life batteries, not quick charging. I like phones that I can charge every second day, not have to plug in every day.

I understand your comment but is it really that hard or taxing to charge a phone once a day assuming you are not homeless?

I'll take the smaller battery and more frequent charging over pushing the limits of battery technology for the sake of Mitch only having to charge his phone every other day. Samsung made that mistake with the Note 7.

I have an LG G4 that is a fabulous smartphone. One key is that it still has a removable battery, so you can easily carry a fully-charged spare battery to double your phone's life. You could easily do that with a G3 as well, Just toss an extra battery in your briefcase or whatever.

"They're not flagships, therefore you wouldn't care about them." What a LOVELY sentiment right there. Sidenote. The Stylo 3 would make for a good phone for the young ones or the elderly, because it's large. And has a pen thing.

Exactly. A coworker has a iPhone 7 and it is way more phone than she needs. She had it unsecured and didn't know how to set up the fingerprint scanner. I helped her set it up. All she cares about is FaceTime. Way too much phone for her needs. Even cheap T-Mobile phones have video calling on the fly built-in. I have a Stylo 1 I paid cash for when it first came out and it is fine. I don't play games so I don't need the fastest processor. Camera is fine. My son (12) used a Leon for a year before I gave him my old G3. No way is he getting a current $700 flagship to destroy. That is why there are cheaper phones available.

LG struggling for some sort of relevancy after recent news story showing more hold-outs still using their recalled Note 7's than people using LG's latest V20 flagship....

Thats the insult to injury that more people are using the discontinued Note 7 than any of LG's junk says it all and with them releasing more low quality garbage shows why LG is struggling to stay relevant on Android.

Why no high-end stylus phones?
Idk. Maybe they are trying to learn from the experience of building a midtier phone with one and getting the software experience correct before putting out a high-end flagship device with a stylus. Knowing they will be immediately compared to the note series, I'd wanna be getting it right before possibly going down in flames for a flop in that device category. Trial and error in a midtier device that doesn't get the same scrutiny makes sense to me. But, I look forward the day they decide to make a high-end stylus device. Maybe V30? Since it's a device series for "creating content"

For everyone here complaining about these phones they're actually decent devices. I've had a LG G3, HTC One M8, Samsung Galaxy S5, and a iPhone 5s. And the thing is, I didn't really care for them. To many features I never used personally. And I always wanted a stylus. Well when I purchased the LG Stylo 2 I got all that I needed. It's a great device all around. Sure the cameras can be improved, but for what I paid they're great. The battery life is amazing, I easily get 4+ hours of screen on time depending on my usage that day. The stylus isn't a gimmick, it's actually great for note taking, drawing, etc. I was surprised at how precise it is too. And this phone did get updated on my carrier at least (Boost Mobile) I'm on Marshmallow 6.0.1 with the October Security patch. Yeah there usually about 1 month to 2 months behind on the security patch but I'm fine with that. So for all that this phone does for me personally, I will be upgrading to the Stylo 3. I just hope the one coming to the states comes with a Snapdragon 400 series processor. Possibly the 430? 😊

Well good for you, I care about flagship phones with specs to match and nothing LG have released wether its a budget phone or flagship has interested me because LG suck just like iPhone with its inferior OS and specs suck, only Samsung and OnePlus and most Chinese phones are any good now. Perhaps you should have stayed with iPhones if you don't care about features.

You're right, in sure the editors will rethink their business strategy and tailor their website to cater just to you.

The Stylo is actually a decent offering. The T-Mobile version is very pleasant to use if you like a stylus...

720p screen resolution on a 5.7 inch screen?? what is LG thinking?

There probably will be a T-Mobile variant with 1080p

It's isn't that bad. When flat screen TV came out no one complained about 720p on a 50 inch TV.... I still have an old 32" 720p Sony that still works and I'm not repulsed when I use it.

Ok its March, where is my stylus 3?

Supposed to be in India tomorrow, whats the latest?