For less than $15, you can add this missing feature to the OnePlus 5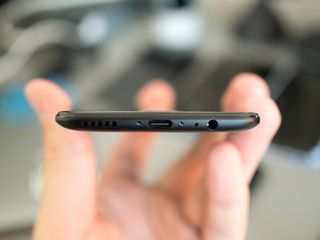 The OnePlus 5 has landed and it looks top shelf — featuring high-end specs, blazing fast charging speeds and that premium build quality that OnePlus is known.
But the one thing that is missing (besides water resistance, I guess) is support for microSD expandable memory. If you end up settling for the 64GB model, you might feel the storage crunch sooner than if you went with the 128GB model depending on how many apps, games, media, and photos you collect on your phone. Fortunately, there's a workaround available using USB On-The-Go.
You're able to turn on USB OTG in the Advanced Storage Settings on your device, which then let you plug in a USB-C adapter for connecting flash drives, microSD cards, or other USB accessories. Having an SD card filled with your favorite media is perfect for those times you're traveling or out of service range, or for those of us who quickly fill up your phone's included storage. Best of all, these accessories are typically around $15 or less (opens in new tab).
It needs to be said that these accessories are for temporary situations. Leaving a small accessory plugged into your phone's charging port 24/7 isn't a great idea, as your daily pocket carry and usage might put stress on the phone's port, which might lead to damage. With that said, let's take a look.
Dash Micro USB-C Mini MicroSD Card Reader
This handy adapter has been tested on the OnePlus 3 and works great, letting you quickly connect a microSD card to your phone and access all your favorite media on the go.
Alternatively, you can use this accessory to transfer photos or larger videos off of your phone to free up space. The adapter comes with a pocket-sized carrying case with a ring for adding it to a keychain. That way, you can take this handy tool with you, and have it within an arm's length at all times.
See at Amazon (opens in new tab)
Anker USB-C to USB 3.1 Adapter
If you're like me, you probably have a ton of USB flash drives sitting around collecting dust. Give them new life with your OnePlus 5 and this handy USB-C to USB 3.1 adapter from Anker.
This short cable connects to your phone via USB-C and then offers a full USB 3.1 port for connecting your own microSD card adapter, flash drives, or any other USB accessory you may have including a mouse and/or keyboard. If you want more options for transferring or accessing files, along with using other accessories you might have to kicking around the house, this is an affordable accessory to look into. It will also work with the latest laptops that use USB-C, too, so you should get years of use out of it.
See at Amazon (opens in new tab)
Transcend JetFlash 890S
Combining the best of both worlds mentioned above, the Transcend JetFlash 890S is a USB-C to USB 3.1 adapter with 64GB of onboard flash storage. This means you can connect your own flash drives or microSD cards for transferring files, or simply use the 64GB of storage included on this keychain-sized accessory.
It's the pricier option but offers much more functionality and convenience. Double up your OnePlus 5's storage with this sleek, impressive accessory.
See at Amazon (opens in new tab)
Is 64GB enough for you?
It seems like just yesterday that 16GB was an insurmountable amount of storage for the average user, but that's no longer the case. If you're getting the OnePlus 5, let us know which size you're getting (64GB or 128GB) and whether OTG storage options are something you'd consider!
Android Central Newsletter
Get instant access to breaking news, the hottest reviews, great deals and helpful tips
Marc Lagace was an Apps and Games Editor at Android Central between 2016 and 2020. You can reach out to him on Twitter [@spacelagace.
Add microSD to your phone using this ONE WEIRD TRICK.

https://www.reddit.com/r/savedyouaclick

Phone manufacturers hate them

That doesnt solve any of the problems of a missing sd card

It's not really meant to. The sole purpose of this article is to get affiliate revenue.

Too bad you can't charge at the same time. If OnePlus really didn't want their customers to settle, they would have included a micro SD slot.

And don't forget to waterproof your OP5 with a ziplock bag

This had always been OP biggest flaw imo save for the treatment of the OP2. But 8gb of ram but no SD slot.

Google doesn't want you to use SD cards, otherwise it would put them in its Nexus and Pixel phones.

Google not wanting it doesn't eliminate it as a legit feature requirement for a lot of people.

Since I set up Nextcloud, Plex, Calibre at home, I haven't needed much in-phone storage. 16GB would be fine, and 32GB luxuriously spacious. I sync a few items for those (almost non-existant) times I'm offline, but they're deleted when I'm done with them. Photos and videos get uploaded and auto-deleted so they're safe and sound in the event of loss or theft, and they don't consume any space.

I'm the same way. I have unlimited data, good streaming services, and more storage in Drive than I have use for. I bought the 128GB Pixel, but I wish I'd saved the money and gotten the 32GB.

But what about the apps you install? My phone always needs more storage from its current tiny 16 GB

I'm not sure what you're installing, but I have about 130 apps installed, and 16GB is fine. A 64GB OnePlus, would give me room for over 500 apps.

As others have said, this point does not address not having an internal MicroSD card. It is not practical running around with a memory card hanging off of a USB dongle or reader --- it'll be knocked off and may damage the USB port. This idea is for those who want to sit there spending lots and lots of time transferring photos/music files between the external storage and the phone's internal storage.
Internal microSD cards are better supported by android apps. Your images, music collection, large data files can be automatically written to the microSD card. This includes copying select images from the digital camera you've attached via dongle to the microSD memory.
Having your data on the cloud isn't the solution for all situations. If you expect to travel in areas with poor LTE service such as most national parks, traveling to remote areas outside of the country, etc., you want to be prepared by having the options of installing data to the microSD ahead of time.

Tried using the Anker listed with crap results. Every other time I try to back up my phone the device become corrupt. Tried 3 different USB devices and the all fail leaving me to believe the Anker device is garbage. It would be nice if backing up an Android worked well without an SD card, but it doesn't. Makes me miss Windows phones every time.

Never had issues with my Nexus or Pixel devices with OTG. It works great!

No SD Card, No waterproofing, no way for me.
Nice phone with great specs otherwise though. I loved my OnePlus 3 when I had it.

And the OP3 didn't have those features.. but that was acceptable to you. You just contradicted yourself.

One thing that makes the absence of an sd card even more annoying for me is that many dual-sim phones (including the oppo r11 that seems to be the basis for the design of the op5) give you the option of using that second slot for a micro sd card instead, which would have been a great feature for them to have included in the op5.

Do you guys really want to be the click-bait of Android news? Is that what you want to do?
Android Central Newsletter
Get instant access to breaking news, the hottest reviews, great deals and helpful tips
Thank you for signing up to Android Central. You will receive a verification email shortly.
There was a problem. Please refresh the page and try again.