Lenovo's Smart Display is the Google Assistant-powered Echo Show we've been waiting for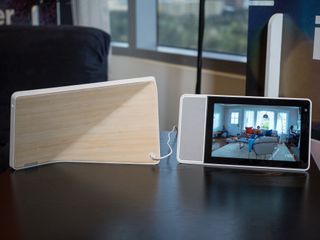 Google Home and Amazon Echo match up in both the small and medium speaker segments, but the hardware offerings start to diverge from there.
Amazon has clearly taken the lead with screen-toting assistant speakers with its Echo Show and Echo Spot, with no response from Google in the category. That is, until now.
Leave it to Lenovo of all companies to make a direct competitor to the Echo Show running Google Assistant: it's called the Lenovo Smart Display, and it has just been announced at CES 2018. But this isn't just a Google Home with a screen — it's so much more.
At its most basic level, the Smart Display combines the experience of having a Google Home and a Chromecast-connected TV — but in a single device. It offers 100% feature parity with Google Home, but has the added benefit of being able to display information similar to the way it would show up on your TV if you asked your Google Home to send something visual to a Chromecast.
The Smart Display comes in two screen sizes, 10 and 8 inches, but the design and capabilities are the same in either aside from the larger version having a great bamboo back. From the front, it's very inviting with a soft white plastic frame surrounding the display and speaker. The unique wedge shape looks funky at first, but then you realize it lets the Smart Display stand vertically just as comfortably as horizontal it makes sense. A set of rubber feet and rather substantial weight — 2.2 or 2.6 pounds — keep it stable with touches, intentional or not.
Image 1 of 5
So let's talk about how the Smart Display actually works, because it's quite clever. At its core, it's running Android Things, which is Google's Android build designed for these IoT type of products that don't need to run a full-fledged Android system (as some would have in the past) but still have lots of useful smart home hooks and a custom interface. It's clear that the Smart Display is just the first of many Assistant-powered devices that will use this interface, as Google will standardize it across devices just as it has done with Assistant on smartphones, tablets, speakers and TVs.
The always-on ambient screen is literally just the same "backdrop" experience as a Chromecast — it can pull from Google Photos or a variety of other sources, configured in the Google Home app. It's waiting for the "Hey Google" wake word, including personalized results based on your trained voice, but you can also tap the screen once to be taken to the main "home screen" of sorts. Here you'll see upcoming events and reminders, plus cards for ongoing tasks — whether that's a timer, current weather, directions to an appointment, ongoing media controls or just about anything else. This is the only place where you could actually launch experiences by touch — everything else is accomplished by voice.
And of course, you can just talk to the Smart Display just like a Google Home — but you get far more in response. Any regular search-style knowledge questions come back with responses in both text/images and voice. Ask for a video and it plays right away in YouTube. Ask for directions, get an interactive map (and directions sent to your phone). Set reminders, timers, appointments and more, and get confirmation both on the screen and audibly. There is, of course, the cliché demo showing step-by-step cooking instructions, and little games that you'll play once to impress your friends and never touch again.
Sound-wise, there's an array of microphones to listen to commands from a distance just like a Google Home, plus a big 10W speaker that'll sound just as good. A front-facing camera is designed to work with Duo right out of the box, calling both phones and other Smart Displays, and Google's open to the idea of having other applications — video calling or otherwise — be able to access the system just as they do now on Google Home. There are hardware volume keys along one side, and even a physical camera cover to squash privacy concerns.
Image 1 of 5
The devices we were able to see and use were clearly not finished in either hardware or software, which isn't surprising considering the release is slated for mid-summer. Despite that, the hardware looks and feels fantastic. It's light, inviting and unassuming, particularly in the smaller 8-inch size. The screen isn't fantastically bright or clear, but for the distance you'll be using this at in a home with good lighting it'll do well. The pricing is right, at $199 for the 8-inch and $249 for the 10-inch, bookending the current Echo Show price.
For those who want the security and accessibility of having a display to work with, it'll be a small price bump over the $129 Google Home to get something that truly feels like more of a home hub to then be augmented by Google Home Minis elsewhere. This is absolutely a growth area for Google, and Lenovo is simply the first partner out the gate with it.
More: With expansion to screens and cars, Google Assistant is officially everywhere
Get the Android Central Newsletter
Instant access to breaking news, the hottest reviews, great deals and helpful tips.
Andrew was an Executive Editor, U.S. at Android Central between 2012 and 2020.