Lenovo IdeaTab A1000 update gives a much needed boost to internal storage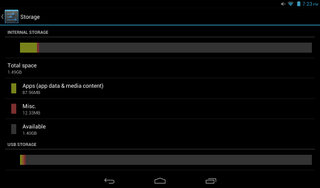 Lenovo's recent launch of the IdeaTab A1000 had the unfortunate problem of having only a few hundred megabytes of usable internal storage, due to the "interesting" partitioning done to the tablet's 16 GB of on-board memory.
Lenovo took notice of the problems users were having, quickly running out of memory after installing just a few apps, and sent out an over-the-air update. The update increases the internal storage partition from 512 MB to 1.5 GB, giving some much needed breathing room for applications. The update will wipe all user data, so make sure to backup before accepting it.
While 1.5 GB is better, it's still not ideal. The best solution would be to merge both partitions into one, so the complete 16 GB of storage could be used as the primary place to install apps and games. According to Lenovo, increasing the internal storage to 1.5 GB was all that could be done at this time due to "technical reasons," but they " are also looking to change the whole storage to be integrated in one partition." One this is done, this tablet's storage problems should finally be over.
Wtf is this Posted via Android Central App

Do we now understand why this company is not a major consumer brand in America? Posted via my themed "WHITE DRAGON" LiquidSmooth Sprint GSIII.

Wut... Posted via my HTC One or S4 using the Android Central App

I feel bad for those who buy the tablet and don't know about this issue.

Wouldn't it be cool if companies could send more or added storage OTA to consumer's phones? ⓖ◎◎ⓖⓛⓔ

i hear Lenovo pulled this crap on their Yoga Ultrabooks. partitions and bloatware crushed the storage.

Indeed they did. They also did it on the 128GB SSD in my ThinkPad Twist. The solution was simple- I wiped the entire mess and installed Fedora Linux. It went from something like 50GB available to 120GB in just 15 minutes.

You don't have to ruin it with Linux. Just open the disk management, nuke the recovery partition and expand the Windows partition to fill the drive.

"Ruin it with Linux"? That's oxymoronic. Posted via Android Central App

There needs to be a way to upvote comments. When I my Compaq laptop with Windows 7 several years ago, it infuriated me every time I turned it on. It was slow, and there was a ton of bloatware. It was ugly, and the widgets were clunky and hogged a ton of RAM. Not only that, but when it came time to shut the laptop off, it literally took Windows 20 minutes to shut down. Every time. Even if I went into the application manager and closed everything that wasn't a necessary system service first. I installed Debian, and it was glorious. The laptop was fast with no bloatware, set up to look and behave exactly as I wanted, and it actually shut itself off in less than a minute. I've been through several other Linux distributions since then, but I will never go back to Windows. I hated it way too much.

Of course formating it and installing a clean OS made it better. Formatting it and installing a clean version of Windows would have done the same.

Yeah, but Debian was free. A brand-new non-HP-bloated copy of Windows would have cost almost $100. I'll spare you the rest of the reasons I hate Windows (that's TL;DR territory), but I'll just say that I would never consider putting Windows on a new computer (or old for that matter) instead of Linux, regardless of bloatware or factory settings. I'll also say that my experience with my laptop was far from my worst experience with Windows (for instance, WinXP bricked a hard drive because it tried installing drivers for a drive that was already working fine and currently in use) and only served to strengthen my hate for Windows and Microsoft in general. Microsoft products are not even an option for me anymore -- not their mice or keyboards or even the XBox -- and I couldn't be happier.

That's really odd. I thought all tablets had unified storage, but I guess I was wrong. 1.5 GB is still pretty paltry--that's half of the Application Storage on my Razr Maxx.

My tablet even has more RAM than that tablet has total memory. Something is strange here..... Posted from the incredible Nexus 7

>"due to the "interesting" partitioning done to the tablet's 16 GB of on-board memory." Memory is not partitioned. Storage is.

Storage is a form of memory called Non-volatile memory. The article is correct.

I probably should have used Flash Memory as a more specific example.

I am not cheaping out on the next tablet. Nexus 7 is the best bang for the buck for what I want a tablet for. As stated above, I feel for the people that bought this not knowing the issue. THen it brings me to something I read in another thread where they were calling Lenovo "a premium smartphone maker". Could you imagine them doing this here on a phone?

Hey!
I think we should give Lenovi some credit for taking responsibility and fixing their own mistakes and pretty fast to if I understand it right. I think 1,5g storage for apps will work pretty well for most users of a simple budget tablet like this. AC review of it was pretty positive beside this memory issue. I think it looks like it has good value for it's cost.

No, they do not get a pass here at all. You are pay for 10gb you cannot use properly. They have not really addressed the issue. They threw a bandaid on it, but it is far from resolved. This shouldn't have made it out of Alpha testing like this much less beta Posted via anything but a Nexus phone.

I agree, I don't see why they would have designed the storage like this in the first place! Surely it would be easier to just leave it as a single partition based on the more modern Jelly Bean OS? I can understand when some corners are cut when bringing out a budget device, but things like this is just basic errors and does not really give the impression that these guys know what they are doing. Hopefully it will only harm Lenovo's reputation and not Android.

Agreed. This should have never made it out their doors.. Posted via Android Central App

Almost as bad as my HTC desire that only had 168mb to install apps it became impossible to use

It's very strange. I bought a Lenovo a1000 a week ago. It took about 20 minutes then it updated itself and I got the extra gb storage space. Unfortunately, it stopped working after six days. Got a new one earlier today but that one will not update. A lot of fun, now i only have the 500 mb starge space after all. Anyone that can help how to force it to update? Going to settings-about phone-update will only return "you have the latest update".

I just downloaded and ran the update but still only has 500m. And it tells me I already have the latest update. What else needs to be done?

Yes it seems like to ad insult to injury the automatic update to put the temporary fix on the problem doesn't work right either. WAKE UP LENOVO

where do I get the update???? Spent about 2 hours on the phone with lenovo and they had no idea. ALSO, could somebody tell me how to get the update to recognize a new sd card installed? THANKS!

hi to all,i bougtht lenovo idea tab a1000,and i have also the same problem with the internal memory so has difficulty to download apps and games.please tell me how to received upgrade of memory to 1.5gb,actually i bought 3 pcs of it so its a big headache to me.thx
Android Central Newsletter
Thank you for signing up to Android Central. You will receive a verification email shortly.
There was a problem. Please refresh the page and try again.