Lenovo IdeaTab A1000 review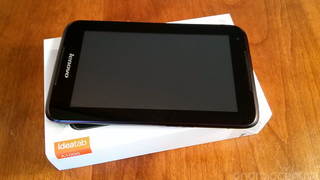 First announced in Barcelona at the Mobile World Congress earlier this year, the IdeaTab A1000 is Lenovo's latest entry into the budget tablet market. While Lenovo has been known for sitting at the sidelines when it comes to the Android smartphone market in the United States, the company is becoming successful in other countries, and does have a presence when it comes to Android tablets in the U.S.
While the IdeaTab A1000 is priced in a range that keeps it relatively safe from comparisons to some of the most recent 7-inch tablets, it has other problems. As the saying goes, "you are your own worst enemy." The amount of internal storage this tablet offers is the Achilles heel of its otherwise solid and sturdy construction. This is where the confusion may set in.
As the specification page for this tablet indicates, it has 16GB of internal memory. This may seem like far too much to be considered the worst feature of a device, especially when other tablets have done fine with half that amount. This is a special situation, one that we haven't seen for a very long time.
Pros
Feels very solid and well built, dual front facing Dolby speakers and equalizer, good overall system performance, Android extras like percent battery meter and scheduled on/off, strong vibration motor, FM radio, toggle buttons in notification area, USB OTG for controller peripherals (mouse, keyboard, etc.) and USB drives.
Cons
Low internal memory allocation causes errors resulting in the inability to install more than a few apps as well as breaking sync, no automatic display brightness, low screen resolution causes screen pixelation, poor viewing angles cause darkness and color distortion if not looking straight on, screen colors are slightly washed out overall.
The Bottom Line
The Lenovo IdeaTab A1000 has some surprisingly good qualities for a tablet that competes in one of Android's lowest price tiers. Unfortunately, the sum of its parts cannot fix the whole, which is absolutely crippled by a very poor (and completely fixable) software design flaw. After updating included apps and installing a small handful of others, the tablet loses some of its most important core functionalities. In its current state, there are too many other good (and working) tablets out there to consider this one.
Video walkthrough
The IdeaTab A1000 hardware
The 7-inch glossy LED screen has a resolution that comes in at an underwhelming 1024x600, causing the display to look pixelated. This makes small text blocky and sometimes hard to read, necessitating a pinch-to-zoom to improve clarity. Colors are a little dulled and give that washed-out feeling, making the screen lack any sort of "pop." The screen becomes dark once the viewing angle is increased away from the user, with a strange quirk when viewing from the left side -- an almost x-ray effect with darkness becoming inverted. While brightness is adjustable, there is no option for it to be automatic.
Inside is a 1.2 GHz MTK 8317 Dual-core Cortex-A9 processor, 1GB of DDR2 RAM, and 16GB of total internal storage. This hardware serves the tablet well, allowing speedy navigation through home screens, menus, and apps with minimal stuttering or lag.
Connectivity is made possible with a Wi-Fi radio that supports b/g/n as well as Bluetooth 4.0. The IdeaTab A1000 does have a motor for vibration on touch, as well as a GPS sensor and accelerometer. Power is supplied by the 3500 mAh battery, which I've found to be good for about 7 hours of continuous light to moderate use.
Size and weight are both average, with the IdeaTab A1000 coming in at 0.77 lbs. and measuring 7.83 x 4.76 x 0.42 inches. The surrounding bezel is fairly even all around, with plenty of room to get a secure grip without worrying about accidental input on the screen.
There are two front facing "Dolby Digital Plus" speakers on the top and bottom of the tablet, which make for loud and properly directed audio. Speaker volume is capable of reaching and exceeding the level that most people will need while holding the tablet, while managing to keep a clear sound with minimal distortion. Placing the speakers on the front of the tablet eliminates the worry of sound being blocked by improper hand placement or any surface that the tablet may be resting on.
The rear shell is made of smooth, hard plastic. It has both the Lenovo and Dolby labeling, along with a sticker that lists all the FCC and government regulation info. It's quick to collect finger smudges and other marks; my unit already has a couple small gouges. The overall construction is surprisingly good -- the solidness of this tablet makes it seem more expensive than it really is. Body lines are all even and aligned, with no squeaking or other noises when being handled.
The top edge of the tablet is home to the power button, 3.5 mm headphone jack, and micro-USB port. The tablet's single camera comes in at 0.3 MP, and is front facing -- located up on the top left corner of the device.
USB OTG (on the go) is fully supported via the micro-USB port, allowing the use of accessories like a computer mouse, keyboard, or gaming controller. USB drives can also be connected, allowing the tablet to copy files to and from the external storage, as well as play media -- without any extra apps or rooting.
There is a built-in equalizer in the Android settings for tweaking the sound that comes out of the 3.5 mm headphone jack. Volume at different frequencies can be adjusted, as well as bass boost, 3D effect, and reverb. There are also 17 presets for those that like to choose music genre instead of manually tweaking their sound settings.
The right side of the tablet is where the volume rocker can be found, as well as the expandable storage door (SD card not included). Storage is expandable with SD cards as large as 32 GB, allowing for plenty of space for music and movies. The SD card door can be a little stubborn, and being made of such thin plastic does not instill confidence when try to mash it back into place. Closing the door does get easier, though, with a little practice to find just the right angle.
The IdeaTab A1000 software
Lenovo has included a relatively unmodified flavor of Android 4.1.2 Jelly Bean, which as of last week is two Android versions old (at least it's not on Ice Cream Sandwich). There have been a few extras thrown in, which are actually pretty interesting and useful. The main screen comes populated with Lenovo's own custom widgets for weather, date, notes, and folders.
A feature that is very popular with the custom ROM crowd, battery meter percentage, is available through the battery settings menu. This is especially useful in Android 4.1, where battery percentage has not yet been added to the notification pull-down. Another popular custom ROM feature, AM/PM next to the time, is present as well -- although it cannot be toggled off.
Audio profiles have been added to replace the stock Android sound settings, giving users 4 predefined profiles (General, Silent, Meeting, Outdoor) as well as the ability to create custom ones. This can come in handy for fast switching of notification sounds and volumes -- the predefined profiles even get buttons in Android's notification area.
The popular file manager, ES File Explorer, comes preloaded for all your file managing needs. The "sdcard0" entry is where the majority of the IdeaTab A1000's internal memory is, while "usbotg" is my 16 GB thumb drive that I've connected to the tablet via micro-USB -- thanks to the supported OTG feature.
Also an included addition to the Android settings is "Scheduled power on & off." This does exactly what is sounds like -- powers the tablet on and off based on time and days of the week. This is an interesting feature that actually does appear to shut the tablet completely off and back on, not just into a special hibernation state. If only the "Power on" option is checked, and the tablet is manually turned off, it will in fact turn itself back on. I can't think of any use I would personally have for it, but it is a cool feature.
The storage
As mentioned in the hardware section earlier in this review, the Lenovo IdeaTab A1000 comes with 16 GB of memory for internal storage. As with most consumer electronics, the total amount of internal memory gets partially used by things like the operating system and pre-installed applications, which means not all 16 GB will be available to the user. However, even after taking that little factoid into account, the IdeaTab A1000 comes with only about 2.5 GB of its internal storage used, which means the user gets 13.5 GB to play with.
With the average Android application taking up just a few megabytes, It's pretty difficult to fill up 13.5 gigabytes of memory with applications alone -- unless copious amounts of large games are downloaded. Storage most commonly becomes a problem with those that keep music or movie collections on their devices, which will eat up memory pretty fast.
To get the error in the above screen shot, all it took was the downloading of 5 apps. That's right, 5. Not 50 or 500, but 5. This is apps alone, with no music, movies, or media of any kind downloaded. These were not extremely large apps either, and they included no games. If this doesn't make sense, it will soon.
When the internal storage runs low, not only is it impossible to install any other applications without removing existing ones first, but the system disables all syncing abilities. This means GMail, Hangouts, People, and any other app that depends on syncing, stops working. The sync disabling is not limited to just Google apps, either -- 3rd party apps that rely on syncing also get broken. These two factors alone bring the tablet to its knees, taking away some of its most important core functionalities.
The tablet's developer decided to partition the 13.5 GB of memory into two parts: "Internal Storage" with 503 MB, and "USB Storage" with 13 GB. It's hard to imagine a reason for this since most other devices would just allocate the entire 13.5 GB GB of storage to the "Internal Storage," the primary place where Android apps and data are stored.
Because of this strange dividing of memory, 503 MB of "Internal Storage" act as the main internal memory, and 13 GB of "USB Storage" act like a separate SD card. This means in order to save apps and data on the 13 GB partition, one must use the"Move to USB storage" function (the same as the apps-to-SD function), which not all apps support, and still requires part of an app and its data to store some information on the "Internal Storage."
When first booted up, the IdeaTab A1000 shows 396 MB available out of the 503 MB of total "Internal Storage." After updating all the system apps like GMail, Maps, Google Search, etc. (which can't be moved to "USB Storage"), there are 106 MB left. That means for the rest of this tablet's life, only about 100 MB of apps can be installed. Yes, more apps can be installed by using the "Move to USB Storage" function in an app's info screen, but this still uses some of the "Internal Storage," and doesn't work at all for some apps.
Dipping below about 50 MB of available space on the "Internal Storage" will trigger the "Storage space running out" error, stopping the syncing of all apps. So, after pre-installed applications are updated once the tablet is out of the box, there is really only 50 MB of primary storage available before things start breaking.
This is an enormous oversight by the makers of this tablet's software, resulting in usable memory so small that 3 year old Android phones can rival the IdeaTab A1000 in internal storage capacity -- and apps sure have gotten a lot bigger since then.
The bottom line
Since a fully updated IdeaTab A1000 loses its ability to synchronize applications after 50 MB of internal storage is used, and loses the ability to install any apps after using about 100 MB, it is impossible to recommend spending $129.95 on a tablet that's poor software planning severely limits it's basic functionality.
After contacting Lenovo about the storage space issues, I received the following response:
I really do hope that this storage issue gets fixed soon in a software update. If this problem is resolved, Lenovo has a competitive tablet for this price point. Solid construction, nice UI additions, good performance, and dual front speakers make would make this tablet worth a look (look first to make sure the screen is acceptable) for anyone spending around $130. Until then, there are other very worthy alternatives.
Get the Android Central Newsletter
Instant access to breaking news, the hottest reviews, great deals and helpful tips.