Hisense Sero 7 Pro Review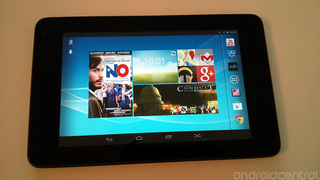 One of the most important factors for any device — especially 7-inch tablets — is price. It's not uncommon to hear that if something is twice the price, it should be twice as good to justify that price. When looking at the $149 Sero 7 Pro, it begs the question: are other tablets that cost an additional $50, $100, or more, that much better than Hisense's new offering?
Many potential buyers no doubt passed up this tablet completely, not recognizing the manufacturer and immediately labeling it a "no name" Chinese Android tablet. Those who frequent Android forums, on the other hand, have likely heard the buzz created by the popularity of this new budget tablet.
The question becomes — even at this price — is it worth it? With specs that match or beat the immensely popular Nexus 7 in almost even area, and at $50 cheaper, it would seem like a no-brainer. Are the improvements over the 11 month old Nexus 7 enough to bring the Sero 7 Pro up to today's spec standards? If not, does the price merit a purchase anyway? How does Hisense's hardware stack up in the quality department?
Keep on keepin' on for our full review.
Pros
Bright, high definition display with great viewing angles. Expandable memory via microSD. Mini-HDMI out for display mirroring. Tegra 3 processor on board for NVIDIA-optimized games. Minimal "skinning" and bloatware from the manufacturer, with an almost-stock version of Android 4.2 Jelly Bean. Loud stereo speakers.
Cons
Results of the budget pricing can be felt in some areas of the hardware build quality (understandably so). Odd addition of a screenshot button to the navigation bar. Only available with 8GB of internal memory. Ships with Android 4.2.1; missing features from 4.2.2 like hold-to-toggle Quick Settings. Walmart exclusive.
The Bottom Line
Those looking to buy a 7-inch Android tablet today can't go wrong with the Sero 7 Pro's winning combination of feature-packed hardware and low price. It combines the Nexus 7's winning spec-list with three of its most requested missing features: HDMI out, expandable storage, and a rear camera. Potential buyers should be comfortable staying on Android 4.1.2 for the foreseeable future, as Hisense has yet to build up a track record for updates to devices stateside. Power users who can hold off their tablet purchases may want to wait for the imminent announcement of the Nexus 7 successor, which is expected to offer next-gen hardware at a similar price point -- along with fast OS updates.
Hisense Sero 7 Pro specs and hardware overview
The build materials are about what you'd expect from a $149 tablet: hard plastic all around, and a few unseemly body lines around ports and buttons. The back is textured for better grip, has an almost copper-like shine in the right lighting. There are two cutouts for the stereo speakers at the bottom, with the rear facing camera and flash at the top. Overall dimensions are 7.87 by 4.95 by 0.43 inches and a weight of 12.7oz. It's not the lightest or thinnest tablet around, but it does feel good in the hand and was easy enough for me to hold for many hours during two overseas flights.
Inside the tablet is a 1.3 GHz NVIDIA Tegra 3 CPU, 1 GB DDR2 RAM, 8 GB internal memory, Bluetooth 3.0+EDR, 802.11b/g/n WiFi, and a 4,000 mAh battery. The CPU and RAM make for speedy overall performance, both in the Android system and within apps. WiFi range is good, with the tablet having no problems seeing routers or connecting. The NFC chip worked well when using Android Beam with my other devices. Although not listed on the main spec page of Hisense USA, there is a fully functional internal GPS on board as well.
All ports are housed on the top edge of the tablet. In order from left to right: a pinhole microphone, a 3.5mm headphone jack, a micro-SD slot that supports cards up to 32 GB, a micro-USB port, and a mini-HDMI port. USB-OTG is supported, so accessories like a computer mouse, keyboard, or flash drive will work with the proper cable. The HDMI out provided good image and audio quality for all the YouTube videos I watched on my 32" LG LCD TV.
On the tablet's right side, you'll find the power button and volume rocker. Controlling volume using the rocker worked without a hitch. The power button, on the other hand, was a bit temperamental. About once every 8 presses, the power button would not respond. Sometimes even when holding the button when attempting to reach the power menu, the tablet failed to recognize the press.
When a power button depress is recognized, the tablet lets you know with a short vibration. That's right, the Sero 7 Pro even includes a vibration motor, which also vibrates when things like the navigation keys are pressed. My unit had an internal rattle each time it vibrated, almost like something was slightly loose inside. It sounded peculiar and loud enough for a nearby friend of mine to take notice. Eventually, the rattle became enough to make me want to turn off vibration altogether.
These two issues are probably just quality control/manufacturing inconsistencies. I was out of the country while reviewing this tablet, so I unfortunately could not exchange it to see if a new unit would make a difference. While these problems were annoying, I wouldn't consider them deal-breakers -- especially when exchanging the unit at Walmart is an option.
The Sero 7 Pro display
The screen is definitely one of this tablet's strong points. Great viewing angles, HD resolution, and bright/vivid colors make watching TV and movies a pleasure. I put it through its paces with marathon sessions of The Office, Breaking Bad, and Game of Thrones, with no complaints. The handful of TegraZone games I played also looked great. The screen is on par with, if not better than, the one on my main tablet -- the Nexus 7.
The screen's glass has held up well to nicks as scratches over the time I've had it. When the tablet wasn't being removed from or returned to my backpack, it was spending time in my cargo pants pocket. While fingerprints did build up quickly, no permanent damage has been done to the glass so far.
The Sero 7 Pro software
The overall operating system is basically straight Android 4.2.1, just as Google intended -- with a few tweaks and some added apps. One of the first things that users who are used to on-screen buttons with the traditional setup will notice a fourth navigation button that has a "+" sign in the center. The sole purpose of this button is to take screenshots. This makes me wonder -- do people take screenshots on their devices so often that it warrants a permanent button in the navigation bar? Pressing power and volume down simultaneously takes a screen as well, and is already built into Android by default. The fourth navigation button seems like an unnecessary addition.
Making use of that extra black space in the navigation bar is all well and good, however adding a fourth button shifts the traditional three buttons (back, home, and recents) toward the left side of the screen. Those who are used to other Nexus devices may find their muscle memory tripping them up at first, missing intended buttons or taking screenshots instead of pulling up recent apps. I found myself constantly checking the buttons before pressing, being so used to Nexus devices myself. Those not already accustomed to soft keys probably won't notice. I do applaud Hisense for trying to make use of the wasted black bar space, even if it is to add a button that is a bit redundant.
The Sero 7 Pro is a Google-certified device, so it gets all the standard Google apps like Gmail, YouTube, Play Store, etc. The non-Chrome Android browser is also included, sporting Flash support. In addition to these, there are a few manufacturer and retailer apps as well: Walmart and Sam's Club apps, Vudu (Play Store alternative), Tegrazone, and Kingsoft Office. There is even a TV remote control app, however since the Sero 7 Pro lacks an IR blaster, a television must be hooked up to the same WiFi network as the tablet for the controls to work. Apps like Walmart and Sam's Club can be completely uninstalled, whereas TegraZone and Vudu are system apps and can only be disabled.
Hisense Sero 7 Pro Battery Life
The other main Android addition by Hisense is "Power saving mode." There are three available modes to control battery usage: Performance priority, Balanced, and Power save. This works by underclocking the CPU, extending battery life by handicapping the processor.
I had no problems getting great battery life, even in "Performance priority mode." Battery life is listed as 7 hours for continuous 1080p video playback, which about falls in line with my own usage. In Airplane Mode (because I was actually on a plane), I was able to watch sub-720p video for about 7 or 8 hours without killing the battery. In most senarios, battery life during actual usage was fantastic.
Standby time was another story. Over a 24 hour period, my tablet would lose up to a third of its battery life while in non-stop standby. This necessitated always having it plugged in when not in use, or making sure it was off while I was away. If I ever did happen to find the tablet dead from being in standby too long, it reached a full charge after being plugged in for 3-4 hours.
The Sero 7 Pro cameras
Image 1 of 21