Lenovo boards the QHD train with the Vibe Z2 Pro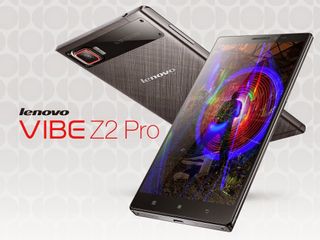 Lenovo has unveiled its latest Android powered smartphone, the Vibe Z2 Pro, and it's the latest device to boast a pixel-packed QHD display. It's big, too. The Vibe Z2 Pro boasts a 6-inch 2560x1440 display, so you're certainly not going to be one-handing this sucker. Underneath it's pretty much the norm for current high end smartphones with a 2.5GHz quad-core Snapdragon 801 CPU, 3GB of RAM and Android 4.4 KitKat.
Others specs of interest include 32GB of onboard storage, and a sizeable – and no doubt necessary – 4000mAh battery. It promises LTE support, and comes in a dual-SIM variety.
It's also packing a pair of decent sounding cameras – 16MP round back with OIS, 5MP up front – and a series of "pro controls" in its camera app that honestly, looks like a ripoff of the Nokia Camera app found on Windows Phone. You'll be able to pick one up in titanium, black or gold and it's expected to launch in China in the next month or so. Beyond China, who knows.
Check out the official promo video below.
Source: +Lenovo via AndroidOS.in
Snapdragon 801 processors mobiles getting over saturated waiting on 808s 810s. Posted via Android Central App

You say it as thou the user experience would be greatly noticeable Posed via Nokia 3310 smartphone

Me waiting 818 820...and 45 mp camera 4gb ram it will be enough for me and 6.1 screen will be perfect Posted via HTC ONE M8 Gunmetal Gray

I want the 980 with 700mp camera 60GB ram and 7 terabyte ssd and the ability to jerk me off every night before bed, shower me with expensive gifts, and make me breakfast every morning before I go to work... /s

And i want to read posts where the same joke isnt used twice in a row... but hey, you cant always get what you want.

Well I want to read posts where the same joke is modified in a creative way. Looks like one of us will be unhappy here... Posted via Android Central App

It wasn't all that creative. He just one-upped him. It was more dickish than creative.

Talk about unrealistic expectations Posted via Android Central App

someone missed the joke... even though it was told twice.

I sure would love to be friends, mister... can I join your wolf pack, wolfpac? Gee golly, I sure am sad about your penis! Sure must suck, what with it turning into a vagina like that... so sorry my comment made your estrogen level spike. Your breasts must be real tender now. Take some motrin and a nice hot bubble bath, you'll feel better after. Posted via Android Central App

You have one "joke" bro, and it's about penises. Say what you will about me having a vagina, but you're the one that can't get dicks off your mind. ;)

No, I can't get my dick off my mind... it's done me well... served me proud... I love my dick... women seem to love it too... I just feel bad you can't experience having a nice dick of your own. But I'm sure you have dicks pumping away at your mangina all day long, so you do get to experience a dick in some way... You got me there. I don't experience it on the receiving end. What's it like being the catcher? Looks uncomfortable. Posted via Android Central App

Alright man, now THIS is how i know you're full of shit. Your comment shows exactly how unintelligent you are because it continues to show that you really are quite one dimensional. That being the case, it's clear that you have very little game. If you DID have any, you'd know that saying shit like what you just said gets you nowhere. I can gladly walk away from this one knowing that you have a far lower IQ, get a lot less action, and will still more than likely say something about a dick, because you're that predictable. Good luck in your false reality buddy. You made generalized statements about me, not knowing me and all, but i can make very accurate statements simply based upon how moronic your responses are. It's quite telling as to who you REALLY are... a dick.

Wonder how well it'll perform.
Is lenovos skin heavy? Or just icons? Posted via Galaxy ace plus running Speedmod 2.5 with Xposed

I hope they've done something good with all the screen real estate Posted via Galaxy ace plus running Speedmod 2.5 with Xposed

Well, they're still using the ancient menu-home-back button layout. It's uphill from there.

This phone sounds baddass. Me want.

Looks badass too. Posted via Android Central App

Damn, that's a slim frame (not saying the B word...). I'd hate to drop that thing.

Case.... Posted via Android Central App

I'd get this if it came to T-Mobile Posted via Android Central App

Yeah, you're not getting it... Posted via the 64 GB OnePlus One

Have no desire to haul around a tablet phone all day trying to figure out where to hide it on my person or how to hold and use it.

If you stopped wearing skinny jeans it might fit in your pocket ~My $0.02~

Yes! Posted via Android Central App

I have a phablet and it is by no means difficult to use. It's a phone. There's only so many ways to use it Lol Why would you need to "hide" it? And it's a phone. You hold it like a phone... Posted via my Nexus 7 2013 :)

I'm still of the mindset that somewhere between 4.5 and 5" is the optimal "phone" size. 5" to 7" is what I would call a "purse phone", I'm not a big fan of the word phablet, because the only way to really use it is to keep it in a purse and use Bluetooth. Anything more than that is a tablet. I can only hope that they look at the Moto X and think about staying in that form factor range with some of their products without completely neutering them. Also, WHY THE BUTTONS ON THE FRONT!?!? For the love of god there's no reason to have them when you can build that into the software itself...

Buttons on the front because it stops people from getting all pissy about "wasted screen real estate" like with the M8 Posted via Android Central App

I need to find more people that are vocal about "unnecessary phone additions that make the phone larger" that are pissy.

I also think 4.5" to 5" is the perfect size, or maybe smaller for people with small hands. But I hate software buttons!!! I prefer real hardware even more the "physical press non-tactile" buttons kind. The only down side is they are more prone to break, so I alwyas look for phones with capacitive buttons Hardware buttons don't make the phone larger, real buttons take the same space is wasted on screen to display software buttons as they are always visible. Even more, look at phones that have software buttons and the tend to have a somewhat fat bezel (yes, I know) on the lower side, same space that it used by hardware buttons, thereby making the phone (same utilizable screen size) shorter, not larger. PS: anything higher than 1080p on a 5'" or so screen is gimmick and a waste of processing power with no real advantage I rather wouldn't have

I hope this phone comes to the states we really need it Samsung is a watering down the phablet market here ~My $0.02~

Perhaps, but the note 3 makes up for any "watering down" Posted via Android Central App

Yea I usually hate phones that big but I want Posted via Android Central App

I have a G3. Qhd it's hype. The colors are terrible and there is no 4k content. Posted via Android Central App

I have to sort of agree with you after spending 10 minutes at best buy with it I really couldn't find a difference with my galaxy s5 I think the 720 to 1080 was very apparent not initially so but it was a noticeable jump IMO Posted via Android Central App

Why aren't these phone sin the US? Apple and Samsung will be little children compared to this and XiaoMi Posted via Android Central App

Nice video,but won't go back to carrying something that frigging big again on my hip. Posted via Android Central App on my HTC M8

Lenovo jacked that camera interface directly from the Nokia Camera app.

I use an Mi3 and from my experience of using Samsung note ii prior to that I couldn't get used to the 5 inch screen of MI3. Hence I decided to change to a bigger screen. This 6 incher from Lenovo looks great on specs and going by its previous reputation of solid build quality I am sure this is going to be a cracker of a phone specially with this price. I have ordered it on flipkart and should be getting delivery by 13th Oct. Will write a detailed review of the phone.
Some quick points to highlight the selection of this phone.
6 Inch display but phone dimensions are just close to Note 3. Lenovo have really optimized the edges of the phone. The phone is only 7.7 mm thick and 179 MG in weight.
The side of the phone is curved inward which make it less than 6 inch at the back and easier to hold.
with dual sim you tend to use the phone more than usual and hence 4000 MAh battery would make it last for 2 days with moderate use.
The qHD display with great processor and GPU support should take care of any tasks that you throw at it.
The phone has the option of using Lenovo UI or Stock android KITKAT. It also has an option of Secure phone similar to Samsung Knox. This would be great to separate office and personal stuff.
I would have expected this phone to have expandable memory slot and replaceable battery, but I think with online storage options and OTG support they are not real deal breakers.
Will let you all know further post using it for a couple of weeks.
Android Central Newsletter
Get the best of Android Central in in your inbox, every day!
Thank you for signing up to Android Central. You will receive a verification email shortly.
There was a problem. Please refresh the page and try again.