Lenovo's making a prettier Amazon Echo and a smarter home NAS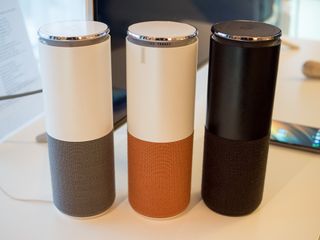 In addition to a slew of new PCs, Lenovo's bringing a slew of new connected home accessories to CES 2017. Chief among them are a new smart home network drive, their take on an Amazon Echo-style device, and a handheld keyboard that includes the most sensitive of keys.
Lenovo Smart Assistant
What if you could make a fancier-looking Amazon Echo (opens in new tab)? That must be the question that Lenovo's engineers asked themselves when cooking up the "Lenovo Smart Assistant with Amazon Alexa". This cylindrical connected smart speaker is an Echo clone if we've ever seen one; it's the fruit of a Lenovo-Amazon partnership, and there's anything wrong with that. It even bakes in the same Amazon Alexa software, includes eight far-field noise-cancelling microphones, and a pair of speakers — a 5W tweeter and a 10W woofer.
Looks-wise, it's like a fancier Echo, with a fabric speaker grill below a solid upper half, plus a raised control surface on the top ringed by a chrome volume ring. That fabric grill comes in multiple color options, though they aren't removable (a la Google Home). You'll have your choice of a white upper half with grills in light gray, green, or orange, or an all-black Harman Edition model that includes an additional 2-inch acoustic sound cavity for enhanced audio performance.
There's one big difference between an Amazon Echo and the Lenovo Smart Assistant: price. The standard Smart Assistant starts at $129.99, while the Harman Edition version will run $179.99 (the retail price of Amazon's Echo). Both versions are expect to be available in May 2017.
Lenovo Smart Storage
There are standard NAS devices, and then there's this. You could call the Lenovo Smart Storage device the next generation of the Network Attached Storage unit, and that's essentially what it is: a smart NAS. Packed inside the compact pinched white box you'll find 2TB or 6TB of hard drive storage, a dual-band Wi-Fi 802.11ac antenna, and a dual-core 1.6GHz Intel Celeron processor.
More than just a mere hard drive with Wi-Fi and Ethernet connectivity, the Lenovo Smart Storage is packed with software to make it, well, smart. Auto Sync will help to automatically back up your files, it includes DLNA so you can stream movies on it to your TV, and even facial recognition software to scan and organize your photo library by people. There's also a USB port on the back — plug in your drive, press a button on the Smart Storage, and it'll back up everything on the drive.
If that piques your interest, you'll be able to grab one in May 2017, with the a starting price for the 2TB version of $139.99.
Lenovo 500 Multimedia Controller
There's a user interface flaw in most smart TVs: if you want to search for anything, or log into any installed apps, you're either clicking around an on-screen keyboard with a remote control or dictating into a microphone and hoping it understood you correctly. While plenty of TVs offer Bluetooth support so you can connect a keyboard, who wants to keep a big slab of a keyboard in the living room, let alone try and balance it on their laps? Enter the Lenovo 500 Multimedia Controller, a compact keyboard that fits into your hands and has a trick up its sleeve.
At first glance it looks like a standard, but compact, albeit it with an advertised 66-foot range to the 2.4GHz USB receiver (twice the range of a typical Bluetooth device). It's designed to fit comfortably in both hands so you can type with your thumbs — it's roughly the size as the on-screen keyboard of a 7-to-8-inch tablet in portrait orientation. But there's more: the entire keyboard is also touch sensitive — swipe across them and they're a trackpad to move the cursor on the screen along with left/right mouse buttons below the keys. Pair it with a Windows 10 PC (perhaps a Stick PC plugged into your TV) and it even supports multi-finger gestures.
The Lenovo 500 Multimedia Controller is expected to be available in March 2017 for a reasonable $54.99.
Derek Kessler is Special Projects Manager for Mobile Nations. He's been writing about tech since 2009, has far more phones than is considered humane, still carries a torch for Palm (the old one), and got a Tesla because it was the biggest gadget he could find. You can follow him on Twitter at @derekakessler.
Wonder if the Multimedia Controller would work with the raspberry pi?

I'm betting that it will.

I'm already wanting to give it a whirl with my ASUS Chromebit.

It also probably sends your typing to Lenovo as well. I mean, SuperFish did that, and who knows what in the world their BIOS level software reinstalls did (blast the HDD, install generic Windows, and they redownloaded their crap/bloat from a BIOS level flag).

Would've preferred to actually have Bluetooth instead of 2.4Ghz. I've found 2.4Ghz to get a lot of interference.

Um, Bluetooth operates at 2.4 GHz, you won't be able to get away from this frequency that easily.

If the Smart Assistant has all of the current Echo's functionality + the ability to connect to external speakers via bluetooth like the Echo Dot then I'd buy one.

It comes from a company *KNOWN* to put spyware/malware in their hardware. SuperFish and that BIOS level reinstalling bloat/malware they had reinstall on blank generic Windows installs in 2015. I wouldn't trust this at all. These assistants are already walking a fine line, and I haven't seen enough (or any) change with Lenovo to make me trust this at all, let alone *ANY* of their hardware.

Let the Chinese gov't spy on everything you say and pay for the privilege!

This. It's amazing how quickly people forgive Lenovo's terribleness. SuperFish? Who cares! BIOS level crapware/bloat/whatever else reinstall? No big deal, lets give them more money!

Right... Because one thing I would be glad to do is allow a company that was PROVEN to spy on it's customers, *3 TIMES* in 2015 to run a microphone in my home 24/7. Amazon hasn't broken my trust yet, but if Lenovo *GAVE* me their most expensive hardware free, I wouldn't accept it.

You should reply to every comment on this article with that. You know, since no one has ever heard it before and they want to see it over and over and over on the same page.

Could you explain how quickly you forgive something like that? It seems people forgot too quickly, yet they focus on Samsung's 40 some odd phones that blew up *by mistake* and forgive Lenovo's *intentional* malware *multiple* times in one year. Do you think *everyone* knows this? I mean, no one in the tech press seems to mention it when they're talking about Lenovo products, yet Samsung ones are all over. One company owned up and fixed their *mistake* while the other seemingly begrudgingly patched their *intentional* problem.

That "smart" NAS has the same features as my 2014 "nonsmart" Synology NAS has. NAS devices was smart from the beginning and the whole idea of a NAS is that it is connected and "smarter" than a regular usb drive.

Without Google services and power of Google meh !!! Need more devices with Google assistant integration.

Don't bother with any Lenovo devices. As interesting as these may seem, Lenovo will fail lamentably to making them a success. During the 2014 CES the Lenovo Beacon Home Cloud was launched. It was very promising, just as the Smart Storage seems to be today. For the next 2 years Lenovo hasn't been developing the device, nor has it been granting any support for the product. So don't throw your money out on the window with Lenovo as you will regret ever making this decision.
Android Central Newsletter
Get the best of Android Central in in your inbox, every day!
Thank you for signing up to Android Central. You will receive a verification email shortly.
There was a problem. Please refresh the page and try again.