Lenovo announces S860, 850 and 660 range of phones with affordable price points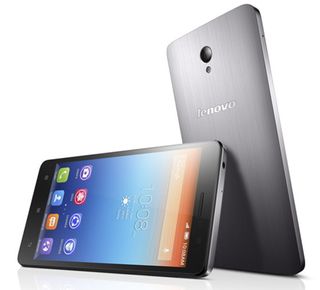 New range of devices targeted at price-conscious users in select markets
Building on its popular lineup of S-series smartphones, Lenovo today announced the S860, 850 and 660 at MWC 2014 in Barcelona. These latest iterations in the S-series focus on longer battery life, quad-core performance and key productivity features including the newly-announced DOit suite of apps.
Naturally as the flagship, the Lenovo S860 offers all-day battery life, including 24 hours of talk time and the ability to charge other devices off of the phone. That's paired with a quad-core processor and 2GB of RAM for increased performance.
Taking one step down the line, the new S850 is focused on style with a thin and lightweight glass construction and a 5-inch display. You'll again be getting a quad-core processor, and also a 13MP rear and 5MP front camera for the photo buffs out there.
Rounding out the group is the S660, a solid mid-range device with a brushed metal construction, solid battery life and again a 5-inch display. Lenovo is focusing on a value-level price and comfortable design for a device that slots in well below the S860 and 850.
Now about the pricing — the S860 will cost just $349 unlocked, with the S850 at $269 and S660 at $229. Availability is set for select markets and will be available from Lenovo's online store.
Image 1 of 9
Image 2 of 9
Image 3 of 9
Image 4 of 9
Image 5 of 9
Image 6 of 9
Image 7 of 9
Image 8 of 9
Image 9 of 9
Lenovo Blends Style and Performance with S-Series Smartphones
Offers Consumer Greater Choices with Three New Devices


Lenovo S860 delivers ultra-long battery life, quad-core computing and a 5.3-inch wide-view HD screen for mobile professionals on the move



Lenovo S850 phone lets fashion savvy consumers snap and share photos in a thin and lightweight body



Lenovo S660 features an elegant brushed metal design with quad-core performance at an affordable price

BARCELONA

–

February 23, 2014:

PC+ leader

Lenovo

(HKSE: 992) (ADR: LNVGY) today at the

2014 Mobile World Congress

announced its next generation of smartphones in its popular S-series. The new S860, S850 and S660 smartphones combine sleek design elements with quad-core performance and long battery life for an overall impressive mobile experience. These three new devices complement

Lenovo's existing portfolio of smartphones,

offering consumers greater choices across multiple price points to fit both lifestyle and budget.

The S860 gives mobile professionals who demand all-day productivity a high performing device, while the S850 offers fashion in an incredibly slim and feature-packed mobile device. Finally, the stylish S660 all- rounder completes the trio. Lenovo, the #3 smart connected device maker

worldwide

1

, has expanded aggressively into the global smartphone market, introducing smartphones in 25 countries in the past two years.

Besides offering longer battery life, the new S-

series smartphones meet the demands of today's mobile

users with quad-

core MTK processors and a host of powerful new features, including Lenovo's range of

DOit apps

. These beautiful devices come with dual SIM capability as well as wide-angle front cameras and flash-equipped rear cameras to snap and share amazing photos.


S860 for Uninterrupted All-Day Power

: To meet the needs of mobile professionals looking for all- day, uninterrupted usage in a powerful and responsive phone, the Lenovo S860 delivers with staggering standby time of up to 40 days and talktime of up to 24 hours on 3G connections, quad- core computing and 2GB of RAM for responsive multitasking among applications and opening and closing video and other multimedia.

The S860's high

-capacity battery even allows users to charge their other devices on-the go by using the included micro USB cable.



S850 for Trendsetting All-Glass Design:

Fashion savvy users will love the S850, for its remarkably thin and lightweight all-glass exterior. This beautiful design encases a true workhorse machine with a MTK quad core processor, 13 MP rear and 5 MP front cameras for snapping and sharing amazing quality photos, and large 5-in screen for watching content in high definition.



S660 for All-Round High Performance All-Rounder:

A great all rounder device, the Lenovo S660 smartphone offers three key features for value seekers: a striking brushed metal design, long battery life for all-day usage and a wallet-friendly price A great multipurpose smartphone, it has expandable storage

–

up to 32GB with microSD cards

–

and a comfortable rear cover, making the smartphone comfortable to hold and fingerprint and scratch resistant.

Quote

"

The new S860, S850 and S660 smartphones perfectly complement the full range of mobile devices available to consumers around the world, letting consumers easily

pick the Lenovo smartphone that's

right for t

hem," said Liu Jun,

executive vice president, Mobile

Business Group, Lenovo. "

Customers told us they wanted longer battery life without sacrificing performance, so we built these new smartphones for all-day usage, blazing fast processing speeds, and a great user experience

."

Pricing and

Availability

2

The Lenovo S860, S850 and S660 start at $349, $269 and $229 respectively and will be available in select markets and

www.lenovo.com

.

For the latest Lenovo news, subscribe to

Lenovo RSS feeds

or follow Lenovo on

Twitter

and

Facebook

. The press kit is available at:

http://news.lenovo.com/CES2014

.
Andrew was an Executive Editor, U.S. at Android Central between 2012 and 2020.
They look terrible, as per the usual. Posted via Android Central App

I think they look nice. -----------------------------------------------------------------------------------
Posted via my thumbs and Google Keyboard. (Defective) N7 2013

Agreed! Posted from my "Gift from God" Note 3, my "God-Given" iPad Mini 2, or my "Risen" Samsung Chromebook.

Same. Posted via Android Central App

I agree. They look quite civilised, which seems to be the point.

They look bland Posted via Android Central App

Better looking than all the plastic crap out there. Posted via a device much better than yours.

Awesome battery specs. Now only the full hardware specs were just as good... Posted via Android Central App

But, but....where are the usual cadre of snibbling whiners who must have swappable battery or FAIL?

Lol Posted from my "Gift from God" Note 3, my "God-Given" iPad Mini 2, or my "Risen" Samsung Chromebook.

You're right, perhaps I should be less cynical. I still spurned from the Motorola Buyout though....

Like the biggest bait and switch ever

I think it's okay to have assn embedded battery of it has the capacity for long battery life.
The note 3 had a big battery with long Betsy life and a removable battery. For some, that's a lot of win. Posted via Android Central App

This is awesome. As I said on another post about affordable handsets, it's awesome to see more and more manufacturers creating devices for the budget-conscious buyer. At those prices, those handsets are absolutely worth the money. Just my opinion. Posted from my "Gift from God" Note 3, my "God-Given" iPad Mini 2, or my "Risen" Samsung Chromebook.

Yeah. I think its good that companies are catering to make these markets more connected. -----------------------------------------------------------------------------------
Posted via my thumbs and Google Keyboard. (Defective) N7 2013

And they've realised that cheap doesn't have to mean ugly as well. Posted via Android Central App

I would much rather know what their plans are for Motorola. Posted via Android Central App

Well, they probably won't have any tangible plans yet, until the deal is officially finalized. But, judging how they've created these three affordable devices with decent specs, they may surprise us and create a great Moto X sequel at an aggressive price point. Only time will tell. Just my opinion. Posted from my "Gift from God" Note 3, my "God-Given" iPad Mini 2, or my "Risen" Samsung Chromebook.

Hell yeah! I think they can right the ship and create a killer "X" sequel. These phones look pretty good to me. I am thinking positive that they can do it!

Yep Posted via Android Central App

Great design, solid specs, incredible battery life and a great price?! SOLD....for my mom. :P

But, but...The metal back will dent.
Where's NoNsense?

Don't worry. I'll have Mr. Yarrell take care of that debate. ;)

Menu... Home... Back. Dunno about y'all, but I'm done here already.

You're very observant. Seems to have the same button setup as Samsung including physical menu / home button. Perhaps they're focusing on going after some of that market share. Lenovo has a reputation for manufacturing excellent equipment and backing it.

They look nice. The price point is competitive for off-contract devices. I might pick one considering I didn't hesitate to grab the Nexus 5. The S860 is more my speed. AC App via Nexus 5

those look really nice. so where are they cutting corners? quad-core processors, 2GB RAM, 13MP cameras... what's wrong with them?

This is pretty nice. If it stays at $350, w/ all-day battery life, AND has US LTE bands, I might have to consider it.

At these price points, I'm thinking that "select markets" means that these will be 3G only and not available in the US. Posted via Android Central App

The point is.. They have no update service for their ongoing phones.. I have K900 and is still working on 4.2.1.. I mean come on, update u previous phones first Posted via Android Central App

Wow these are awesome.. Posted via Android Central App

Maybe they will bring out a new Moto G at some point now that Moto is on board.... Posted via Android Central App
Android Central Newsletter
Get the best of Android Central in in your inbox, every day!
Thank you for signing up to Android Central. You will receive a verification email shortly.
There was a problem. Please refresh the page and try again.