Latest ZTE Axon 7 update brings a blue light filter, support for 256GB microSD cards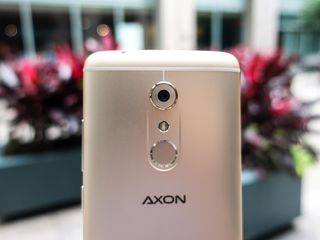 ZTE is rolling out an update to the Axon 7 that introduces several new features. Build B25 offers a Night Mode setting that acts as a blue light filter to prevent eye strain while viewing the screen at night. The latest build also includes fixes for Wi-Fi calling, as well as performance improvements, stability fixes, and support for 256GB microSD cards.
Here's the official changelog:
Enables "Night Mode" setting
Supports 256GB microSD cards
Allows users to disable some stock apps
Optimizes the "Do Not Disturb" function
Fixes various Wi-Fi Calling issues
Improves device stability and security
Miscellaneous performance improvements and other fixes
ZTE recommends that you remove the SD card before installing the update. The OTA is rolling out now, and should be available to all users in the next 48 hours. The build doesn't increment the Android version number — it's still at Android 7.1.1 Nougat — but with ZTE's release cadence, the Android 7.1.2 update shouldn't be too far away now.
Already installed the update? How are you liking the changes?
Harish Jonnalagadda is a Senior Editor overseeing Asia at Android Central. He leads the site's coverage of Chinese phone brands, contributing to reviews, features, and buying guides. He also writes about storage servers, audio products, and the semiconductor industry. Contact him on Twitter at @chunkynerd.
Yeah got the update... Happy to see how well Zte is supporting axon 7 and super happy for night mode

ZTE you are doing such a fantastic job with the Axon 7... what a great phone buy it was for me! Inexpensive and far exceeds my expectations as does your updates... I can remember having fits trying to think of what to buy originally, this or the OnePlus 3... so glad I bought the Axon7. Absolutely incredible value.

ZTE *is* doing a pretty good job of supporting this phone. What they're not doing is a good job of living up to the hype they created about how well they'd support it. Originally, the bootloader was going to be officially unlockable, and they were going to cooperate with Cyanogenmod to make sure there was a healthy 3rd party dev community. Which was a priority, since their MiFavor Android version was kinda lousy. Now, I'm on the latest, and MiFavor isn't *that* bad, and I love the speakers, love that it supports T-Mobile Wifi calling. And if you're willing to jump through a bunch of hoops, you can still unlock the bootloader and install a version of LineageOS that mostly works. But, this thing could've been huge if they'd followed through with the openness they promised. Instead, they're secretive about what's coming - much less when. And they haven't said they're *not* coming through with a new bootloader unlock - though it's been so long that it's hard to imagine they'll bother now. All that said, though, they're doing a pretty good job getting updates out. They're no OnePlus, but they're ahead of all the other non-Google OEM's. And the hardware's still pretty amazing for the price...

I never knew it didnt support that size memory card. I've been using a Samsung one since October

Watch out for corruption.

ZTE's support of this device has been great. Look at all of the other devices that came out in 2016. Very few are on 7.1.1 and these incremental updates are proof of continued support. Great job. Hopefully it is a sign of a company that wants to take the next step.

Loving my ZTE Axon 7, except that ATT sucks for having weird rules on which phones they allow to use VoLTE and WiFi calling...

Wish we could update the HiYa app via Google Play store. Currently shows an update is available but ZTE seems to be blocking the install of it.

Unofficial or not, being able to use this on Verizon is great! So far very happy with ZTE's updates and love being on an unlocked phone on Verizon. Hopefully support for the Axon 7 will continue with O.

Yes I have had a 256GB card in mine and it's been working since October 2016

This, or a manufacturer refurbished Samsung Galaxy 7 Edge, which is going for about the same price right now on Ebay? I'm on T-Mobile if that makes a difference.

Love my axon 7 and the 2 year warranty is unmatched by anyone.

Samsung has the better camera and screen while ZTE has the all around better speakers and DAC. If you ask me ZTE also has the better software as TouchWiz still slows down and that's a huge deal breaker for me.

Are they giving the mini the same treatment as the 7?

I was hoping the update would fix my random reboots, but still resets every night while I'm sleeping. Use my Priv as an alarm because this thing won't start android after reboot

Just a thought, check to make sure your automatic shut down isn't the issue. Just in case go to settings/advance settings/schedule power on/off click on it then deselect (turn off) hopefully this helps

Thank you ZTE for keeping up with all the updates. Good service is one more thing that makes this phone a good buy.

A shout-out to ZTE for their timely support. I have had the best overall experience with this phone and highly recommend

This is the best phone purchase I've made to date. It isn't without it's faults, but bang for the buck it's hard to beat! I've had the phone 8 months and for the first time I don't feel the need to buy a newer phone after 6 months. If ZTE nails it with the Axon 8 though, I will definitely buy one.

Apple and Samsung may have better cameras, but,I'm impressed how well this does in low light. Also, speakers and sound system is almost as important as great camera.

ZTE seems to be supporting the Axon 7 really darn well. Makes whatever its successor more appealing. Though I'm questioning whether the A2017G is supported as well as the A2017U.

I also love my ZTE Axon 7 but I have not received any update so far. I am not in the US and my phone is a factory unlocked device, anybody has any idea when the update will come to phones outside US?
Android Central Newsletter
Get the best of Android Central in in your inbox, every day!
Thank you for signing up to Android Central. You will receive a verification email shortly.
There was a problem. Please refresh the page and try again.