Latest Priv by BlackBerry hands-on offers up a closer look at the hardware, camera samples and more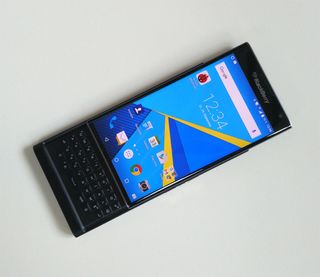 At this point, the Priv by BlackBerry has appeared in so many random places now it's all starting to get a little bit silly but in any case, we're now getting yet another look at the device. The folks over at derStandard.at have posted up a sort of mini-review of the device based on pre-release hardware and software.
A lot of the review is just basic items that have already been covered and confirmed, but it's certainly still worth a read, especially the camera sample portion as it offers a look at how that Schneider-Kreuznach camera will perform. Just remember, all of this is based on pre-release software so there's plenty of room for change.
Specs
Camera
Camera Samples
Although this review offers up a nice look at the device and is pretty balanced, it's worth noting once again that it's all based on pre-release software. Even more so when you consider the fact that it's mentioned some stuff we saw previously working is not working on this particular device such as the battery meter on the edge of the display. That leaves me wondering how old the software on this device really is and what optimizations could have been made since. Sadly, the actual software revision (AACxxx) never gets mentioned, so we'll have to wait and see. In any case, go ahead and check out the full article. It might hold you over until a real, proper review gets posted up.
Everything we know about the BlackBerry Priv
Source: Destandard.at
I would love to see how this keyboard works on it Posted via the Android Central App

I really hope the camera comes through. This device offers a lot more than just novelty features.

unfortunately the samples look really awful :(
even the big letters on the bottles suffer from big compression artifacts and the hair on the doll is basically a single smudge of color.

Camera looks like crap, but the phone looks nice. I'm not a BB fan at all (I've never liked them). However if the phone ditched the keyboard (I know right) I'd consider buying one.

point is the keyboard is the main reason anyone would buy it.
without the keyboard it's just another android phone with a crappy camera, a nice display and specs that are increasingly common.

Exactly! It's a head scratcher why Android fans continue to want the same old same old SMH. I will be buying the Priv because its different and because its more productive. Posted via the Android Central App

He already said that it is not the final software. Wait for the official one and hope so it will be as good as lg v10, nexus 6p, s6, iphone 6s and samsung z5...

Seems the reviewer was a bit hard on BB. As if he needed to find some problems with the device....
"but during daily use its impossible to spot a difference to regular Full HD panels with The Naked Eye." In his opinion.
"did slightly protrudes from the otherwise flat backside." How many devices have the same exact protrusion?
"Once dealing with artificial light the shutter speed Became noticeably slower, despite the optical image stabilization system. A phenomenon That Caused visible impact in terms of picture quality." Why review a device when the software isn't optimized? This review will be on the internet forever and may sway some from giving the device a second look.

Well that's what reviews are, opinions. Not a hard concept to grasp. And if you have no hands on time with it, you have no idea if he's being hard or not.

Well it is rumored to be using the same sensor as on the turbo so makes sense the pics wouldnt look that great.

Camera looks terrible :'( ... I wish it were better. It's not going to sell cheap, I know that, and to exchange my LG G4 with the same specs on every front, but the trade-off for Camera for Keyboard isn't really appetizing really... Sucks.

I don't hate it.
It's a weird time of maybe Nexus, maybe Moto X, maybe Xperia Z5... hey, maybe Blackberry?
It kind of has the right specs.

I don't think we should be criticizing, a review that has happened
The phone in question is a pre release model and BB are gauging the response to see if it's worth manufacturing.
If this was a kick start company or a nondescript company it would get a different response.
This is what BB should of done and industry is wanting this as they no security is big for BB and companies are fed up with the Samsung Apple battle.
Many company's pic windows phones simply to avoid this.
Bring it on BB Posted via the Android Central App

Therefore therefore therefore Posted via the Android Central App

And therefore, rather however... Posted via the Android Central App

That article is in bad need of some editing.

I thought maybe I was just reading this too early in the morning. But yeah...pretty horribly written

or you know, bad translation from German to English

I think the phone is a nice change from the typical black slabs that have flooded the market. I hope it does fairly well. Posted via the Android Central App

I'm still curious on this one. Won't be trading in my note 5 for it but still curious.

I hope they price this right.

So this phone may not be available for a few months, yet it will still ship with Lollipop? Why is a future phone already running outdated software?

Because they got the Marshmallow code at the same time that all the other OEMs did. This is going going to be the first Android phone from a company that has never worked with anything but its own in-house OS before. Assuming that this is released within the next couple of months, it would end up being a complete train wreck if they tried to rush to ship it with Marshmallow.

It shouldn't be too hard for them, they've had an Android VM within BB10 since it was released.
But I am wondering what they're going to do with the Android OS. I switch back between my BB10 and Androids and realize that the BB10 OS is indeed way more efficient for the user and feels more solid. It's the perfect work phone but the lack of app ecosystem that really kills it for a average user. I was hoping they'd release this thing with BB10 but if they can bring all the features I needed to Android, I'd take it.

No Marshmallow because new phones don't happen overnight. I'm sure the Priv (horrible name) has been in development for quite some time and Lollipop was the OS of choice at the time. Also there's talk of BB OS 10 features being incorporated into the OS too so that takes time to implement. That said the phone looks interesting and might be a saving grace thing for RIM. I wish BlackBerry success. I think they will find out soon enough how important timely updates are in the Android world. If not it won't bode well for their future. From my Galaxy Tab Pro 8.4 on TWC's sucky high speed cable internet

That sounds almost reasonable, but seriously - at the hardware interface level, how different is Marshmallow from Lollipop? Are they changing driver API's still at this late date - or is that aspect of the Android kernel pretty stable now? If so, and if BB is not skinning the OS horribly, it really shouldn't take that long to get Marshmallow up on the thing. Presumably the OEM's have had it for a while now - at least since the public betas started, no?

What would be killer is if they some how managed to release this with android M. Posted via the Android Central App

I don't think they'd release this with M on board, but I wouldn't be surprised if the M update followed shortly after.

Lol Posted via the Android Central App

Still reminds me of the OG MotoDroid... and that wasn't a good keyboard haha. But BlackBerry does know how to make good keyboards, let's hope this is the same (and the Droid was in ladscape, so that didn't help). BTW, is it me or do the pictures look...yellowish? Indoor shot was especially blurry, too.

Oh yeah, don't launch with Android 5.0. Worst Android OS ever!

I can't wait to get this phone. even if the name is kinda dumb.

Meh. 2014 specs in a 2015 phone. And the photos don't look good at all. Pass.

It doesn't really matter. Even 2016 specs wont be able to run 2015 software smoothly and without jitter so no reason to stress about it.

The camera is indicative of the blackberry but I'm sure many who want a physical keyboard it might not matter any.

This software is obviously even older than the other leak-reviews we've seen so I don't put too much stock in any software critiques they have. Basically any new leak is worthless if it doesn't show off the hub.

Can you guys proofread this?

i wonder how the typing experience will actually be when making a 5.4" screened phone even longer by extending the screen up to expose the keyboard. it seems like the device would then become top heavy and want to flip out of users hands.

The keyboard is in the thick base of the phone. The screen slides up, and is quite thin. I think they got that side of it right.

but the position ones hands have to be in to use a physical keyboard which is i imagine based on the images to be very low on the phone with the thumbs counterbalancing the weight of the rest of the device and the rest of the fingers having to be just as low to allow for the pressure to type on the keyboard with the thumbs to be kind of awkward. maybe it won't be so bad, but it doesn't seem like it'll be the best typing experience.

An Android user who came across one in the wild, and got to play with it said that balancing was done well, and was very comfortable. It was on reddit a week or so ago.

WTF is up with the numerous and superfluous use of the word "therefore"??? Posted via my LG G2™

He only used it thrice, therefore you shouldn't be so nitpicky.

32GB of onboard storage*. Fixed it. RAM stands for random access memory. Hence the nickname memory. Storage is always storage, and Memory always refers to RAM.

https://en.wikipedia.org/wiki/Flash_memory

Love the design, but I hope that camera software improves, I am so far not that impressed with what I seen in those sample photos. I still want one though being a former Blackberry person(My 1st smartphone)

BB should have ditched the keyboard it isn't 2007 anymore BB it's 2015 and the Qwerty keyboard is on your first Android phone. I've never been a fan of BB and this phone will not convince me to try BB either. Posted via My Nexus 6

I'm sure they're heartbroken.

Yeah, you ain't buying it anyway.
If it was a generic black slab, no one would care. The keyboard makes people look and consider .
Just be a good keyboard.

This is why they entered Android, to do something classic to Blackberry that no one else has done for a while.

To me it still looks like the old Dell venue pro for WP7 . I like this design

Still waiting for the bronze classic Posted via the Android Central App

I don't get why the camera is a make or break feature on a cell phone in 2015. It's not like you print them out. They just get posted to instgram or stockpiled in whatever cloud service you have. The Priv camera looks absolutely fine with what 99% of us use our camera phones for. My $300 point and shoot will blow any body's G4, Note 5, or 6S plus out of the water.

After The BB Storm, And The HORRIBLE Support For It, No BB For Me Again. Thanks, But No Thanks. Posted Via The Android Central App. :-)

I need this in my life!!! This phone will sell like crazy. I plan on camping out at my local Sprint store. Cmon who's all with me? Posted via the Android Central App

And risking to appear similar to certain isheep? Posted via the Android Central App
Android Central Newsletter
Get the best of Android Central in in your inbox, every day!
Thank you for signing up to Android Central. You will receive a verification email shortly.
There was a problem. Please refresh the page and try again.