Kodi 18 on Android TV will have voice search and recommendations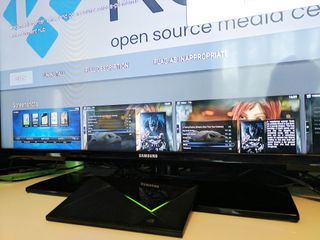 (Image credit: Android Central)
Kodi 17 Krypton hasn't been officially around for long but work is already well underway on the next release. Version 18, Leia — named after everyone's favorite princess — is in the development stage right now and the dev team has given us a sneak peek at what's headed to Android TV: Voice Search and recommendations.
It's a neat addition that makes Kodi even better to use on Android TV as your central media center. So far you've had to go inside the Kodi app to find content, but with Leia, you'll be able to speak into your remote and find it in a flash. Content found within Kodi will be displayed alongside other sources such as Google Play and Plex.
The other nice new feature coming specifically to Android TV is recommendations. On your home screen you'll now get recommendation tiles based on random unwatched movies in your collection and recently watched TV shows that have new episodes available. With a single click you're straight into Kodi and ready to go.
The video up top gives you a full run through of what you can expect when version 18 hits, but if you're keen to take a look right now, you can. Head over to the Kodi downloads page and grab the latest nightly build of Leia to install on your Android TV and try it out for yourself.
Get the Android Central Newsletter
Instant access to breaking news, the hottest reviews, great deals and helpful tips.
I have been using Kodi for over 3 years now and it has come a long way. It is a great product and has tons of potential. The old school media companies are really missing the trend by trying to shut it down or disparage Kodi and other media players. Instead, they would be wise to realize that this is exactly what consumers want. Cable is obsolete. Robert May
http://robertmay.ca

Be honest, most people are only interested in Kodi for one thing. Yeah, those "old school media companies" are really missing the trend of stealing programming and movies. How dare them.

I've been using it for 15 years...it *has* come quite a long way.

I agree with what you are saying. Kadi it's self is starting to become an easy to setup and use device with an app store ect. For me the big companies like sky, Netflix, virgin ect should look at making an app for them. There is a 3rd party NHL TV app that works great as well as the BBC and ITV players People have made. Why not release a official app as more people will look to use them. for me i use it with a app called dreamstreams for live TV (paid for), Salts with real debird (paid for) & NHL TV (paid for) it it cost me about £200 a year for all my TV packages. Now if i went with sky, virgin ect it would be close to £90 a month for less then i get now. People are willing to pay for TV/music but alot of the time prices are just to high and the reason why people look for free ways to do things.

What's the 3rd party NHL app?

Just look up NHL TV add-on kodi in a search and it should come up there works great saves me having to turn on my Xbox one to use the official NHL TV app and have it all in one place.

As good (relatively speaking), as Kodi's Unofficial iPlayer Add-on might be... It's not even close to being as slick as the native Application found on the nVIDIA Shield TV. The same holds true for Amazon, and or Netflix. There has been some yapp of late that Team Kodi are taking a look at DRM, or to emphasize their usage. Such low level DRM that already exists on such cheap, and cheerful 'Droid Boxen. There are some major problems with that idea however. First off these kind of Boxes all most likely have Widevine L3 DRM. Which is probably just good enough to enforce that your not running a pirated bit of Software. But, is lightyears away from the Widevine L1 support that can only be setup at cost at the Factory, First it's not easy to get a Widevine L1 Cert., and secondly and perhaps greater kick to the Teeth. A Widevine L1 Certification, will NOT guarantee you a Netflix Certification. As there are plenty enough Widevine L1 Phones out there that still can not run Netflix. Team Kodi (Formally XBMC), should have given this a good thought​ a long, long time ago. As it is that ship has sailed. And perhaps the Kodi Boxes may get better. With the Fire, Shield - TV, or the Xiaomi Mi Box. But, again all of these Boxes already have their own bespoke Apps for things like iPlayer.

I utilize Plex as a server for my media but have always struggled to get Kodi to integrate it. Hopefully this version allows easily adding the server and fully integrates it into the program.
It would be great to link Netflix, Hulu, amazon, and my Plex server into 1 program that brings all the content together.

Assume you're meaning something more than the Plex plugin for Kodi?

There is an official Plex Add-on for Kodi. But, you have to buy a Plex Pass to make use of it.
I'm perhaps less sure, never really bothering to think about it much. But, if Plex were running as a server off a NAS Box, then it should be fairly simple to integrate Plex into Kodi as a Network Share.

Does kodi have picture in picture?

Why? For what possible reason?

Watching a movie through Kodi and watch your nest outdoor cam at the same time for one.....

Curious how they will implement the voice search, given all the different machines it can run on. I have it on Amazon Fire, which already has voice search, so I would suspect it would have to override the Fire's voice functionality while Kodi is open.

They could possibly do it with a add-on that hijacks the internet to redirect your search. In fact that's how Voice Search works today on Kodi.