Kenwood is now shipping its new aftermarket Android Auto receivers to retailers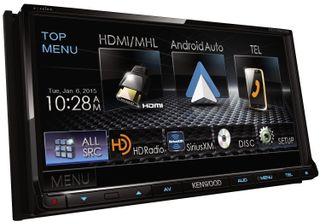 The new receivers support both Android Auto and Apple's CarPlay, depending on your preference and connected smartphone. Should you happen to connect an iPhone the system will change to CarPlay, switching to Android Auto if an Android smartphone is detected. A really neat feature for families that own different smartphones running on the two operating systems.
Both units also feature built-in HD Radio, an HDMI input with MHL support, and DVD playback, just in case you required even more ways to connect peripherals to your vehicle. With Kenwood shipping to retailers, you can expect to have these units available before the summer really kicks off.
Buy 9702s now from Best Buy (opens in new tab)
Buy 9902s now from Amazon (opens in new tab)
See the press release below for more details.
KENWOOD Ships Multimedia Receivers With Apple CarPlay™ and Android Auto™
Highly anticipated DDX9902S and DDX9702S provide safer driving experience with voice-centric interface
LONG BEACH, CA – June 24, 2015 (MEDIAWIRE) – At the 2015 International CES, KENWOOD introduced the two multimedia units that would serve as flagships for its KENWOOD and KENWOOD Excelon lines. The units are not only considered topline models because of their feature sets, but also because of their "future" sets; namely, the inclusion of Apple CarPlay™ and Android Auto™. Today, the maker of premium entertainment systems for the automotive environment announced that the KENWOOD Excelon DDX9902S and KENWOOD DDX9702S are shipping to retailers, with suggested MSRPs of $950.00 and $900.00, respectively.
The DDX9902S and DDX9702S are currently the only aftermarket receivers equipped with Apple CarPlay and Android Auto that allow users to switch between connecting an iPhone® or Android™-based phone without having to manually change settings or reset the unit. This enables multiple drivers of the same vehicle to plug in the phone of their choice and enjoy their entertainment options and driver-centric apps.
Once a smartphone is plugged in, voice recognition and voice playback become the primary means of controlling audio and entertainment from the smartphone. With Apple CarPlay, Siri enables users to control, read and reply to messages and more by simply speaking, and provides access to music, podcasts, and Apple Maps for full-featured, voice-controlled navigation. With Android Auto, Google voice actions let drivers and passengers play music selections, get driving directions and hear turn-by-turn navigation, while informative Google Now cards highlight location- and preference-aware information at the right time.
The two double-DIN DDX units are designed to be the center of a vehicle's entertainment and information system. A large, 6.95-inch resistive touch display puts navigation, back-up camera view (camera required, sold separately), and a wealth of audio / video entertainment options at the driver's fingertips. Each is equipped with Bluetooth technology to enable handsfree phone conversations as well as playback of streaming media from a Bluetooth-enabled phone or media device.
Both units also feature built-in HD Radio, an HDMI input with MHL support, and DVD playback. They are also SiriusXM-Ready, connecting to the latest SiriusXM SXV300 Connect Vehicle Tuner featuring enhanced functionality such as album art, TuneStart and TuneScan (sold separately, subscription required). In addition, native control of Pandora and iHeartRadio provide an integrated entertainment interface when using a connected smartphone.
"We are excited to have these units available to consumers in time for summer," said Tony Mercado, marketing manager for KENWOOD's car electronics division. "Smartphone users have heard about Apple CarPlay and Android Auto in the media, and how as many as 40 models of 2016 and 2017 vehicles will come equipped with one or the other. Today we are delivering both in a single chassis, well before most automakers. Combined with our years of automotive electronics know-how, we are delivering a premium, safe smartphone experience in the vehicle."
For more information on KENWOOD products and events, please visit www.kenwood.com/usa.
Android Central Newsletter
Get instant access to breaking news, the hottest reviews, great deals and helpful tips
These will be onsale for under $500 bucks by the end of the summer

As they should be. $900 for a basic double din player is a joke. Posted via the Android Central App

Yea when I first saw this article the first price that popped in my head was $400-$500 before being blown away by the msrp.

That sux but u r probably right. Hell I would rather buy a new cell phone, then spend 900+ on a in dash. I like the head unit and would pay 500 for it, but come on "KEN" we ain't all rich! We still have to put gas in the vehicle! I guess we could just rock out in our driveways? Posted via the Android Central App

so why would i buy this over mounting a Nexus 7 to my dash?

Ability to play physical media is about the only reason. This is so overpriced. It's like they don't think we know Android has free turn by turn... Posted via the Android Central App

Just curious, and not meaning this rudely: do you ask this every time one of these gets an article, or is there truly a different person every time who has to ask this question?

I'll stick with my Sony XSPN1BT. Similar feature set and it only costs $200. Posted via the Android Central App

I'll stick to my phone Posted via the Android Central App

Here we go again.... To get to android auto you need to find it first. on there site there are thumbnails of the clean UI but they don't expand so you can get a feel for how it would work on this device. I fear this will be the case for most in car devices. I think Android Auto needs a well executed collaboration between someone like Kenwood and another collaboration with a car manufacturer like Audi. Nothing bolt on. Something pure that covers all the cars needs so the experience is a good one.

I'm not sure you understand what Android Auto is. It'll work exactly the same on the Kenwood unit as it does on the Pioneer. Or built-in to the Hyundai Sonata. The only experience that changes is when you dump out of AA and get back to the factory UI. And in my experience not a single factory UI has been as good as AA.

I'm saving my money until one comes with PhilBlur.

In regards to being "pure", I'm not sure I agree... Android Auto doesn't have Sirius integration, and I like having Sirius. So if it were "pure AA" (I read your comment as "slimmed down"... "only running AA"), then I'd lose out on some of the things I want. Plus, if I'm on a long road trip and my Apple-using "friend" wants to plug their iPhone into my system, I welcome having Car Play in there as well. (after I get over being nauseous that a crApple product is connected to my nice car...)

"A large, 6.95-inch RESISTIVE touch display"..this is a deal-breaker for me. I am looking for a good Android Auto head unit with a capacitive diplay - looks like the Pioneer is still the only option right now.

Ah, so both Kenwood models are resistive? I couldn't find it in the specs. Also, they're TFT LCDs. Not IPS. Posted via the Android Central App

I could not find it in the specs either, but the press release in this article mentions it.

I've been trying to find out if it's capacitive too... If both are truly only resistive this is a deal breaker for me too. I looking for capacitive multi-touch in a head unit I'm going to buy. Posted via the Android Central App

Hey. At least Kenwood trimmed that bezel way down and used all the available space for display. Maybe they should try their hand at smartphones.

Way too expensive it'll mean their target market is just too small to make any decent money - remember that most people don't bother changing their factory fitted units anymore. What I would like to see is a framework API that allows any phone to talk to the head unit rather than having to explicitly support Android (or IOS). We already having a small amount of funtionality via bluetooth. My main concern is that phone tech moves a lot quicker than ICE and I'd bet that these units will be out of date in a year or 2 with minimal support - do you really want to change your head unit as often as your phone?

You would have to be an idiot to buy a first model unit for $900. They will have to lower the price after the first 3 weeks. Posted via the Android Central App

It's not $900, it's 699.00 but that's still too high. It would be awesome if Hyundai could update their cars from 2012 and on since those models have the blulink option as well. Posted via the Android Central App

I'm waiting for the parrot one that one seems to be made with Android auto in mind Posted via the Android Central App

How much is that one supposed to be? I think parrot is a little pricey also. Maybe jensen will try android auto. Posted via the Android Central App

The parrot was silently canceled.

Best Buy receiver only does Apple play why is that?

Curious if these units will get updates like the regular car units do!?
Android Central Newsletter
Get instant access to breaking news, the hottest reviews, great deals and helpful tips
Thank you for signing up to Android Central. You will receive a verification email shortly.
There was a problem. Please refresh the page and try again.