Kenwood unveils DDX9902S aftermarket Android Auto receiver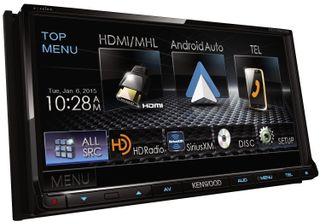 Kenwood today announced the DDX9902S, which will be on display at CES 2015. This new multimedia receiver supports both Apple Carplay and Android Auto, making it an easy choice for someone from either platform. This also means Apple's Siri is at hand, as well as Google Now for Android, providing the driver with a more seamless experience.
The DDX9902S also comes with a MHL-supported HDMI port, enabling drivers to connect either their iPhone 6 or compatible Android smartphone for a charge top-up. There's Bluetooth integration for safer phone calls and wireless music pulled from a paired smartphone, and support for Pandora and iHeartRadio.
No word on pricing or availability just yet, but do remain tuned for more from CES.
Kenwood Debuts Multimedia Receiver With Apple® CarPlay® and Android Auto™ in One
DDX9902S accommodates new smartphone-centric integrations for safer operation using touch and voice
LAS VEGAS – January 6, 2015 (SDG MEDIAWIRE) – At the 2015 International CES in Las Vegas, Kenwood will display the DDX9902S, the first receiver in its lineup that includes Apple® CarPlay, the smarter, safer way to use iPhone® in the vehicle. The multimedia receiver will also include Android Auto, which leverages features of an Android phone through a driver-friendly interface.
"We understand that consumers are loyal to the brand or platform of smartphone they use," said Tony Mercado, marketing manager for Kenwood. "To that end, we wanted to create a multimedia receiver that doesn't force the customer to choose based on his or her preferred smartphone. The DDX9902S allows customers to enjoy a safe, integrated experience with the phone they love."
The DDX9902S features a high-sensitivity touch screen that allows the user to reliably make selections and interact with screen content. With CarPlay, familiar apps are within easy reach and display just the right amount of information. At the heart of the interaction is Siri, which enables users to control, read and reply to messages and more by simply speaking. Siri also provides access to music, podcasts and other third-party apps, and augments Apple Maps for full-featured, voice-controlled navigation.
With Android Auto, the menu bar makes it easy for drivers to select sources, including navigation, phone and music. Deep integration with Google Now shows informative cards to provide users with location- and preference-aware information at the right time, and robust voice recognition and playback deliver information safely to the driver.
Aside from the smartphone interfaces, the DDX9902S is a premium Kenwood multimedia center. Bluetooth integration enables safe phone calls and wireless music from a paired smartphone. An MHL-supported HDMI input connects to iPhone 5 and 6 models, as well as select Android-based smartphones, to charge the device, control compatible on-device apps and play its audio and video content on the receiver. Built-in control of Pandora® and iHeartRadio™ expand music choices when using a smartphone's broadband connection, and HD Radio™ doubles or triples local programming options in CD quality.
The DDX-9902S is also SiriusXM-Ready™ and connects to the latest SiriusXMSXV300 Connect Vehicle Tuner (sold separately, subscription required), to access commercial-free music, plus premier sports talk and live events, comedy, news, exclusive talk and entertainment, and the most comprehensive Latin music, sports and talk programming in radio delivered via satellite.
Additional safety and convenience options include the ability to add a rear-view camera and maneuver safely with on-screen parking guide lines, and compatibility with factory steering wheel audio controls.
The MSRP and ship date of the DDX9902S will be announced soon. It can be seen at the Kenwood booth—No. 1702 in the North Hall of the Las Vegas Convention Center—during CES.
Get the Android Central Newsletter
Instant access to breaking news, the hottest reviews, great deals and helpful tips.
Looks nice. Posted via the Android Central App

It looks like a Kenwood product which isn't all bad at all but feels like the past dragging the future backwards...Does that make sense? Chrome effect text on glass effect tiles floating above a carbon fibre horizon. The transition from this to Android Auto will be interesting.

I could care less what their UI looks like. I'm going to plug my phone in every time I get in the car and tap that android auto button and will see their UI for less than 1% of the time. Posted via the Android Central App

Not in comparison to the parrot unit that was announced yesterday.

Knowing Kenwood this will give you better audio quality compared to the parrot. Posted via the Android Central App

Knowing Kenwood this is going to be priced to high for the quality of their product. Now if Pioneer or Alpine came out with this i could justify the price that is going to be on something like this.

Had a Kenwood stereo before the one I currently have (replaced because it was stolen) and it offered an amazing level of control over the setup to define exactly how far apart the speakers in my car were, what size they where, what frequency ranges they could accept, and how far each speaker was for me. I allowed me to setup an amazing audio environment. Only reason I didn't get another one is because, at that point, I needed a unit with a removable face plate (at least I feel better) because I work downtown and car stereo theft is apparently a common thing, here.

Again, no price, no release date. Android Auto will remain a novelty item for the duration of 2015.

apparently you don't understand how trade shows work.

It certainly ain't a price and availability show!

By that definition, I'm going to go next year and take my crappy stock car radio with me and trade it for a new Android Auto console. That's gonna rock!

Trade shows are not where companies unveil devices to the public. It's where they show them off to retailers, to make deals for them to be sold in stores. Any pricing discussed at this kind of show (which probably doesn't really happen *at* the show) would be a wholesale price, and would happen in private.

Don't get me wrong, I love aftermarket radios. But, many car manufacturers make it difficult to go with aftermarket radios due to the huge amount of integration of the radio, steering wheel controls, car diagnostics, climate control, etc. In my car, I have a double DIN radio (non touch screen). And even looking at double DIN radios, not all models "fit" without some modifications. My car has factory Sirius, but if I change the receiver, I need to buy a kit to continue the steering wheel control PLUS another SIRIUS Kit for the new receiver. My total parts costs is around $1200 and that is without adding better speakers or wattage. A factory replacement is just as expensive, plus requires a dealer to Program the radio to talk to the electronic in my car.

I grew up tinkering with aftermarket radios, amps, subs, etc. and have a lot of fun doing it but I agree with you that it is getting more and more difficult since the head unit has moved from audio player to central hub of vehicle. I don't know anything about it but i doubt there are any standards for the way diagnostics, steering wheel controls, backup camera etc. interface with the head unit so finding an aftermarket radio that will simply plug into any random new vehicle sounds unlikely.

I have a 2011 Dodge Challenger, I priced out various aftermarket radios (with and without Nav). I can get a pre-owned factory unit for $700-900 (yes used) but that would require a trip to a dealer or mechanic with the programming "tools/software/cables". No Thanks. Looking at the 2015 Challenger Hellcat, the radio is all integrated into the cars "performance modes", thus changing the radio becomes a challenge. I remember buying my first vehicle sans radio, speakers, antenna and picking out my components and building a system. I would love to add HD Radio and keep my Sirius. Since I don't have unlimited data, streaming Pandora or other service from my smartphone isn't a requirement for me. I keep some music on my phone and between the AUX jack, FM and Satellite my needs are mostly met. I just want an upgrade that perhaps provides navigation, option for a backup camera and HD Radio.

If we're having a competition for who has it worst amongst new car owners, I think that I've got the victory with my 2014 Mazda 3. This is what i'm dealing with: http://www.thetruthaboutcars.com/wp-content/uploads/2013/10/2014-Mazda3-... It looks like someone just glued an old SiriusXM unit to the dashboard and called it a day. i took it apart and found that there is a single DIN unit underneath, and this is the display/control module, which is connected by a ribbon. The radio operates fine without the control module connected, but it's in there so deep that even if you could deal with the inevitable gaping hole in the dashboard, you'd still never be able to reach anything on the head unit.

Displaying the user interface of the head unit as opposed to the Android Auto or even CarPlay user interface is a mistake. It's like time traveling back to 2001. On the other hand, we're finally getting these suckers! I'm personally looking for a less robust system that just includes Android Auto and FM radio, to keep the cost down. Apline's ILX-007, but with Android Auto, would be perfect.

Bound to be better than the totally horrendous Pioneer AVH-X3600DAB I currently have. It's shocking how that even got to market it's so bad.

Hoping its around $800. Probably closer to $1200 as a first gen. Need to get more companies on board. Loving the duality of some of these head unit's. Posted via the Android Central App

This one has me interested. That said I'll wait to see the price drop first. I want android auto, just not at the inflated price they will charge. Posted via the Android Central App

Finally.. Been waiting to hear something about aftermarket double din android auto head unit.... Hopefully they don't blow the price point... Can we get a hands on video of the head unit??? Posted via the Android Central App

I like seeing multiple manufacturers showing off this technology.
When it's only one or two building these radios, it keeps the price up. I can actually see putting one of these in each of our vehicles. They would make GREAT replacements to the existing car stereos/nav units that are way outdated...

"The DDX9902S allows customers to enjoy a safe, integrated experience with the phone they love." ... as long as it's not a Windows phone! Posted via the Android Central App

Guess they don't think anybody loves those phones lol. In all seriousness though, it's such a small market share they probably just don't care. Posted via the Android Central App

Please do detailed reviews on these head units when they are available Posted via the Android Central App

And for an older car this is better than attaching your phone to a $30 suction cup on the windshield why? Posted via the Android Central App

Because it's integrated with the sound system speakers, which might matter to some people. And then there's no suction cup to detach in the middle of a turn, with the phone sliding across the dash to the other side...

I must admit, the thought of 'ok Google' to do things like searching, navigation, media control, etc. while driving is very intriguing. With this and their self-driving cars, Google will be in full control of our cars soon. Next up...planes and trains.

As long as it's done in a safe, responsible manner. Posted via the Android Central App

What if your phone doesn't support MHL like the G3 or Nexus 5? SOL...