Keeping CES in perspective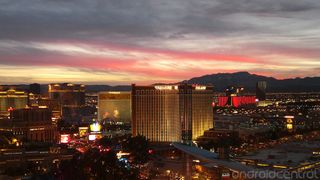 This tends to happen every year. We go to Las Vegas, cover the crap out of CES ... and then come the e-mails. "HTC didn't show anything at all!" "I wanted a new Samsung phone!" "Where the hell was Sprint?!?!" "CES was such a letdown, the rest of the year is gonna suck!"
More phones (and maybe even some good tablets) are coming, folks. Just like last year. Just like the year before. We tend to have short attention spans, and seeming shorter memories. Your favorite carrier and manufacturer should have plenty up its sleeves in the coming months.
Let's take a look ...
Samsung
Frankly, we have no idea when Android's biggest OEM is going to launch its 2013 line. It really can do so whenever -- and wherever it wants -- and there's no real precedent for doing so. All three "Galaxy S" smartphones have been announced at a different event (I was at all three of them. Consider:
Original Galaxy S: CTIA in Orlando in March 2010.
Galaxy S2: Mobile World Congress in Barcelona in February 2011.
Galaxy S3: Standalone event in London in May 2012.
The prevailing thought is that Samsung will do its own event again this year, but that's not a given. It's announced both iterations at the Galaxy Note at the IFA conference in Berlin in the fall, then had separate launch events, with a huge one in New York in late 2012.
HTC
This one's pretty simple. HTC has made Mobile World Congress its home for the past several years, launching the Desire and Legend in 2010, the Flyer tablet (along with the ill-fated by Facebook-friendly ChaCha and Salsa) in 2011, and the new HTC One line in 2012.
It's also worth mentioning that Sprint has a habit of get its own version of HTC flagships a few months after MWC. We'll see if that trend continues this year.
But if HTC doesn't come big in Barcelona next month, I'll use the ChaCha for a full week. Yes, I have one. And, yes, we'll be in Barcelona to bring it all to you.
Motorola
Frankly, we don't know what the heck Moto's up to these days. There's talk of that "Google X" phone, but I've got a feeling it was a bit inflated at the time. You can rest assured Motorola's working on something, but we're in uncharted territory here. Google purchased Motorola in 2012 but continues to run it as a separate company, albeit one under new leadership. Motorola's had a big presence at CES the past couple years, but this week it was a no-show at CES.
Sony
Figure Sony will have a few more releases this year, but it brought out the big guns in Vegas with the Xperia Z and Xperia ZL. The next question, for those of us in the states, is when and where we'll see it. Sony's never had much traction here -- and when we do see releases they tend to be a bit watered down, too little, too late.
That said, the Xperia Z and ZL are pretty impressive. Be sure to check out these stories from CES:
Xperia Z hands-on
Xperia ZL hands-on
Xperia Z camera preview
LG
It'll be interesting to see what we get from LG in the next month or so. Normally we get a pretty big event at Mobile World Congress, but then again we had a pretty big event in Seoul back in September for the launch of the Optimus G. There had been rumors of some sort of successor at CES, which, while possible, was never all that likely, though LG did a nice job of pumping things up.
We'd expect to see something at MWC -- maybe a spec'd up Optimus G, but this one's still pretty wide open.
U.S. carriers
The other thing to remember is while these worldwide launches are all well and good, there's almost never a blanket launch date for a device. Regions tend to get their own, and here in the states we have to wait for carriers to give the word. Sometimes they'll do it simultaneously with a major event, but more often they don't, the better to get their own 15 minutes of fame. That goes for CES as well as (and maybe especially for) Mobile World Congress.
So what's next?
We've got plenty of scheduled events in 2013. On the books thus far:
Mobile World Congress in Barcelona the last week of February.
Google I/O in San Francisco May 15-17.
CTIA in Las Vegas May 21-23.
CTIA MobileCON in San Jose the third week of October.
And that's just the events that are scheduled already. There will be more than enough pop-up events surrounding individual launches to keep us busy -- and you informed -- throughout the rest of the year.
So if you don't see what you're looking for just yet, don't worry about it too much. We've got no doubt that plenty of excitement is ahead in 2013.
Get the Android Central Newsletter
Instant access to breaking news, the hottest reviews, great deals and helpful tips.