Keep it simple with these watch faces for Android Wear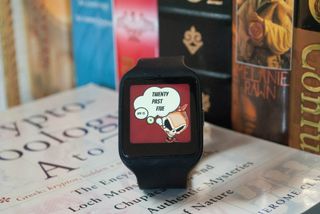 Sometimes you just want some simplicity for your smartwatch.{.intro}
It's time again for another Android Wear watch face round up, and this time we've collected five fantastic and simple watch faces for you to check out. It's easy to get caught up in all of our technology, and feel overloaded from the amount of information constantly being thrown at us. These watch faces aim to keep things simple, and make it easy to get the information you need at a glance.
If you've been pining for some simplicity, come check these out!
Animated
Since Spring seems to be taking it's time getting to us, having a breath of fresh air on your watch isn't a bad idea. If that's the case, then Animated Watch Faces ought to be on your list. It's a simple watch face, but one that still gives you plenty of information at a glance. This includes the date, time, battery power, and even a snapshot of what the weather is currently like.
Animated watch faces give you access to a few faces for free, and you can buy more from within the app if you see one that catches your eye. Each background has it's own animation that will play every time you wake your watch up. There are also a number of options you can access by opening up the app on your phone. These include things like choosing between 12 and 24-hour formats, the mode of the date readout, and whether the weather and battery are shown on the watch face.
Download the Animated Watch Faces (free with in-app purchases) (opens in new tab)
Relaxing Thoughts
The Relaxing Thoughts Watch Face manages to blend comics and watch faces in a really neat way. You'll be able to see the time, date, and your battery percentage, all written out in the thought bubbles of various characters. It stays simple while still giving you access to some fun features. and making sure that you have at least the basics of info you need while on the go.
You can choose the color of your background, pick from 5 different display languages, and decide which character will be living on your watch face. All of the options are available in a single menu on your smart watch. There is a list starts with your language preference, then turns into your background color, before finally giving you the options of which character to display. The one thing to remember is that the time is always written out in words, so instead of 4:30 you'll see half past four.
Download the Relaxing Thoughts Watch Face ($0.99) (opens in new tab)
Fuji Watch Face
If you enjoy cute but minimal watch faces, then the Fuji Watch Face should be right up your alley. The only information that you'll find displayed are the date, and the current weather. What you will get is a beautiful Mt. Fuji that comes with multiple different backgrounds, as well as several different animations. While there aren't many options, you do get access to a few right from your smart watch.
Mt. Fuji dominates the screen of your watch, but you'll find a digital readout of the time on the upper right side of your screen. Just underneath the time is an icon showing you the weather. The background of this watch face changes dependent on that weather going between a sunny, rainy, cloudy, or night time theme. There are also timed animations of Mt.Fuji erupting, Sakura falling, and a Shinkansen passing. The only options you'll find are to manually switch between themes, or to adjust how often animations occur.
Download the Fuji Watch Face ($0.99) (opens in new tab)
Elegant Binary
The Elegant Binary Watch Face lives up to it's name. It doesn't display much information, concerning itself only with giving you the time, date and your current battery percentage. It does this in a way that's quite pleasing to the eye, and offers you access to plenty of settings from your smartwatch. These include being able to toggle features on and off, change the color, and adjust the size of the information that is being displayed.
While the time is displayed digitally in gigantic numbers, there is a second way to tell the time. Colored dots fill in two rows, with accompanying numbers. By adding the numbers of the filled in dots, you'll get the time.The top row displays the hour, with the minute displayed underneath. The date is at the top of the screen, but it's quit small which can make it hard to read. Your battery percentage is just below the time, at the bottom of the screen.
Download the Elegant Binary Watch Face(free) (opens in new tab)
Meter Watch face
The Meter Watch Face is super simple, and really only concerned with giving you one piece of information. You won't find any settings or features for this watch face, and the only information that is displayed is the date and time. That time layout takes up the whole of your smartwatch screen to give you the most up to date timestamp with three animated meters that run nonstop.
The top meter gives you the day of the week, and the day of the month and is the slowest moving meter. Dominating the middle of your screen is the hour and minute displayed in a 12-hour format. The third meter takers up the bottom of the screen and runs the fastest, showing the passage of seconds. Altogether you get a very simple, but interesting watch face to tell you the time.
Download the Meter Watch Face(Free) (opens in new tab)
So there you have the best simple watch faces we have to offer this go around. Did you see a watch face you liked, or is there a watch face you think we should be talking about? Be sure to sound off about in the comments below and let us know all about it!
Jen is a staff writer who spends her time researching the products you didn't know you needed. She's also a fantasy novelist and has a serious Civ VI addiction. You can follow her on Twitter.
Oh no... Here we go again! Posted via the Android Central App

I have heaps of watch faces, but 90% of the time I use skymaster. Posted from one of my various Nexus devices.

I have very few, and have occasionally tried others, but keep on coming back to Skymaster. Particularly on round metal watch faces with Silver/Stainless Steel color, I think it just works. Now if I could get my hands on the Tag watch faces I'd love those every now and then. Posted via the Android Central App

Sky Master is the only face I've bought... It looks lovely on the Steel Huawei watch.

i swore off animated watchfaces, since they sucked up a lot of battery and the battery died in just 1 day. now im using one of the regular watchfaces included on the Huawei Watch and the watch lives for 2.5 days.

I think I'm going to put mt Fuji on a spare zenwatch2. Posted via the Android Central App

First one I downloaded for my Gear Live was the LCARS facewatch. Then a bunch more. Went back to the LCARS and it's been that ever since Posted via the Android Central App

Most of the Android Wear watch faces I see are simply emulations of dumb mechanical watch faces (or worse yet, emulations of dumb LCD watch faces). I think a smart watch ought to have a smart interface that uses the watch face to display information important to the user in an aesthetically pleasing manner. Some watchmaker watch faces that follow this philosophy:
https://facerepo.com/app/faces/details/blackground-watch-weather-steps-1...
https://facerepo.com/app/faces/details/jadearch-151b1a8d762
https://facerepo.com/app/faces/details/weather-calendar-etc-14e74e04745
https://facerepo.com/app/faces/details/aiw-all-i-want-14f634de2e4

I do not totally agree. Of curse all important information should be displayed to the user. But only as much as I need, when I need it. For the rest of the "time" ;) I would like a simple/smart/fancy watch face to look on.
Android Central Newsletter
Get the best of Android Central in in your inbox, every day!
Thank you for signing up to Android Central. You will receive a verification email shortly.
There was a problem. Please refresh the page and try again.