Hands-on: New JBL Link Bar soundbar pulls triple duty with Android TV and Google Assistant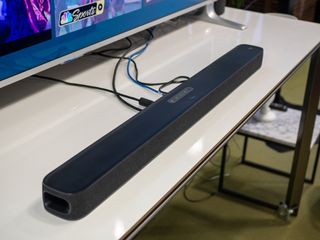 We speculated that Google would have some Android TV announcements at I/O 2018, and here's the first of the bunch: a new partnership with JBL to launch a soundbar that pulls triple duty as an Android TV device and Google Assistant speaker.
It's called the JBL Link Bar, and it's the first product in an expansion of Android TV beyond standalone set top boxes and TV integration to new multi-purpose form factors.
Image 1 of 4
Soundbars are incredibly popular for people who want to inexpensively upgrade from their TV's built-in speakers but can't go all-in with a multi-speaker surround system, and now there's a soundbar that can provide more than just a sound upgrade. When you get the JBL Link Bar hooked up to your TV, you get a complete Android TV experience just like a standalone set top box including voice commands. It also has four HDMI ports — three in, one out — and supports HDMI switching in the soundbar itself, so it can act as a basic AV receiver. (Other i/o includes optical audio, 3.5 mm audio and Bluetooth.)
The HDMI switching is integrated with voice control, so you can tell the Link Bar to switch to your game console or blu ray player, for example, and it'll handle all of the switching. Better yet, the speaker's voice controls are still active when using the other device, and it can even display the voice control interface over whatever you're watching. A simple "Ok Google, go home" will send you back to the Android TV experience.
We don't have specific speaker specs just yet, but Google is quoting 100W of power out of this multi-speaker soundbar — pretty typical stuff for a mid-range unit, and a step up from JBL's base soundbar that offers just 30W of power. JBL is first and foremost an audio company with lots of experience in this realm, so you can expect the Link Bar to sound good — it can also pair up with JBL's wireless subwoofers, if you want to step up your home theater a bit.
When your TV isn't on to provide video, the JBL Link Bar continues to work as a standalone Google Assistant speaker as well with "Hey Google" always-listening capabilities and audio responses without firing up the TV. And with its rather large size and multiple speakers, it can provide an experience more akin to the Google Home Max than a standard Home. Voice control can come through a microphone on the Link Bar's remote, or entirely hands-free using far-field array microphones just like a Google Home offers. A set of LEDs on the front of the soundbar give you a visual cue that it's listening, and a hardware mute switch on top clearly shows you when it isn't.
Unfortunately, we're still a handful of months off from the JBL Link Bar being available. Google is simply giving the time frame of "fall 2018" for its release, and isn't providing pricing information yet. JBL's standard soundbar of roughly the same size retails for about $299 (opens in new tab) including a subwoofer, so my best guess would be a price of about $300-400 for the Link Bar given its extra capabilities.
Get the Android Central Newsletter
Instant access to breaking news, the hottest reviews, great deals and helpful tips.
Andrew was an Executive Editor, U.S. at Android Central between 2012 and 2020.
not a bad option for my bedroom TV. been wanting a soundbar and been using a Nexus Player... time to retire the NP?

I'm in exactly the same situation. Oh my remote is dead on my Nexus Player remote... What a surprise. :P

No remote for this device, a definate no for me.

No remote? How are you going to manipulate Android interface? it say it is Android TV

Voice control only apparently, i read it on gsmareana. Go have a read.

Nope, the Link Bar definitely has a full remote. They just haven't finalized the design yet so they aren't showing it off. But it has all of the usual navigation buttons, plus another microphone if you'd prefer not to use the always-listening array mics.

Really cool idea. I hope it's good, the more Android TV devices the better.

I'm surprised there isn't yet a more popular standard for line-sensing voice interrupt jacks. Similar to how navigation works in a car, it lowers the radio volume to about 50% to talk... then returns it to normal. With Echo dots and Google Homes, these are a must have design to allow adding your assistant to your home audio system. I found one here that I use...
http://www.newark.com/mcm-custom-audio/50-8396/automatic-two-way-source-...
Its a bit industrial with RCA jacks.. but with an RCA to 3.5mm jack into echo dot, it works pretty well. I have my normal TV audio coming through the soundbar and if I talk to alexa, the "ring" sound triggers the sense input to switch over. Still I'm surprised we don't see more modernized versions of these popping up or even built-in support for it.

Everything I need right now. Take my money!

Any idea what the hardware inside is? It would be super dope if they did this with Nvidia (Shield) as well.

They were pretty coy about the actual specs of the thing. The only thing they'd say is that they're focusing on performance and want to have the thing perform on the level you'd expect for an expensive home theater device. That being said, this isn't a gaming-capable or -focused device like the Shield is.

Now that's a good idea, I will never get rid of my Nvidia Shield so a soundbar with Assistant already in, is dead in the water for me

Yes, I need this in my life. Now if Google Fiber can just come to my area I can get rid of Comcast all together.

Wow I would buy this in a second.

I already have a Google Home speaker, and a Visio sound bar with Chromecast built in. I also have a Sony TV using Android TV with Google Assistant enabled, and a mic on the remote. This sound bar's features are all redundant to my current system, as it probably is for most people who use the Google AI systems. The 'idea' of this sound bar seems like a hard sell.

I already know what's coming for Xmas!!!

Wait, since when is Google Assistant able to process multiple commands in the same sentence? Anyone else notice that at the end? Is that a sign of new features being rolled out?

Great use of the assistant. Will need to wait till someone does this with better or as good sounding audio than my Bose sound bar in the bedroom, which is mind blowingly good. What about the assistant in a home stereo set-up? Like to replace the Yamaha in the living room for surround sound.

"so you can expect the Link Bar to sound good " So you were Hands On: but not ears on? That seems strange....

Ears were involved. But this is very early hand-built prototype hardware that has yet to be tuned by JBL, I'm not going to pass judgement yet.

Andrew also note on the Android TV front something that hasnt gotten a lot of coverage by consumer websites, is that they've quietly been taking over the pay-TV STB platform space, 60 pay-TV deployments before year end, DirecTV and DirecTV NOW's next set-top boxes included, and most of the pay-TV set top ecosystem from hardware to UX to security has aligned around Android TV long term since Android TV Operator Tier was released. This is only a partial view https://sites.google.com/view/droid-tv/pay-tv-provider You can expect more combo devices like this one (though maybe not a soundbar per se), even a few from pay-TV providers over time, as pay-TV operators look for more ways to add value.