Jaybird X3 may be the perfect sport buds for Android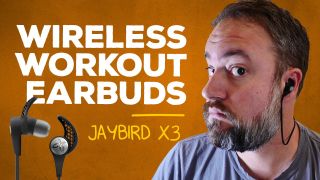 There are three kinds of people at the gym: Those wearing huge over-the-air headphones, folks with wired earbuds — and then there are those with proper wireless buds. I've long been one of those people who don't mind plugging in at the gym. But it's 2017, and time for some proper wireless headphones while I'm working out.
The Jaybird X3 aren't the least expensive headphones I've ever used. But for as much as I've been enjoying them day after day, the $129 price tag seems just about right. The fit is just fine (with plenty of options for customizing that.) The sound is really good considering they're in-ears. And the wireless connection has been excellent for me. Battery life has been good, charging just about once a week or so. (YMMV depending on how often you use them, of course — I'm getting a good 7 or 8 hours or more every week.)
There's a companion Android app (opens in new tab), too, that allows for a bunch of EQ customizations. You can choose from any of the branded ones, or make your own — and save your presets. (I've just been sticking with stock, though.)
What don't I like about 'em? Only real thing I can think of is the charging dongle. But that's not a huge deal by any stretch of the imagination. For me these wireless buds have been excellent for the gym, or while I'm out walking. Highly recommend.
Android Central Newsletter
Get instant access to breaking news, the hottest reviews, great deals and helpful tips
Great video. I have these and I thoroughly enjoy them. I upgraded from the Blue Buds X.

Thanks! And, yeah, I've definitely been digging these. (And I've gone through a LOT of headphones.)

Great video, I had the original Jaybird X's a few years back. Nowadays, there are plenty of Bluetooth earbuds for less than $30 on Amazon that feature ear hooks, Apt-X and decent battery life. With those on the market, it's hard to justify the extra $100 for the Jaybirds.

Great video, personally I didn't like the comfort of the Jaybird 3. I got the beats X and they are very comfortable to wear compared to the Jaybird. The neck design and equal weighted on both sides of the beats X does help. Sound quality is alright on both but for me comfort is the most important criteria since I wear them for long listening to podcasts.

I want to use the fins but I am having trouble just getting them in my ear.

You're looking thinner Phil. Way to go.

I am thinner! (And thanks!)

I have a pair of X2s that my wife gave me for a present last fall. I think they were on sale at BestBuy for like $79 at the time. They sound pretty decent. I've left the little "wings" off as I just can't figure out how to make them fit right.

The fact there's still a long wire between them that flaps around when you're running is enough for me to say they're definitely not the best. Not for me anyway Plantronics Backbeat Fit are still 1st choice for me for that reason alone

There's two clips IIRC, one will clip the cord to your shirt, hat, whatever, which keeps them from "flapping". The other clip (I think) simply loops the cord to shorten it, which I suppose is also to help keep it from flapping.

I second the recommendation for the back beat fits! Paired with some yurbuds they are fantastic. They handle my extreme sweat with aplomb!

This comes at a good time, I was just looking at these yesterday. Thank you Phil.

Agree on the charging dongle, and they probably should of made them more balanced like the BeatsX. But that's a minor complaint. What I really like is that this is the first pair of ear buds that fit comfortably in my ears and don't fall out while I'm on the treadmill, elliptical, walking or working outdoors, etc... I do wish there was a little more volume, but it's probably best that there isn't :-) David

Where can i buy these in the uk? Please anyone.

I bought some Jabra pulse Bluetooth headphones last year and I'm after wanting these

I had the first generation Jaybird headphones and used them in rain and snow with no problems. They worked great right up to the point where I accidentally stepped on them for the third time in three years. I replaced them with the Jaybird X2. I haven't stepped on them yet and they are still going strong after two years. The main problem I had with other brands is that they wouldn't stay in and they were easily damaged by sweat. I lived in Florida at the time, so you can imagine how big of a problem sweat can be. The Jaybirds were the first brand that I found that would stay in my ears and were water resistant enough to make it through long runs.

Over the Air headphones :-)

I always ran in to problems with headphones staying in while on the treadmill. Do these seem to stay in place?
Android Central Newsletter
Get instant access to breaking news, the hottest reviews, great deals and helpful tips
Thank you for signing up to Android Central. You will receive a verification email shortly.
There was a problem. Please refresh the page and try again.