Is the Galaxy S9 worth buying in 2019?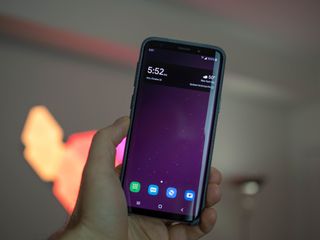 Two of the best phones of last year were the Samsung Galaxy S9 and S9+. Both phones delivered phenomenal AMOLED displays, fast performance, great designs, and trusty cameras.
The S9 and S9+ are still great phones here in 2019, but with the Galaxy S10 series looming around the corner, are last year's flagships still worth considering?
Here's what the AC forum community has to say.
What do you think? Is the Galaxy S9 worth buying in 2019?
Get the Android Central Newsletter
Instant access to breaking news, the hottest reviews, great deals and helpful tips.
Joe Maring was a Senior Editor for Android Central between 2017 and 2021. You can reach him on Twitter at @JoeMaring1.
Is a 1 year old, still very good, phone at a steep discount worth buying? Seems like an easy question to answer.

I got the s9+ for 529.00 with Verizon. They had a 24hr sale on Black Friday. I really had no intentions of upgrading my s8+ due to it's great performance but this deal I could not refuse. The 6gb's & stereo speakers made quite a difference!

Only thing I must on my note 8 is stereo speakers

Just got an S9 to replace the S8 that fell and obliterated the screen. My next phone will have a flat screen with edges I can hold and will have a fully unmolested screen area. That means the S10 is out. There is nothing it has that interests me in the least.

the unlocked US version, NO! zero updates!

This phone is still remarkable and deemed to be bought in 2019

Absolutely, especially after Pie update, feels new again.

I would. Also, depending on the phone, i'd even buy it towards the end of this yr too if I had an older phone. Many don't need the greatest and latest model.

Just bought an S9+ for 400 in excellent condition hopefully I'll like it better coming from v30

Not really in terms of software all that space wasted you cant turn icon frames off in the new update witch leave massive white circles round apps if your going to spend your money use it wisely and go for something different theres nothing new with samsung anymore since the s6 edge and s7 edge there all the same

This "article" contains two paragraphs, four forum posts and a question.
Is this really worthy of the AC home page?

Absolutely brilliant. Has everything a phone should have. And all that without holes in the display.

Of course....because it has a forehead

Just traded my s8 in for an s9 at Samsung. Total? 219 before tax. Worth it? Totally.

Depends on the price. I'm going to vote No. I'm getting rid of my Note 9 for an iPhone Xs Max next month. I think the hardware is okay, but the developer support isn't there and Samsung's late updates really just... aren't great. If the price is right, though, go for it... But you can find cheaper with similar hardware specs, these days... I'm still shocked that Google has no requirements for Android OEMs to implement APIs like Camera2 fully in their builds... This has to be one of the worst managed computing platforms I've ever encountered. Get a Pixel 2/3, instead.