Intel introduces the Yolo, a low-cost Android smartphone heading to Kenya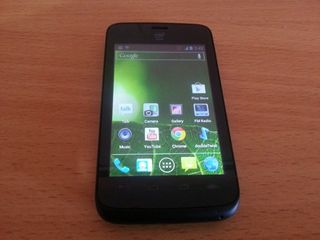 Intel, partnering with Safaricoma Kenyan based provider, has announced a new smartphone, the Yolo, headed to African markets. Back at CES, Intel took to the stage to introduce Lexington, which is their new processor targeted at emerging markets. The Yolo is the first smartphone to have that chip and looks positioned to make quite an impact in emerging markets.
The Intel Yolo will contain:
3.5-inch screen (320 x 420)
1.2GHz processor
512MB RAM
4GB internal storage
micro-SD slot that supports up to 32GB
Bluetooth 2.1
Android 4.04 (Ice Cream Sandwich)
5MP camera
The specs are low to mid-range because that's what this phone is aimed at. Intel wants to make a real push in emerging markets and the Yolo looks poised to do just that. Kenya will be the first market in Africa to get the phone, but we're betting that we'll see it in other markets soon. The phone will cost Ksh 10,999, which is about $125.It will also come bundled with 500MB.
Android Central Newsletter
Get instant access to breaking news, the hottest reviews, great deals and helpful tips
Been tweeting about this all night!!! Finally, my country gets honorable mention. On AC!!! Theverge, engadget, tnw. This right here would make me jizz in my pants!!!
On a more sober note, the price point on this phone will endear it to the masses. It will sell a tonne, that am sure of.
And its nice to see a phone that actually caters for emerging markets like Africa.
We cant buy s3's or one X's...but we can buy the yolo (no pun intended) to high heaven

Just bought the phone and it's good value for what it costs! Back then the Ideos (IDEOT) retailed at about the same price and it was a "HANGING" nightmare!! In addition to that getting a battery replacement and charger was next to impossible! The Yolo is something else! Personally, I would joke it's some Intel PC recycled to a brilliant smartphone for the African market! Why recycled? For 10,999 you get an Intel PC on Tubman Road in the mall near Jamia Mosque.

At $125, you definitely get what you pay for. Looks to be a decent handset for the money: at least, it comes with ICS and not Gingerbread. And, let's not queue the "This phone is useless" or "Why waste your money when you can get a..." comments. The title clearly says who is the target market for this handset.

its pretty decent for what it is intended for

This phone will boot once and only once... YOLO

Early nominee for post of the year 2013.

Indeed. It's a joke that simply *had* to be made.

Drake's camp might want a piece of the pie here...
http://mashable.com/2012/12/26/drake-yolo-merchandise/

SD card slot!!!! What is this amazing technology??????

I cannot believe that someone suggested they call it "YOLO" and it actually made it all the way to production...

Haha I know. No offense to anybody that actually likes and says it, but I find that word annoying lol. It seems to imply that nothing matters, and that no one has to be responsible for their actions because YOLO (aaaaah!!).

320 x 420 screen? I heard of 320 x 480 but 420 seems kind of weird -- thinking about app compatibility here...

DO they have a tiger tracker app?

Isn't the basis of traditional African belief reincarnation...?

Now that you say that, the irony of the name is hilarious.

Enter Obama Phone joke here.

Y.ou O.nly L.ive O.nce that's the motto! Everyday! Everyday!.. YOLO! Seriously tho I'm sick of that song but I just had to do it Lol..

Spare parts boss?? Yeah.!! We bought the phone, we finished them in the stores. Screens broke can't get it fixed as no parts. What happened to product introduction with after sales preparedness? Also don't Mind paying little extra for solid cases, we rough and tough like that. Mean time, I hear the blackberry case can suffice.

Is the YOLO still available at 11k?

NICE RESULT, WE HAVE BEEN AWAITING TO SUCH PRODUCT

How best does itel android phone, and at how much does it retail now?

The so called Yolo! Is it really some kind of a nice phone?
can I get in Eldoret?
Android Central Newsletter
Get instant access to breaking news, the hottest reviews, great deals and helpful tips
Thank you for signing up to Android Central. You will receive a verification email shortly.
There was a problem. Please refresh the page and try again.