Instagram bug lets you see someone else's personal notifications if you both share a second account [Update: It's back]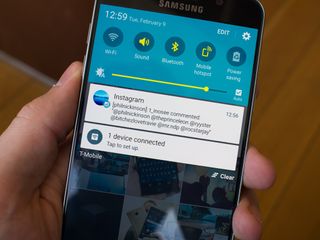 Update Feb. 20: Instagram has told us that this has been fixed. But we're now all getting updates whenever someone pings GoogleTheMastiff, our own Mark Guim is logged into along with the Android Central Instagram account.
Original story: We're now a week into having Instagram's new feature allowing management of multiple accounts in one app. But it seems as though there are still a few issues in need of some work. As it turns out, a pretty nasty bug has worked its way into the notification system that reveals your personal notifications — including Instagram Direct messages — to unauthorized people.
Here's the situation. If two (or more) people are managing a single Instagram account in addition to their own personal account on a device, then each of the people who manage the shared account can receive notifications from everyone else's personal (i.e. non-shared) accounts for a period of time. The screenshots below show the bug in action, as evidenced by Phil, Alex and myself.
For example: Person 1 has accounts A and B on their phone, and person 2 has accounts B and C on their phone (so B is a shared account, and A and C are personal accounts). Person 1 will now receive notifications from account C, and person 2 will receive notifications from account A. That's ... not a good thing.
The push notifications arrive in accordance with the notification settings that the original account holder set up, and the notifications don't often lead to anything when tapped — you're simply taken into the Instagram app to your own account, or to the post if it was a mention on another public account. Either way, the notifications still reveal quite a bit of information, such as names of the people interacting with the account's photos, and even a snippet of what they commented. This also includes the words associated with an Instagram Direct message (but not the image). Interestingly, it seems that the notification cross-talk isn't consistent — for some of us it stopped after just a day with a shared account.
Still, this seems like a pretty big oversight by Instagram. The fact that two (or more) people are managing an account shouldn't inherently give access to notifications from the other managers' personal accounts, and it points to mismanagement of supposedly private information. How quickly this could be fixed remains to be seen. After reaching out to Instagram for comment, we were informed that it is aware of this issue and is working on a fix. But for now, the notifications are still coming through to the wrong accounts.
Android Central Newsletter
Get instant access to breaking news, the hottest reviews, great deals and helpful tips
Andrew was an Executive Editor, U.S. at Android Central between 2012 and 2020.
I was so glad you reported this right away last week. Was just about to have my daughter do it but she wouldn't the other person who manages the account to have access to her stuff. Keep us informed and please let us know when the bug is fixed. This only happens if you have instagram logged into both accounts correct?

Having "access" to her stuff is a bit much — it's simply notifications, not the content within. But still, it's not a great look for Instagram. And yes, it's if you have multiple people signed into the same account and then also their own personal account.

Call the feds and investigation lol Posted via the Android Central App

Insta-who? XDA: Shayneflashindaily

This happened to me yesterday I was seen notifications from other accounts

It goes down in the DMs Posted via the Android Central App

I've yet to see the add multiple accounts on my instagram. Posted via Galaxy Note 4

Same. No sign of "Add accounts". What's going on, Instagram?

if you dont see it, you have to go into settings, then applications, find instagram, clear the cache and then go back in ig, settings and at the bottom it will say add account

Also, it has a bug where it appears to be logged into two accts (like A and B in the article). But, when I'm in acct A and switch to acct B, I'm actually still seeing acct A's feed. I can post as acct B, but I can't see acct B's feed. Posted via the Android Central App

Wow. I wonder if this bug ended any marriages or friendships.

Pretty sure the feature was to enable *THE SAME PERSON ON THE SAME DEVICE* to use multiple accounts, not the different persons. If this is a problem, you're doing it wrong.

Instagram is sooo yesterday. People think it's cool , but in reality it's not via LG Flex2 with BlackBerry VKB

Then what is your definition of cool? Posted from my Moto X 2nd gen and my nexus 9 both on Android Marshmallow

Its not just the notifications, but also the feed. Reported this to Instagram many a times but they're like pathetic with it. Its been like 3-5 days and still no reply from them. Posted via the Android Central App
Android Central Newsletter
Get instant access to breaking news, the hottest reviews, great deals and helpful tips
Thank you for signing up to Android Central. You will receive a verification email shortly.
There was a problem. Please refresh the page and try again.