Instagram for Android updated with improved search, advanced camera fixes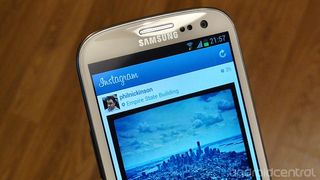 The latest Instagram for Android update has now appeared in the Google Play Store and is ready for download. This release looks to solve a number of issues users were having with the app, and the folks from Instagram has ever so nicely laid out the full change log for everyone --
Improved search functionality
Support for location data taken from Gallery images when geotag is selected
Fix for HTC Sensation 4G freezing using tilt shift
Improved support and bugfixes for devices using the Instagram advanced camera
Addresses tilt shift issues on lower resolution images
If you happened to come across any of those issues in your use of the app, then the you'd best grab the update and see if things are fixed for you. Head to "My Apps" in the Google Play app to update to the latest version, or use the Google Play web interface (opens in new tab).
HTC Sensation here..all issues fixed. I think this app is actually really great and all they need is more filters.

Still doesnt work with ICS.

What you talking about"It doesn't work with ICS" It does work fine on my Galaxy Nexus

Ive tried it under 3 different ICS roms, and it locks up when ever you try to edit the image. I can look at feeds and stuff, just cant post any pics...

You need to flash these GL drivers to your HTC Sensation ICS ROM to fix Instagram: http://forum.xda-developers.com/attachment.php?attachmentid=1057046&d=13...

I'm guessing he maybe has an ICS port that doesn't have the camera fully supported because yeah it works on the nexus.
Not that I want it. This article just reminded me to take another look at it. Every one of the filters makes a nice picture look like shit. CameraFX kicks its ass so thoroughly that I uninstalled instagram and feel ashamed that I left it on my phone so long.

I don't think most people actually use Instagram for it's quality features. It's more of an attention-whoring tool. That said, I do use my Instagram quite a bit.

Finally able to install on CM7! WOO! Now to see if it will work...
Android Central Newsletter
Get the best of Android Central in in your inbox, every day!
Thank you for signing up to Android Central. You will receive a verification email shortly.
There was a problem. Please refresh the page and try again.