Improved Android 7.1.1 update begins rolling out to OnePlus 3 and 3T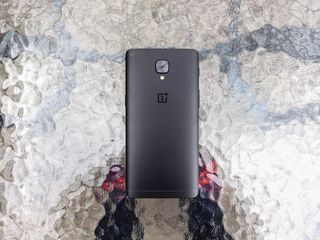 OnePlus has begun to roll out shiny, new Android 7.1.1 updates to both the OnePlus 3 and the OnePlus 3T, bringing new improvements for expanded screenshots, picture-taking, and a fix to a Bluetooth bug. The update is rolling out incrementally, so don't be surprised if it takes a little while to reach you, but it is rolling out.
Included in the release notes for the OnePlus 3 (opens in new tab) and OnePlus 3T update (opens in new tab) were several improvements:
Upgraded Android 7.1.1
Added expanded screenshots
Improved picture taking of moving objects with blur reduction
Improved video stability when recording
Improved WiFI connectivity
Improved bluetooth connectivity
Fixed Instagram swiping bug
Fixed hardware buttons malfunction bug
Increased system stability
General bug fixes
Known bug fixed: Bluetooth logging issue
The notes also featured a link, asking OnePlus 3 users to give their feedback on Oxygen OS 4.1.0, so once you've gotten the update, make sure you give them your thoughts on it! And if you've already gotten the update (lucky you), tell us how it's behaving, too!
More: OnePlus is doing everything right these days
Ara Wagoner was a staff writer at Android Central. She themes phones and pokes YouTube Music with a stick. When she's not writing about cases, Chromebooks, or customization, she's wandering around Walt Disney World. If you see her without headphones, RUN. You can follow her on Twitter at @arawagco.
Awesome! I love how they are good about their updates, but it seems like they could trickle down to their other devices a bit quicker.

If it matters to you, use a VPN to get it. Otherwise 7.1.1 (OxygenOS 4.1.1) has only been out for about a fortnight, and doesn't really change much.

They're good with updates? Yeah tell that to people who own their previous phones. You can say they are just as bad at supporting their previous phones as some of the big guys but they big guys also have way more models overall to support, I'd argue OnePlus has dropped the ball pretty hard for the customers that got them to where they are now.

OnePlus is not any different from the other companies when it comes to support for their products. You might consider the fact that unlike the massive revenue of Samsung and others, OnePlus is still a relatively new player in the smartphone market. They are doing quite excellent considering that fact IMO.

They should update the one plus 2, That phone is not so old that they can just dismiss it as beyond their update schedule.

Is this the stable version of the Beta they have been doing for a couple of weeks? By the way which Region should I change it to in order to get this update?

No. Canada or Germany, turn the VPN off before starting the download if you're using a free one.

This seems to be one of those "trust us, it does something" updates... I'd rather have an accurate changelog, but that's just me.

That's kind of what I thought when I read about it yesterday. I am in no rush to download this one. My phone is working fine thank you very much. :-)

I got it day 1 in hopes of April's security patch, alas no. You're missing nothing it would seem.

Ya, an Android phone with a SD 821, 6 gigs of RAM, and highly optimized light firmware works more than fine. It runs flawless and lightning fast

Question of the day.... Has anyone else who is on the beta program with a Nexus 6p not received the stable version of 7.1 2??

It can take to 2-3 weeks for the update to roll out (I've had the same problem). Chances are Google hasn't rolled it out to your device,. If rebooting doesn't work, it's​ just a matter of time. In addition, you can try Opera VPN and changing country - that sometimes works.

I hope you One Plus people don't get the POS Android 7.1.1 that ZTE dropped a while back on us Axon 7 owners!

Haven't looked into the Axon 7 issues, but 7.1.1 is running fine on my 3, which seems to be the general consensus.

Do you use Bluetooth to play music in your car?

I don't have a car... So no lol. I do know the Oneplus 3 has had Bluetooth issues though, but they've improved with recent updates, not worsened.

I've never had a problem with Bluetooth on 7.1.1.

Just got the Midnight Black 3T last week. It came with 6.0.1 and Bluetooth worked fine in my car. Also, just got the 7.1.1 update yesterday and Bluetooth still works great.

Apparently not everyone fares as well as you do. https://community.spotify.com/t5/Ongoing-Issues/Android-Bluetooth-Metada...

7.1.1 is running fine on my Axon 7 too. What it is *not* is stock 7.1.1. The Axon's firmware is a weirdly stockish looking thing, with some awkward default apps and some basic Android stuff disabled. That said, it works okay - and gets great battery life, even if it's a bit overzealous about closing background apps. I'm pretty happy with mine (and the Nova launcher). The A7 is not a phone to buy for the software - but it's probably the best 'price for the specs' Android device out there, and if you want front-facing stereo speakers, it pretty much stands alone. Apparently LineageOS finally has all the hardware running - not a moment too soon...

Oneplus's firmware is as clean as it gets. They've taken over as the new nexus

Right there with you! I have two phones. The One Plus 3T which is still on 7.0 December 1 security patch, and the ZTE Axon 7. The Axon 7 is on 7.1.1 and I've gotten VERY GOOD at uninstalling the 7.6 update to the Google PLay Store app so I can update my apps. ZTE has known about this problem for almost 2 months and they haven't fixed it yet. ZTE blames Google, Google blames ZTE. I tend to believe it's ZTE's problem to fix.

Google just released a fix for the Play Store issue on the Axon 7. It wasn't ZTE's fault! https://community.zteusa.com/thread/15221

The odd thing is, when you contact Google about it, they pointed to ZTE. I called them twice and both times they said it was a ZTE issue. Anyway, I was finally able to update and download apps again. I hope this fix holds.

Yeah, like the Play Store issue?

Weird. I didn't even get the previous update yet, and they're pushing out another one?

I was in the same boat until last week. I got tired of waiting so I used VPN to get the update.

I Did to as soon as I got the Matte Black I used the Canada VPN

Are the updates safe? I'm wondering why they never pushed it out to everyone if it was fine after so many weeks already.

Completely safe, it's the same update all regions will get eventually. I used Opera VPN and Germany. Everything works fine. I dont see any difference except in battery life. I am getting 6 hours SOT where with 7.0 I used to get only 4 hrs SOT, so I am satisfied. Remember to clear cache after every update.

Neither have i. My OnePlus 3T is still on 7.0

I was VPNd in the other day while at a coffee shop and got offered 4.1.3. I'm on the stable ring, too (no beta). Are they rolling out different versions to different individuals?

When will the update coming to India. Still waiting for earlier update. Current version in India is 7.0 with Oxygen 4.0.3

Another update, to fix the update, to fix the update, for the update that needs fixing

True enough. But Google (and Apple, for that matter) puts out a similar stream of updates to fix bugs and add minor enhancements - that all too often inroduce new bugs. So what's your point? OnePlus is probably better than most on keeping up to date - and yes, that also carries with it a likelihood of new bugs replacing old ones. If your preference is for a 'rock solid' device that never gets OS - or security - updates, you have plenty to choose from.

It's taking its sweet time rolling out

I saw another story about this in my google now feed and dismissed it since i was already on 7.1.1 and have been for a while now. Once i read this article i checked and found the update waiting for me.

Does this update solve the problem of apps not getting updated while on a Roaming network in India?
Android Central Newsletter
Get the best of Android Central in in your inbox, every day!
Thank you for signing up to Android Central. You will receive a verification email shortly.
There was a problem. Please refresh the page and try again.