I want to start seeing more crazy beautiful finishes on flagship phones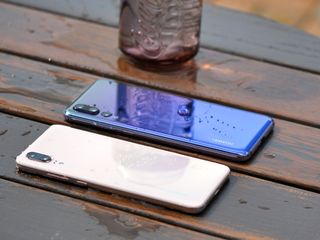 Aren't you getting tired of seeing the same black slab of glass every time a new phone is released? I know I am. There are some wild designs being implemented in phones these days, from the curved glass edges of Samsung's recent flagships to the Vivo NEX with an in-display fingerprint sensor, but as far as the finishes on those designs go … most brands don't branch out much beyond black, white, or the occasional gold or blue anymore.
I get it, most people will slap a case on their phone and forget about what it looks like underneath, but what about those of us who use clear cases, or who don't use a case at all? What about those of us who want a unique-looking phone, even if we only see the finish while swapping cases or cleaning off the back? And, while a bit more niche, what about those of us who just want something more interesting to take photos and videos of? As superficial as it may be, I love when phones come in crazy finishes. After all, they all do more or less the same things, so why not spice up the hardware a bit?
The HTC U12+ has some of my favorite finishes around. The translucent blue, which is the color HTC is shipping the most units with, lets you selectively see through the glass backing and peek at the internals. It's not completely transparent — you'll have to talk to JerryRigEverything to get that look — but after first seeing and loving the translucent look on the U11+ last year, I'm glad HTC is keeping it alive. Even more striking to me, though, is the flame red finish the company has been using for a couple of years now, which shifts from a deep crimson red all the way to orange and yellow, depending on your angle.
Speaking of color shifting, it's impossible to talk about wild finishes without mentioning the Huawei P20 Pro. Without a shred of doubt, the twilight P20 Pro, which sits somewhere between indigo and purple with a reflective high-gloss coating, has my favorite finish I've ever seen on a phone. The other finishes are stunning too, though — pink gold and midnight blue are both great looks, with the latter reaching dark teal at times, one of my favorite colors.
Image 1 of 2
None of this is to say that black phones aren't still great, though, and you can still have both a black phone and a cool finish. The Vivo NEX — you know, that crazy new all-screen phone with the pop-out selfie camera? — is black at first glance, but when viewed off-axis it shines every color in the rainbow, with small geometric patterns underneath. Similarly, the Nexus 4 came in either black or white with a disco ball-esque pattern in the glass.
How much do you care about unique and crazy finishes like the ones mentioned above? Do you immediately gravitate towards them, or do you prefer a tried and true plain black look? Would a crazy enough finish be enough to make you buy one phone over another? Let us know all of your thoughts in the comments below!
Get the Android Central Newsletter
Instant access to breaking news, the hottest reviews, great deals and helpful tips.
Hayato was a product reviewer and video editor for Android Central.