I made a pizza and charged my phone with a camp stove because the future is amazing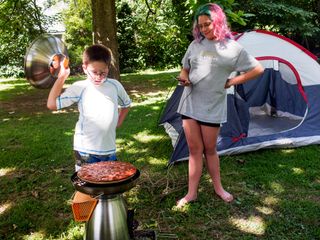 My family is full of people who enjoy camping. Sometimes that means hiking the Appalachian Trail for a few days with no tech at all, and sometimes that means renting a few campsites together with a cooler full of tasty drinks and a fire that regularly encourages Park Rangers to come check on us. When I go hiking, the BioLite Camp Stove is usually in my pack. It's great for making a small fire and I like knowing I can charge a phone in an emergency. At a campground you already have grill tops and fire pits, so for me there's never been a need to bring something else for cooking before.
I stand before you a changed camper. This weekend I cooked the perfect pizza while charging my phone on the larger BioLite BaseCamp stove, and I'm unlikely to go family camping without this stove ever again.
For the uninitiated, BioLite's BaseCamp stove is really just a bigger, more capable version of their portable Camp Stove. It holds more wood and offer a larger, sturdier cook surface, but the basic concept is the same. You start a fire in the front opening, and when the orange box on the side of the stove has converted enough heat into electricity a small fan will kick on. That fan keeps the stove hot, which keeps delivering more power to the 2200mAh battery contained within. After 20 minutes or so, you can connect just about anything to the USB port on the side and receive 5 watts of power at five volts. That's enough to power anything you'd need in an emergency situation, but is also means you can charge a phone or tablet if you're inclined to use one of those while camping.
All of this has been around for a while already. The new thing here today is the Pizza Stove. This accessory adds a Pizza Stone, heat spreader, and a lid to the Base Camp. This means you can create a small oven to bake a pizza in, which isn't as easy as it sounds when you're camping. I've made more than my fair share of "campfire pizzas" with dutch ovens and disposable foil packs. The end result usually tastes something like a pizza, but is frequently either a greasy mess or at least a little charred. Using a pizza stone offers the promise of pizza you would make at home, only you're outside and using sticks.
Much to my surprise, the end result was amazing. As long as I kept a steady supply of firewood moving into the stove, maintaining a mostly constant temperature was easy. After 11 minutes in the Pizza Dome, I had a flawless wood-fired pizza that was ready to be eaten. The burning wood from the stove added a nice flavor to the crust, and everything cooked evenly. Not only had I made dinner for the family, but my phone had been charged 20% while I was cooking and the battery on the stove had another 50% left to offer. Five minutes of cleanup and wiping down later, and the stove was ready to be used again.
It's rare for camping gear to offer an experience like this, and while this is hardly an accessory for hiking up a mountain it seems perfect for anyone looking to enhance the stereotypical family campout at a local campground or offer a little extra cooking prowess to an actual camping base camp. You don't necessarily need pizza while camping, but everyone around you will be pretty glad the option is there if you have one of these Pizza Domes.
Check out the BioLite BaseCamp and its Pizza Dome accessory!
Russell is a Contributing Editor at Android Central. He's a former server admin who has been using Android since the HTC G1, and quite literally wrote the book on Android tablets. You can usually find him chasing the next tech trend, much to the pain of his wallet. Find him on Facebook and Twitter
Hey, it's the gadget u see in the back of mad magazine right next to exploding cigars! Posted via the Android Central App

Disappointing, no PoGo reference to make the interwebz rage!!!!! Posted via the Android Central App
2015 Moto X Pure

There could have been a joke about governors and hiking the Appalachian. Posted via the Android Central App

lies!! i see a house in the background!

Yeah, they are in the back yard. Just use the electrical outlet. Posted from Nexus 6

Pizza while camping. That's something you don't see every day. 1A charger is slow by today's standards but adequate when camping.

Yeah, I imagine it would just be used in an emergency or overnight. In those cases, 1A will suffice.

A perfect accessory for anyone with an iPhone *insert Samsung's wallhugger commercial here*

Sweet, but I'm ok with a 3lb bag of Jeno's pizza rolls, now if they would only charge my devices. Nexus 6P

You could burn them in this... That would charge it. Posted via the Pokémon Central App

Store must of been out of: Brats
Hotdogs
Hamburger
Pork n beans
Potato salad
Corn on the cob
Steaks
Chicken Damn, I know, pizza!! Posted from Nexus 6

I know you guys reworked the contest section of the forums, but what happened to the contest to win one of these from way back (a year +/-)? And a winner was never chosen. Posted via the Android Central App

I'm a Cub Scout Den Leader and the Pack Baloo trained, plus Boy Scout volunteer cook as well. Camp tech has come a long way and Texas is fortunate to have a lot of camping stores outside of the norm Academy. We spent a lot of time at REI, Gander Mt, Bass Pro, and a few other local places here. They get cool stuff like this all the time. Great to see the article. I have a huge stove I bring and the Pack has a wonderfully large charcoal grill to feed our hungry 175 count. I made gumbo last campout. Posted via the Android Central App

Doubt I would ever cook a pizza while camping, but this thing is cool. Though I assume you could grill with it too. Posted via the Android Central App

You can! I made a few steaks on it the next day.

That's awesome. I generally will go where I have no signal but I love to take pictures and video of the landscape and wildlife. That runs down a battery. Something like this would come in handy. Posted via the Pokemon Go Central App (Formerly Android Central)

Glamping... Posted via the Android Central App

When I go camping its at a Marriott or Courtyard Hotel so I usually have plenty of places to charge my phone!

The nice thing is that you can use a solar panel by day, and fire by night! Most external battery packs with a built-in solar panel are useless. It takes about two weeks of good sun to put a significant charge into my Zero Lemon unit.

That was a travelogue plus tech article. Great! Posted via the Android Central App

The only thing that will tear Russell away from Pokemon is food.
Android Central Newsletter
Get the best of Android Central in in your inbox, every day!
Thank you for signing up to Android Central. You will receive a verification email shortly.
There was a problem. Please refresh the page and try again.