Hulu Plus updated to include improved support for 7-inch tablets and high resolution displays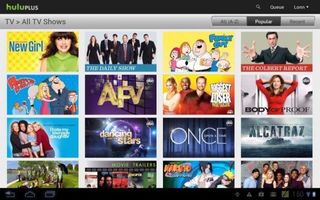 Hulu Plus for Android has received an update, which now includes improved support for 7-inch tablets and high resolution displays. A couple of months ago, there was an update which expanded the app to more tablets, and this is continuing that trend. It's great to see the folks over at Hulu committed to bringing their service to as many devices as possible.
Here's the full changelog:
Improved support for 7" Tablets
Improved support for high-resolution screens
Ability to sign up for free 1-week trials within the app
Compatibility with various ICS devices
Various bug fixes and optimizations
To get the update or the app if you haven't checked it out yet, please follow the links after the break.
Doesn't seem to work on my rooted Galaxy Nexus. Bad DRM.

Yeah, to the stupid movie/tv/music industry rooting a phone = pirating... Stupid old fools in charge of everything. It's like they can't get it through their skulls that making it harder for me to pay for content means I am going to look for the next easiest way to get it.

Actually the easiest way is still pirating. But if they can offer something close a lot of people do want to support them. Unfortunately that isn't the case. Hulu Plus isn't what it should be, there are things that are on the free Hulu that you can't get on Plus for crying out loud.

Does it support the Sony Ion or SGSIII? I had an LG Nitro HD for a few weeks with an HD screen and Hulu would install but when I tried to run it, it said the device was not supported.

Improved support for 7inch tablets huh? hmmmmmmmmmmmmmmmmmmmmmmmmmmmm??????????!!! Ican't wait for Wednesday

I know right? Not to mention 'ICS' compatibility improvements, given the 4.1 version number that'll likely mean better JB support as well. Interesting timing.

Haven't tried this latest update non-rooted but as of last week's version it doesn't work on stock non-rooted or rooted Samsung Galaxy S3.

Well this is about the biggest possible confirmation that Google's 7" tablet is about to land, isn't it? I can't imagine any other high-resolution 7" tablet that would justify a release like this.

Ya my galaxy nexus still doesnt work, however the hacked apk works fine just letting me know hulu has their heads up their asses. Netflix and crackle seem to work fine without giving a fir about device compatablility. Really just makes me want to get rid of hulu.

And STILL no support for Tab 10.1 .... Comcast, Netflix and Crackle all have figured it out how to support a wide variety of devices without this stupid spin-the-wheel which device will we work on this week approach -- I guess they must've cornered the market on developers who know what the hell they are doing.

Works fine on mine - don't remember if it's an old hacked APK though...may be. Some of those are so good they actually update from the market :) For reference, and I posted about it Sunday when this came out, the EVO LTE is officially supported too - and video quality is amazing :) Jack

Still cant get it on my Sony Tablet S.

Still doesn't work on my Galaxy Note.

Yeah what gives? Hulu get your Sh*t straight. Please.

over a year now and the Motorola Photon STILL does not have an official non-hacked Hulu Plus app! Seriously thinking of cancelling my subscription to Hulu Plus.
Android Central Newsletter
Get the best of Android Central in in your inbox, every day!
Thank you for signing up to Android Central. You will receive a verification email shortly.
There was a problem. Please refresh the page and try again.