Huawei's new mobile OS could be called 'Harmony'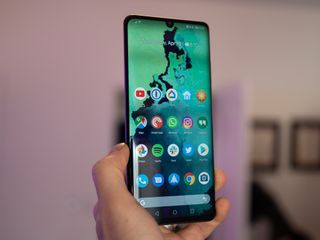 What you need to know
Huawei has registered the name Harmony for a mobile OS in the European Union.
Previous names for the OS have included Hongmeng and Ark.
Huawei has been rumored to release a phone by the end of the year using the new OS.
The U.S. Commerce Department may have agreed to allow companies to start doing business with Huawei again, but that doesn't mean Huawei is giving up on creating its own operating system. That should be no surprise, as Huawei has been working on an alternative OS for years now, and after the U.S. ban, it has become more serious about the venture.
According to a new filing with the European Union Intellectual Property Office, Huawei has just registered the name "Harmony" in reference to mobile operating systems. In the past, we've covered Huawei's new OS generally referred to as Hongmeng or possibly Ark OS, but it now appears to have a new name in mind.
It is entirely possible that the new OS could go by multiple names depending on the region or product. In previous reports, it has been stated that the new mobile OS would work for a range of devices, including phones, tablets, smartwatches, computers, and even cars.
So far, Huawei's new OS remains quite mysterious. We've heard rumors that it will be faster than Android or Mac OS, as well as that it could launch by the end of the year. However, it is expected to launch on entry-level devices and won't launch on Huawei's flagships until it's ready.
We've also heard that apps for the OS would be available through Huawei's App Gallery. However, that was before the Trump administration relaxed the ban on Huawei.
No matter what name the OS eventually launches with, it will be worthless without app support. While the Huawei ban was in effect, it faced the very real possibility of losing support for Android — including its apps. That would give any mobile OS a severe disadvantage in the market. Having to start from scratch and entice developers to your platform would take years, and that time could spell the death of Huawei.
For now, Huawei will most likely continue using Android, but it certainly has a renewed focus on creating alternatives after its recent trade troubles with the U.S.
Losing Google support would irreparably damage Huawei's global smartphone business
Android Central Newsletter
Get instant access to breaking news, the hottest reviews, great deals and helpful tips
I get it as they have everything to loose, but no one wants another operating system. That would require starting over on apps, if they even offer apps. I think at least with either Chrome or Fuscia you would have your login credentials and Google is moving so slowly with that, migrating your app experience over to that OS should be relatively painless with little data loss.

Im all for it. If they do release it I am going to buy one. Hell, I think I am going to buy every huawei product available, just so I can see the orange shitgibbon have a stroke! Ever since America elected that piece of garbage President I have been purposely avoiding anything with Made in the USA on it, or refusing to visit. He quickly forgets, since he has the mind of a 2 year old that Canadians contribute millions of dollars per year to the American enconomy, so he slaps tarrifs on us. Well, guess what? I am vacationing in my own country instead of spending more money in the USA. Hopfully they will elect a mature educated person this time around and right the ship. I am not placing any money on it however.
Android Central Newsletter
Get instant access to breaking news, the hottest reviews, great deals and helpful tips
Thank you for signing up to Android Central. You will receive a verification email shortly.
There was a problem. Please refresh the page and try again.