Huawei, Xiaomi, Oppo, and Vivo are teaming up to challenge the Play Store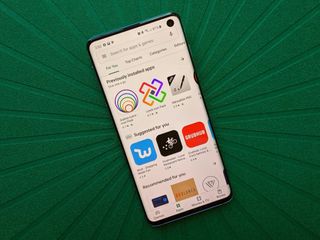 (Image credit: Android Central)
What you need to know
Huawei, Xiaomi, Oppo, and Vivo are partnering to form the Global Developer Service Alliance.
The GDSA would allow developers outside of China to upload an app once and have it added to all four manufacturer's app stores simultaneously.
This move will challenge Google's Play Store dominance while also helping the four Chinese companies expand more into software and services as hardware sales decline.
On February 6, 2020, an exclusive report from Reuters revealed that Huawei, Xiaomi, Oppo, and Vivo are working on a new app store alliance. The Global Developer Service Alliance or GDSA, for short, would allow developers outside of China to upload an app once and have it show up across all four manufacturer's app stores simultaneously.
The GDSA would help the Chinese mobile tech giants challenge Google's Play Store dominance while also giving developers an easier way to expose their app to billions of users. Combined Huawei, Xiaomi, Oppo, and Vivo were responsible for shipping nearly 40% of all smartphones in the fourth quarter of 2019.
The news also comes as hardware sales continue to decline year over year, and handset makers are looking to generate more revenue by expanding into software and services. Google, for example, collects 30% from sales on the Play Store to generate profits.
While the GDSA would primarily benefit Huawei after losing access to Google services last year, Xiaomi, Oppo, and Vivo also stand to gain in the countries they are popular. Nicole Peng, VP of Mobility at Canalys, also says it will provide the four companies with "more negotiating power against Google."
At the time of writing, all four Chinese companies declined to provide a statement to Reuters about the new alliance. Google also did not respond to a request to comment on the matter.
However, a prototype of the website revealed the GDSA will cover nine countries initially, including India, Indonesia, and Russia. The launch was expected to happen in March, but it is uncertain whether or not it could be delayed due to the recent coronavirus outbreak.
So now we enter a phase where China companies are banding together to topple a US company's dominance and in response, the US government is poking at the US company to investigate it having too much control. Google's store may be the standard, but OEMs can load their own store along side it and users can side load apps. It's way more accessible than Apple's ecosystem where it's the App Store or nothing. We're past the stage in the global scheme of things where a tiny player can be protected by forcing a dominant player to be less dominant.

As a former WP user, I know that consumers are the ones that will suffer. Here comes the feature fragmentation, where some features are released first for Google Play and App Store and take time to get to the Chinese app store.

I doubt it could ever be that bad. Huawei especially are far more proactive than Microsoft ever were about succeeding in the mobile space. I loved each and every one of my Windows phones but I don't miss the awful app quality let alone the missing apps from those days. I'd go as far as to say the current crop of Huawei devices without Google services where you struggle to make the whole thing work for you is very similar to the WP experience. BUT Huawei are frantically working along with these others to implement solutions

That's good to hear. And at least Android is the underlying platform so there shouldn't be a need to develop apps from the ground up.

Itll be interesting to see if this applies to xiaomis mibox brand

This was bound to happen sooner or later. I saw it coming. Unfortunately, this is side effect of Trump's war with China. The world doesn't need the US, the US needs the world. These companies don't want to be pawns in Trump's games. If Google didn't try to convince Trump that banning Huawei was a bad move, they had better try harder, cause their revenue is about to drop significantly if this develops
Android Central Newsletter
Get the best of Android Central in in your inbox, every day!
Thank you for signing up to Android Central. You will receive a verification email shortly.
There was a problem. Please refresh the page and try again.