Huawei Watch is discounted on vMall with sign-up bonuses in Europe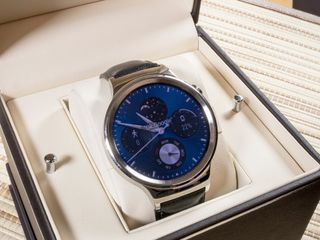 (Image credit: Android Central)
Huawei is currently offering an enticing deal on the company's smartwatch at vMall. Should you purchase the Huawei Watch through the UK or select European online stores, you'll be able to take advantage of a £80 (or equivalent) sign-up bonus on the watch with a leather strap or link band.
Pricing for the two listings are £289 and £329, respectively. Include the £80 new member sign-up bonus and you're looking at £209 and £249. This promotion appears to be valid for other European countries too with a €100 bonus, so be sure to check vMall in your location to see if there's a sign-up bonus on the Watch in your area. (Hit "vMall Deals" on the vMall website.)
Here are links to the UK vMall store:
Huwei Watch with leather strap
Huawei Watch with link band
Seems by far the nicest watch to look at, and looking at the AC review a while back.
It's just too big for my scrawny arms, including depth wise. It's decent phone money territory and right now I don't want one that much.
If this VMall promotion is anything like their previous ones, expect the same discount again several times, only each time it will be a brand new promotion and one of a kind.
Maybe they sell furniture and beds as well.
Android Central Newsletter
Get the best of Android Central in in your inbox, every day!
Thank you for signing up to Android Central. You will receive a verification email shortly.
There was a problem. Please refresh the page and try again.