Huawei P9: The first 7 things you need to know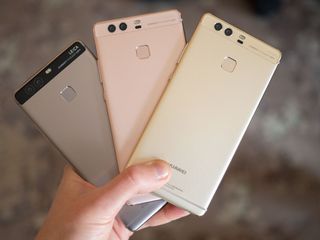 The Huawei P9 is upon us, having just been unveiled to the world at its London launch event. The big focus this time around, without a doubt, is photography, as Huawei pushes its partnership with Leica in an effort to stand out in the crowded high-end Android space.
But there's more to this phone than just the Leica brand and the aforementioned dual camera setup. Let's dive deeper and take a look at some of the major P9 facts and features you might have missed.
It's got two cameras — and more
OK, let's get the really obvious one out of the way first. The Huawei P9 has two 12-megapixel cameras around the back, "co-engineered," the firm says, in partnership with German camera-maker Leica. One sports a monochrome (black and white) sensor, the other a traditional color (RGB) sensor, and it's this combination Huawei says lets the camera soak up three times as much light as an equivalent single-sensor setup, producing pics with 50 percent more contrast.
The dual camera system is paired with laser autofocus system, giving it multiple options for keeping its subject in sharp focus. Up close, the lasers do the legwork. For distance, the P9 uses depth information calculated based on the images from both the monochrome and color cameras. (In much the same way our eyes help us perceive depth.)
That's all helped along by a dedicated dual-core ISP (image signal processor) specifically designed to handle depth information — the first of its kind, the manufacturer claims.
Wide aperture mode
Wide aperture mode, first seen in the Honor 6 Plus, returns in the Huawei P9. Because each photo taken on the P9 also captures depth information, it's possible to simulate bokeh effects in software, in a similar way to what HTC introduced with the Duo camera back with the HTC One M8.
This can be done either in the camera app directly, by selecting wide aperture mode and tapping to focus, then adjusting the slider to choose anywhere between f/0.95 and f/16. Of course, this isn't a true depth of field, but an approximation based on the depth information captured by the dual camera system. It's mostly accurate, but can trip up when used with softer subjects or translucent objects.
Latest Huawei CPU
Huawei continues its use of homegrown Kirin CPUs in its high-end phones, and the Huawei P9 sees the debut of the new Kirin 955 chip, an upgraded version of the Kirin 950 introduced in the Mate 8. Like that chip, it's built on a power-efficient 16nm FinFET manufacturing process, however the clock speeds have been increased — up to 2.5GHz for the four powerful ARM Cortex-A72 cores, and up to 1.8GHz for the lower-power Cortex-A53 cores.
Huawei's new depth-sensing, triple-focusing ISP is another new addition in Kirin 955, giving it extra number-crunching hardware to compute depth based on its laser autofocus unit, or the two rear-facing cameras.
USB Type-C
We're still in the awkward transition phase between microUSB and the new USB Type-C. The P9, however, stands out as the first Huawei handset to use the new reversible USB port. In theory that enables faster charging, however the bundled charging brick maxes out at 5V/2A. We're told the regular P9 doesn't "officially" support quick charging at higher voltages, a la Qualcomm Quick Charge, but we'll be investigating in the days ahead to find out whether it can charge at up to 3A with the right charger, like Huawei's own Nexus 6P.
It's also unclear whether the phone supports USB 3.1 or not — if it does, Huawei neglected to mention during the P9 press conference.
As is often the case, USB Type-C is a bit of a mixed bag. But hey, at least you don't need to worry about plugging it in upside down anymore.
There's a P9 Plus, too!
In addition to the regular P9, the Huawei P9 Plus will also launch later in May across Europe and Asia. As the name suggests, it'll ship with a larger display — a 5.5-inch AMOLED panel at the same 1080p resolution — along with a bunch of other notable hardware upgrades. The Plus boasts 4GB of RAM and 64GB of storage, up from the 3GB and 32GB of the base model P9. And there's a stereo speaker system hidden away inside, too.
What's more, the battery has been cranked up to an ample 3,400mAh, and Huawei has crammed an IR blaster into the top bezel for controlling your TV.
Around the back, there's the same dual camera and fingerprint sensor from the smaller model, encased in a slightly different aluminum frame, this time with a brushed metal pattern and a slightly glossier finish.
There's a 720p mode for saving power
If you've used a Huawei phone before, you'll be aware of the company's many power-saving features, including the ability to set a "power plan" to adjust the phone's balance between performance and longevity. The P9 includes a neat addition to this feature set — "ROG Power Saving." This lets you run your 1080p phone in 720p mode to conserve battery power without rebooting — although switching this feature on or off will require closing any apps that are running.
The difference is noticeable — you're halving the number of pixels on-screen. But it doesn't look terrible, and if you're after another way to claw back battery power on days when you're pushing the P9 to its limits, ROG Power Saving is a decent option to have.
Coming to Europe and Asia later in April
The regular Huawei P9 will land in Europe and Asia — no U.S. launch plans were announced today — later this month.
The 3GB P9 will go on sale on April 16 for €599, while the more capable 4GB version will run you €649. If you're looking for the larger P9 Plus, Huawei plans to make it available on the same day for €749.
As far as carriers go, Vodafone UK and O2 UK have confirmed they'll range both the P9 and P9 Plus, while Three UK and EE say they'll offer the regular Huawei P9.
Are you planning on picking up the Huawei P9 or P9 Plus? Shout out in the comments!
Get the Android Central Newsletter
Instant access to breaking news, the hottest reviews, great deals and helpful tips.
Alex was with Android Central for over a decade, producing written and video content for the site, and served as global Executive Editor from 2016 to 2022.
Intriguing hardware. Let's hope they at least sort out some of EMUI's kinks.

I'd like to hear about the software. IPhone esque software is sh|t imo Dr. Satan is my physician

It's not even that, it's that the software is broken in several areas. The reason we pay attention to them now more than before is because they are a nexus manufacturer, whether the AC staff agrees or not ( not hating on the staff). Posted from my Nexus 6/Nexus 7 2013/Surface Pro 3

It is better now when compared to KitKat actually. I have an old Honor 4x that I use sometimes and the UI has been improved. Still no Stock or Miui.

Interesting to hear, Idk they just need to have a consistent experience. Posted from my Nexus 6/Nexus 7 2013/Surface Pro 3

That's for damn sure. The software used to be absolute JUNK. It is far more refined now. Posted via the Android Central App

I'm actually one of those who don't mind the look of EMUI. It's certainly different and I like to see some difference since stock Android does get boring after a while. It's just broken in a few areas like notifications, where it'll sometimes give you annoying notifications like telling you that an app is running in the background that's consuming energy (yes, I know it's running. Why do you think I kept it there?). I just want them to sort out the kinks and it'll be quite the alternative. Especially since they're going to officially sell their own phones Stateside later this year. (I live by 3 words. fastboot flashing unlock)

That is a nice feature, I simply turn it off, BBM is one of power intensive apps and it notified me after I forgot it running in background, but since I use BBM every time I disabled the notification for BBM and it doesn't bother me, otherwise every other app it reminds me and I close the app Posted via the Android Central App

Have you actually used Huawei before? Posted via the Android Central App

Dual 12MP (monochrome + color)
1.76-micron pixel equivalent
Leica certification - This "pixel equivalent" spec sounds a lot like the old "interpolation" BS meaning a sub - standard spec but we're going to try to make you think it's not
- "Leica certification" is more BS meaning Leica got a pant load of money for allowing their name to be stamped on it but actually had nothing to do with the component used

I agree with buzz88 on this . it's a very common practice for one company to buy the use of another highly respected companies name to slap on whatever product they are peddling in order to try and sound more premium.Also,no OIS is wrong,garbage software,and way overpriced.I actually had high hopes for this phone,those were shot pretty quickly. Posted via the Android Central App Also,1080p will not cut it,if you have any interest in VR.

Mr. I know everything, who are you, do you work for Lecia or Huawei? Calling something BS when you have not a clue.

Huawei P9 Plus for me please! In black and Grey.

Indeed. Also, I strongly feel this is what Mate S should have been from the beginning except Kirin 955 which wasn't there back then. Still, P9 Plus is among the best devices this year, only if they don't screw it up with terrible pricing. Posted via the Android Central App on my Zuk Z1. Loving it.

And it also sets the bar quite high for a Mate S sequel (if there will be any). Am also excited for Honor 8 now. Posted via the Android Central App on my Zuk Z1. Loving it.

Some form of water resistance would have been nice.

I was exactly thinking the same. Posted via the Android Central App on my Zuk Z1. Loving it.

It's not the first Huawei handset with USB type C... The 6P was. Posted via the Android Central App

I think he means first full Huawei phone, complete with their design and software (I live by 3 words. fastboot flashing unlock)

That dent on the back of the gold model is distracting the heck out of me. Once I saw it, I literally couldn't focus on anything else.

+1 Posted via the Android Central App

I bet it has that same bendable frame apple had... the ding suggests the aluminum is a bit on the soft side.

I know this is fancy but the $700+ phone needs to go away. These things simply have no right costing that much. I'm pretty sure the 300% margin party is over.. but what do i know.

The phone is to expensive. Think people will get a S7 or G5 before the P9. If the price is to high nobody will buy it. Not sure about Asia but North America is Samsung and LG country

You forgot the fruit company. (I live by 3 words. fastboot flashing unlock)

Among all the new features, the ability to turn your screen to a 720p is definitely the best one I have seen this year. Seriously, think about it. This is what Samsung and all those moneymaking smartphones OEMs should have adopted in their QHD display, leaving it to the end user whether he/she wants 720p, 1080p or QHD resolution.
Well done Huawei, very well done. I never thought a Chinese company will be the 1st one to come with this best feature. Posted via the Android Central App on my Zuk Z1. Loving it.

There was a video on XDA-Developers a couple of weeks ago about reducing resolution to save power. Afair the effect was basically ignorable. Posted via the Android Central App

There is a difference between a feature custom built by a certain OEM and the one added after rooting/via XDA forums.
Also, its not only about battery efficiency, but the over all performance will definitely improve if resolution is reduced.

Welp, dat price it's Mi5 for me. Posted via the Android Central App

Smart phone, eh? Love it!

Is Camera is better than GS7??

It sounds like that on paper, but you shouldn't believe it. Check out the comparison videos on here or YouTube in the coming weeks. I'm sure you'll get your answer then! Posted via the Android Central App

I like the 720p power saving feature! Sounds like another win for Huawei, and I bet they'd win even more if they'd (like Samsung) do the 'We talked, We listened' thing. I'm on my 3rd Huawei Device now (P6, P7, Mate 7) and the same mistakes they need to fix if they want to (like they're saying) overtake Samsung and others, they're lurking in every phone they put out.
The broken notifications, slow processors, the ugly emui, and the lingering Chinese characters in the music, phone, and messages apps.
They never seem to fix these basic flaws, yet their goal is to take over the smartphone world.
The Mate 7 is a particularly good device, and the P9 sounds even better, if only it didn't carry the hefty price tag. Good points on the camera cause I believe that's what the average user is looking for in a device. And for overlooking the VR hype. That's just like when 3D came to the movies, a lot of disappointed faces in the foyer after their first 3D experience.
Their connectivity has never disappointed me, so I'll always give them 100 percent. Good luck to with the P9, Huawei! Posted via the Android Central App

I could do with a 1080p mode on my Priv. Sure 2K is nice, but so is a longer battery life Blackberry Priv
Nvidia Shield "Portable"
Sony Xperia Z3 Tablet Compact

Man the peeni is gonna be a great phone

I think the phone in terms of specs looks great just the brand and logo it's what I don't like

Wow one feature I think all manufactures should take note and include is a resolution mode. Good job on Huawei including a 720p mode like a PC. This should be implemented on all phones.

The first thing to know is that they are a Chinese government shill company.
No thanks Posted from my Droid Turbo

Too bad I don't trust Huawei anymore after having a Huawei phone which never got ANY software updates ever.