Huawei MediaPad M3 tablet: Which storage size should you buy?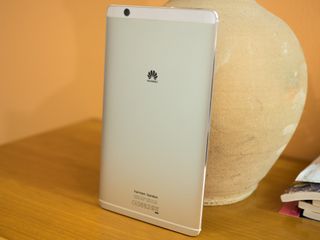 Picking out a new tablet can be difficult, but after you've done the hard work of picking out the Huawei tablet, you have another just as important question that you need to answer before you can pick it up. That is, of course, figuring out what storage size is the right one for you. Huawei's MediaPad M3 tablet comes in two different sizes, but knowing which one is the right one for you can be hard.
That's why we've broken down the differences between sizes for you, so that the choice is easy to make.
What sizes are available?
The Huawei MediaPad M3 comes in two different storage sizes. You can snag a 32GB model for $299 (opens in new tab) or the 64GB model for about $350 (opens in new tab).
Aside from the differences in storage size, both models of this tablet have all of the same specifications. This means you no matter which size, you'll get an awesome Kirin 950 processor, 4GB of RAM, and 5100 mAh battery.
Why do I need more storage?
So if both models have the exact same specifications, why bother spending the extra $50? Well, the answer really depends on how you plan on using your tablet, and that makes this a choice that only you can make for yourself. There are a number of things to keep in mind.
If your tablet is only going to be used for a handful of apps, or if you want to purchase a microSD card, then opting for the 32GB model is a solid choice and it ought to have plenty of space. If you're looking for a new device to use every day for work, videos, fun, and photos, then you're probably going to want to snag the 64GB model.
The big thing to remember here is that for an extra $50 you double the space that you get with your Huawei MediaPad M3, which translates to more room for movies, games, photos, and updates down the line. If you prefer to pick up a good tablet and use it until it breaks, then the more space you have available. This means you can spend more time enjoying your tablet, and less time figuring out what you have to delete in order to update an app.
Which one should I pick?
Both models of the Huawei MediaPad M3 deliver a great experience, with a solid price tag. With two choices for storage, you can make the choice that's best for how you're going to use this tablet, or best for your budget. Have you picked up a MediaPad M3? Let us know which size you picked in the comments below!
Huawei MediaPad M3 review: Great hardware, but the software needs improvement
Jen is a staff writer who spends her time researching the products you didn't know you needed. She's also a fantasy novelist and has a serious Civ VI addiction. You can follow her on Twitter.
Internal flash is for apps, media (music vids books) go to an SD card. 32GB should be plenty for apps; the extra $50 they want for 64GB (+32GB) lets you buy a 128GB Samsung SD card on Amazon. That's 4x more extra storage for the same price, so there's no contest really.

Note that the 64gb version comes with an awesome AIG earphone. So that $50 is not just for extra storage.

The 32gb version contain the akg headphones?

I bought the 64GB version of this tablet, and I must say that I'm really impressed with the thing. Also, internal memory is much better for apps and what not (to respond to the last comment), and you'll drive yourself a lot less crazy with more internal space. Especially if you like to play games on your tablet. :-)

Neither, it's Huawei. Buy something else.

Yeah, like LG. LOL. What a joke.

Not a joke. Buy iPad or something else for $200-.

This looks like one of the best buys out there in the sketchy land of Android tablets. Thinking of nabbing one as a Christmas present for my wife (the N7 2013 is getting long in the tooth)

I got this a year ago to replace my Nexus 7 2013, and I haven't regretted it a bit! Great tablet.

why would I buy a 14 months old tablet?

Well I bought one a couple of months ago because I couldn't find a more recent similarly specced tablet for around the same price.

Yeah the pickings are slim especially if you want to stay under a 10" screen size..

I got one as a gift. NO issues with it. LOVE it!

I've had mine since around black Friday of last year. 32GB version to replace both my 1st and 2nd gen Nexus 7 tablets. The EMUI 5 update made the UI a lot better, but I just threw the Google Now launcher on it. The built in speakers are ridiculously powerful as well. They change profiles depending on whether the tablet is in portrait or landscape orientation and can pretty easily fill a room with sound. The only disadvantage to the 32GB model is a lack of dual band wifi which the 64GB model has. As well as the aforementioned headpand I believe LTE connectivity.

you sure the 64GB model has dual band enabled?

Is this still running Marshmallow??? I nearly bought one a year ago, but returned it as soon as I found out it was running Marshmallow and no update was on the horizon.

Immediately updates to Nougat via OTA
Android Central Newsletter
Thank you for signing up to Android Central. You will receive a verification email shortly.
There was a problem. Please refresh the page and try again.