Huawei MediaPad M3 tablet: Which storage size should you buy?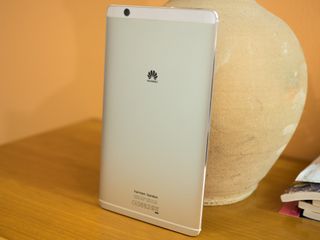 Picking out a new tablet can be difficult, but after you've done the hard work of picking out the Huawei tablet, you have another just as important question that you need to answer before you can pick it up. That is, of course, figuring out what storage size is the right one for you. Huawei's MediaPad M3 tablet comes in two different sizes, but knowing which one is the right one for you can be hard.
That's why we've broken down the differences between sizes for you, so that the choice is easy to make.
What sizes are available?
The Huawei MediaPad M3 comes in two different storage sizes. You can snag a 32GB model for $299 or the 64GB model for about $350.
Aside from the differences in storage size, both models of this tablet have all of the same specifications. This means you no matter which size, you'll get an awesome Kirin 950 processor, 4GB of RAM, and 5100 mAh battery.
Why do I need more storage?
So if both models have the exact same specifications, why bother spending the extra $50? Well, the answer really depends on how you plan on using your tablet, and that makes this a choice that only you can make for yourself. There are a number of things to keep in mind.
If your tablet is only going to be used for a handful of apps, or if you want to purchase a microSD card, then opting for the 32GB model is a solid choice and it ought to have plenty of space. If you're looking for a new device to use every day for work, videos, fun, and photos, then you're probably going to want to snag the 64GB model.
The big thing to remember here is that for an extra $50 you double the space that you get with your Huawei MediaPad M3, which translates to more room for movies, games, photos, and updates down the line. If you prefer to pick up a good tablet and use it until it breaks, then the more space you have available. This means you can spend more time enjoying your tablet, and less time figuring out what you have to delete in order to update an app.
Which one should I pick?
Both models of the Huawei MediaPad M3 deliver a great experience, with a solid price tag. With two choices for storage, you can make the choice that's best for how you're going to use this tablet, or best for your budget. Have you picked up a MediaPad M3? Let us know which size you picked in the comments below!
Huawei MediaPad M3 review: Great hardware, but the software needs improvement
Get the Android Central Newsletter
Instant access to breaking news, the hottest reviews, great deals and helpful tips.
Jen is a staff writer who spends her time researching the products you didn't know you needed. She's also a fantasy novelist and has a serious Civ VI addiction. You can follow her on Twitter.